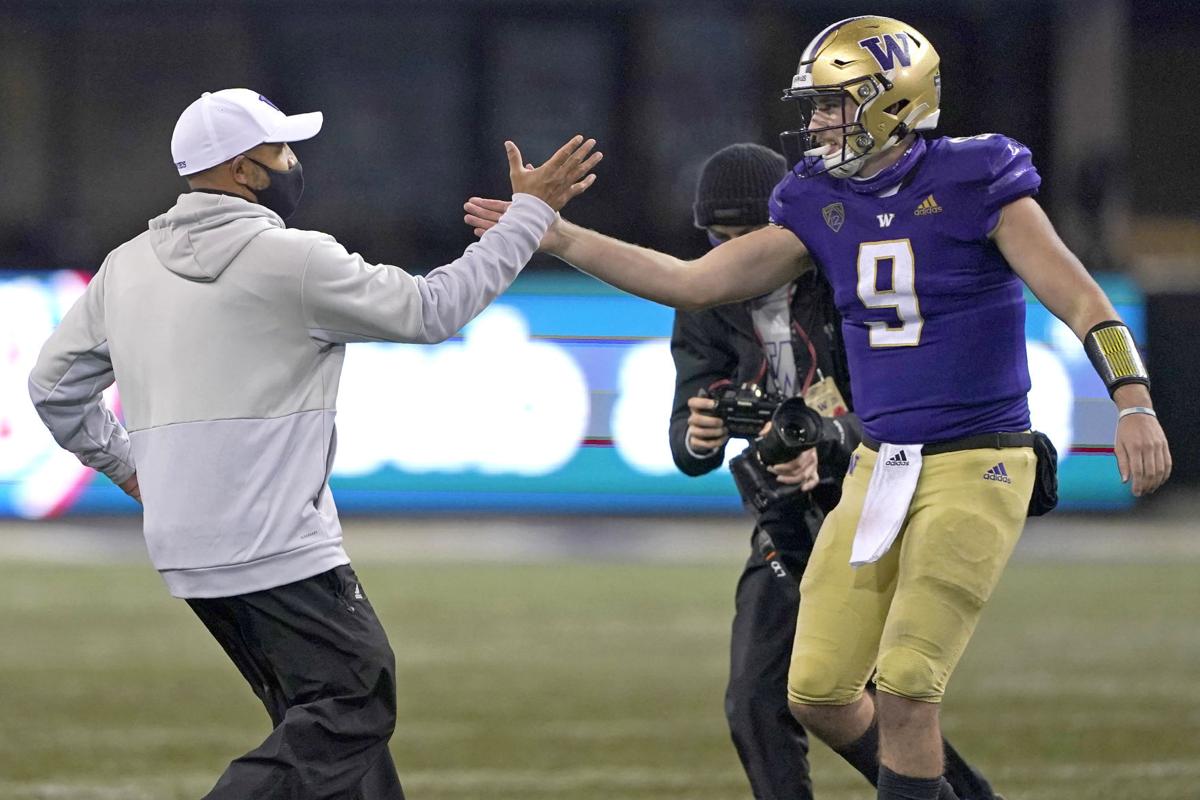 Jimmy Lake could only laugh a little at the absurdity of the words coming out of his mouth early in an impromptu press conference Wednesday morning. It was something everyone who follows UW football has been thinking since Sunday, but something about hearing the words out loud made it that much more impactful.
"It is definitely a new thing in 2020," Lake said with a laugh. "Usually we know who we're playing, week in and week out. This year we do not."
He was, of course, referring to the saga that saw the University of Washington go from being scheduled to play at WSU on Friday, to not having an opponent for the weekend, to getting slated against Utah at home Saturday. And it was all in the span of about 48 hours.
It's a doozy as to how we got here.
The Huskies wrapped up their 44-27 win over Arizona at 8:41 p.m. last Saturday. In his postgame press conference, Lake said that his staff would remain focused on playing the Apple Cup this week. In fact, because of the short turnaround, with UW originally slated to go to Pullman to play WSU on Friday, Lake's staff had already broken down most of the film they had on the Cougars.
But on Wednesday, Lake revealed that by the time Washington's win over Arizona was wrapped up he and his staff were already hearing "whispers" that the rivalry game with WSU — whose matchup against Stanford last Saturday had been canceled due to positive tests among the Cougars — would probably be called off.
Just after 3:30 p.m. Sunday, that rumor became official news: the Cougars wouldn't be able to host the 113th Apple Cup in its traditional Friday following Thanksgiving slot.
That's when things got really weird for the UW staff.
"There was one point where I had four depth charts across my desk," Lake said. "That's never happened before."
Immediately, most fans turned their attention to the Cougars of BYU. The Pac-12 had just announced that it would allow its schools to schedule short-notice games with non-conference opponents in case of a cancellation. BYU was undefeated. They had an open week on their schedule. And they had — poetically, some might say — tweeted a picture just the day before, of star quarterback Zach Wilson wearing a headband that read, "Any team, any time, any place."
As it turned out, things weren't that simple.
From the beginning, BYU's administration resisted offers from UW's athletic department. The Cougars wanted assurances that the game would indeed take place, given the Pac-12's stipulation that in case of multiple cancellations in a week its schools would have to schedule conference opponents before venturing into conference matchups; The Huskies simply couldn't make that promise for obvious reasons.
Meanwhile, both schools kept tabs as Arizona State continued to deal with a massive COVID outbreak that put its game against Utah in jeopardy.
So sometime Sunday or Monday, Lake and his staff decided to take a chance. They identified Utah as the most likely opponent and began focusing most of their game-planning efforts on the Utes. A couple of graduate assistants and quality control coaches scouted other teams just in case — Lake refused to name the other schools considered, but they most likely included San Diego State and Colorado, along with BYU — but most of the attention was placed squarely on Utah.
When the Huskies started practice Tuesday morning, they did so as if they had the Utes on the schedule, even though the matchup wouldn't officially be announced until just before 7 p.m. that evening.
"We gambled correctly this week," Lake said.
Because of the gamble, the Huskies don't actually find themselves behind schedule at all, according to Lake. Instead of a short travel week they were able to get a full week of practice before their short-notice home game Saturday. It'll be the seventh time in six years Washington has played Utah and four of the previous games have been decided by single-digits.
Husky linebacker Ryan Bowman said he had a good feeling about Zion Tupuola-Fetui when the Hawaiian outside linebacker first came to Montlake in 2017.
"Since he was a freshman, it was always like, 'That guy's got the juice,'" Bowman said. "We've always known that, it was just a matter of time for him to get on the field and display it."
Two years later, that time has arrived for Tupuola-Fetui and he has seized it. This season he landed a starting role opposite Bowman with Joe Tryon opting out of the 2020 season to prepare for the NFL draft and Laiatu Latu out for undisclosed reasons.
And in just two games, the guy known as ZTF is making his presence felt.
It started with a pair of sacks — both on third down and both forcing fumbles — in Washington's 27-21 season-opening win over Oregon State. Then it was two more against Arizona, bringing Tupuola-Fetui to four on the year to lead the Pac-12, despite playing in one less game than every other player in the top-five.
Together, ZTF and Bowman are establishing a scary dynamic for opposing quarterbacks to contemplate, and it's showing on the field. The pair has combined for five sacks already in 2020. By comparison, six games into last season, UW's outside linebackers had just 4.5 sacks as a unit, and the group managed only three sacks in all of 2018.
On Wednesday night the Pac-12 and its television partners announced that, due to the cancellation of other games, the Huskies game against Utah will be bumped up to a 4:30 p.m. start on Saturday. The game will be broadcast on ABC.