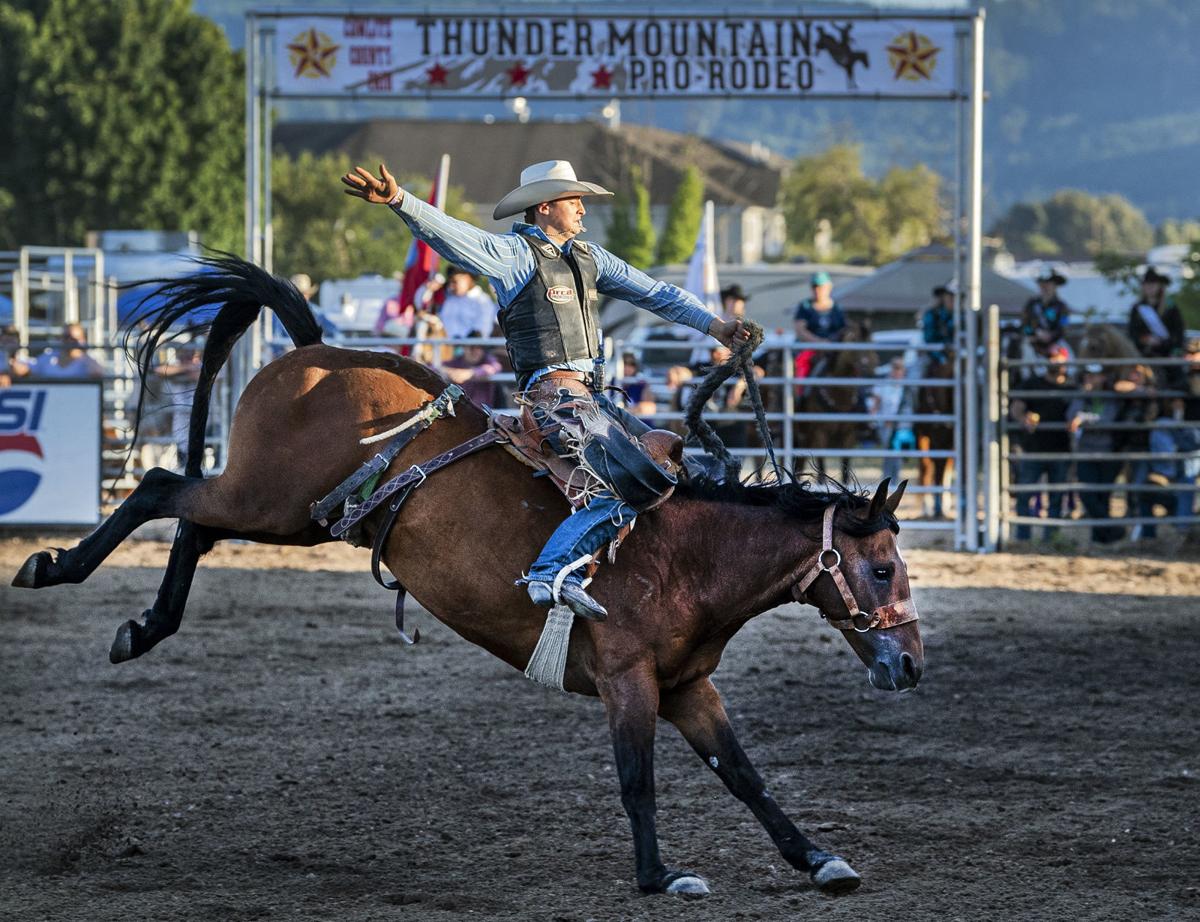 Like many large events, the Thunder Mountain Pro Rodeo at the Cowlitz County Fair went by the wayside last year due to the COVID-19 pandemic. Now, Longview's big rodeo looks to pick right back up where it left off in 2019 and return to a full-fledged event this year with competitions from Thursday through Saturday at the Cowlitz County Fairgrounds.
The plan is to operate the rodeo as normally as possible, according to Gordon Bowcutt, president of the rodeo board.
"We can't wait for everyone to come and have a good time," Bowcutt said.
There will be various sanitization efforts made to accommodate for the event, but other than that it should be business as usual for rodeo fans, Bowcutt said.
The list of events includes all the standard competitions with rides of all sorts taking place across the three day schedule. Cowboys from near and far will compete in events like bareback riding, calf roping, breakaway roping, steer wrestling, saddle bronc riding, bull riding, bronc riding and barrel racing.
All competitions will run across each of the three days and the champions will be announced after all competitors have made their final runs on Saturday.
Like any rodeo, the Thunder Mountain Pro Rodeo wouldn't be complete without some entertainment, so Josh "Slick" Sheppard will be handling the rodeo clown duties this year.
"He does a lot of great acts and I think people here are really going to like him a lot," Bowcutt said.
Additional events include the Kelso High School WAHSET drill team performing in between events on Thursday and Friday as well as the return of calf dressing — a friendly competition that requires competitors to put a T-shirt on a calf.
"We brought back the calf dressing, which was a popular local event," Bowcutt said. "There's local teams, some of the law enforcement and first responder teams are in it with some of the local businesses."
Bowcutt added that anywhere from four to six teams will compete on Thursday and Friday before the top two teams from each night will compete for the overall crown on Saturday.
Pro Rodeo Cowboy Association competitors from all across the Pacific Northwest will compete in the rodeo, including some local talent, Bowcutt said.
"We're one of those committees that really like to take care of the contestants and appreciate them coming," Bowcutt said.
The rodeo takes pride in the event and hopes the competitors and spectators enjoy the improvements that have been made to the event.
"In the community too, we've put a lot of improvements into our grounds and re-did the Carl's Towing Beer Garden every year to make it better for the spectators that want to come and enjoy a frosty cold beverage and watch the rodeo," Bowcutt said.
This year's event will go on as planned despite lingering uncertainties in the realm of public health and safety protocols. As Bowcutt explained, rodeo organizers didn't get the proper COVID-19 restrictions lifted until about a month ago.
"We weren't even sure we were going to be able to go with this due to restrictions and everything," he said. "So the fact that it's happening, we've had to scramble to get everything put in place to where it's the same as we always do."
The Thunder Mountain Pro Rodeo begins at 7 p.m. each night of the event and the gates will be open for spectators at 6 p.m.
General admission will be $11 on Thursday, $13 on Friday and $15 on Saturday. Reserved seating will cost $15 on Thursday, $17 on Friday and $19 on Saturday.
Tickets can be purchased at the Cowlitz County Fair ticket booth from noon to 10 p.m. daily.