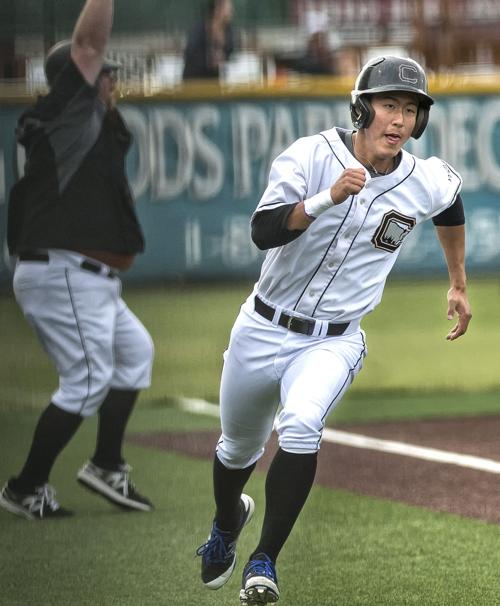 Baseball has always been a part of South Korea native Ryan Kim's family.
The Cowlitz Black Bears outfielder said his father, Kim Ki-tae, was a successful player in the Korean Baseball Organization, where he is now a head coach.
Despite that, the two never talked about the sport.
"I didn't learn any baseball from him," said Kim. "He told me that whatever I needed to work on or have questions about, I needed to ask my coaches instead of him."
Kim's father felt that his son could get confused if he was prodded by both his coaches and his dad.
"At first I was frustrated that he wouldn't help me or talk about baseball as most fathers and sons do. Now, I understand and appreciate him for doing that and staying out of my baseball career," said Kim, who turned 21 on Wednesday.
Kim started playing baseball in the fifth grade, and would occasionally tag along with his father to the ballpark.
"My father would go about his business getting ready for the game, and I would play around with his teammates," he said.
Before Kim entered high school, he moved to America along with his mother and brother. They settled in Boise, Idaho, where Kim was a four-year baseball letterman who placed on the Southern Idaho All-Conference team.
His father wanted he and his brother to go to the United States to go to school and play baseball.
"My mom came along, but Dad stayed home in Korea to coach baseball," Kim said.
The move to America also prompted Kim to chance his name from Geonhyoung (Gone-Young) to Ryan, because of the difficulty people were having trying to pronounce his name.
"I don't know where Ryan came from, I might've got it from the movies," he said with a chuckle. "It just popped into my head one day. I consider it a nickname."
Throughout his youth, Kim was an outfielder, but moved to the middle infield in high school. He since moved back to the outfield at the University of Portland, and with the Black Bears.
"I don't really care what position I play, as long as I'm on the field," he said.
After an up-and-down freshman campaign at Portland, Kim found his stride with the Black Bears. He's hitting .394 which is the second-best average in the West Coast League, is ranked third with a .476 on-base percentage, 14th in slugging percentage (.451), and 15th in stolen bases with five.
"We've been on and off this season," Kim said of the Black Bears. "We practice hard and grind every day. We're learning the game, but we're also having fun."
Like most players, Kim has a ritual he goes through before every at-bat.
"I stretch my legs and almost touch my toes," he said. "I step in (to the batter's box) with my left foot, then my right. I don't know when it started, but I like stretching and it makes me feel comfortable and loose."
Kim noted there are distinct styles of play in American baseball compared to its Korean counterpart.
"Here, it's more doing what you want to do, and we can work on what we want to do," he said. "In Korea, they play more small-ball and move runners from base to base. The coaches also have a lot more signs they flash to the players."
Kim's dad started playing baseball and soccer in elementary school, and was torn between which sport he wanted to pursue.
He played pro ball from 1991 through 2005, and had a career batting average of .294 with 249 home runs and 923 runs batted in as an outfielder, first baseman and designated hitter.
He was the league's home run champion in 1994, won a batting title in 1997, and was a four-time Golden Glove Award winner.
In addition, Kim's father was a member of the 2000 South Korean team which won bronze medals at the Sydney Olympics, and coached the 2008 team which won gold medals in Beijing. He's currently head coach of the Kia Tigers in the KBO.