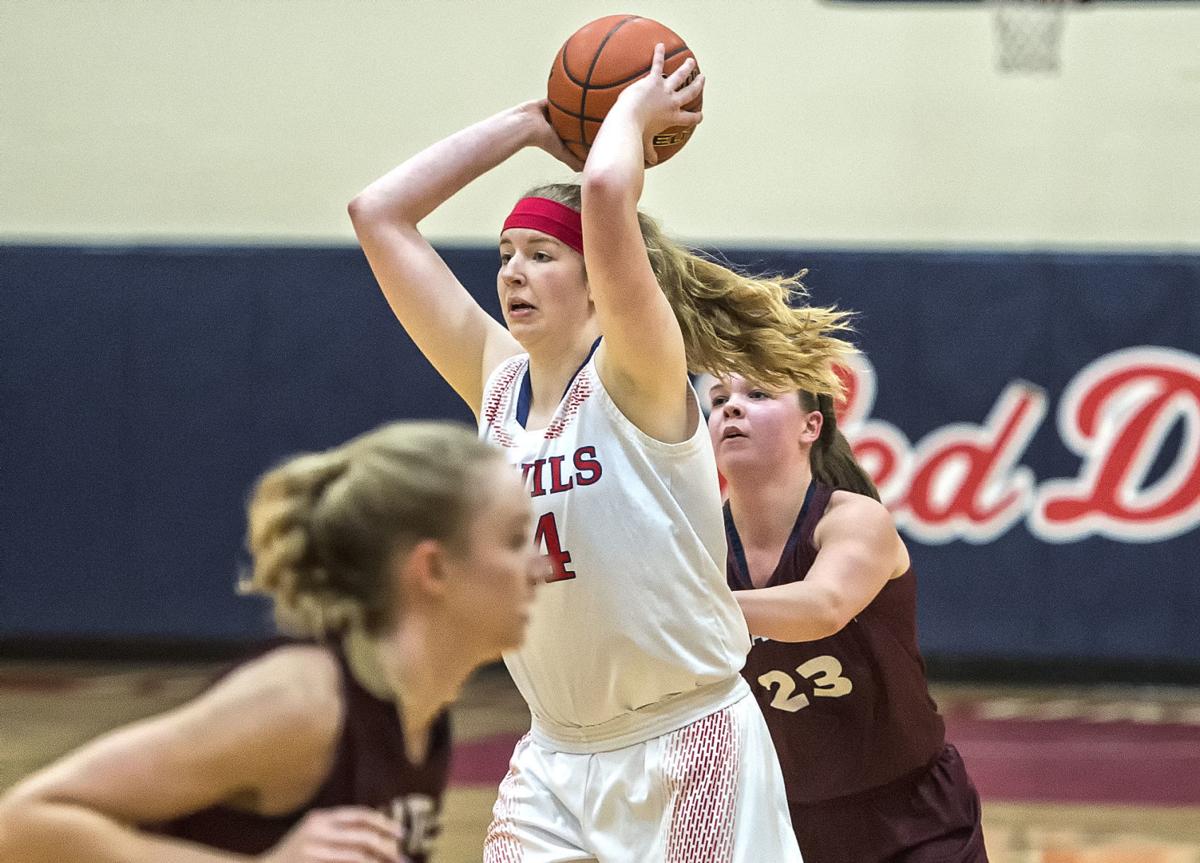 Lower Columbia College showed that it could bend, but not break.
The Red Devils had a 20-point lead in the third quarter cut to eight points by Whatcom, but was able to claim an 88-80 win over Whatcom in a semifinal game of the Lower Columbia Holiday Classic on Friday at Truman Myklebust Gym.
"If we're anything we're a resilient bunch," LCC coach Lucas Myers said. "We didn't give up, and it showed."
In Friday's other semifinal, North Idaho beat Yakima Valley 70-63. In loser-out games, Umpqua downed Highline 95-51, and Centralia beat Portland 68-38.
In today's games, Umpqua faces Centralia in the fifth place game at 11 a.m., Lower Whatcom plays Yakima Valley in the third place game at 1 p.m., and Lower Columbia (8-6) faces North Idaho in the championship at 3.
Kenya Lorton paced the Red Devils with 26 points, five rebounds, five assists and four steals, and Nizhoni Wheeler added 18 points and six rebounds.
"Kenya had a huge first half driving to the rim," Myers said. "She's doing a better job getting to the rim compared to her freshman year, and that's really helping us. Nizhoni didn't have a big impact in the first half, but she was huge in the second half. She dominated inside, and we were purposeful getting the ball to her."
The Devils' defense held Whatcom to 3 of 19 shooting (16 percent) in the first quarter as the hosts rolled to a 25-9 lead after the first quarter. LCC took its largest of the first half (29-11)following a jumper from Emily Packham two minutes into the second quarter. But as hot as the Devils were in the first quarter, they started cooling off midway through the second quarter, and allowed the Orcas to cut their deficit to eight by halftime at 43-35.
Whatcom lived at the free throw line in the third quarter, making 14-16 shots while forcing starters Shasta Lofgren and Emily Packham to the bench with four fouls apiece, and Madison Mosier with three.
"We handled the adversity well, and our bench gave us some great minutes," Myers said. "Melenaite Kata gave us good minutes, and Madeline Jacobson came ina nd played fantastic. It was great we could pull one of our guards and go with two bigs to avoid fould problems."
Whatcom cut the Devils' lead to 77-67 following a jumper from Rachel Sande midway through the fourth quarter, and cut its deficit to 82-75 following a pair of jumpers from Allison Hadaway with 1:40 left. LCC built the lead back to 85-75 with a minute left after a Mosier layup, and a free throw from Jacobson.
Packham finished with 14 points and 10 rebounds, Mosier had 12 points, five rebounds and five assists, and Jacobson tossed in 10 points. The Red Devils made 49 percent of its shots, 35-71.
North Idaho 70, Yakima Valley 63: Alivia Williams scored 15 points, and four other Cardinals were in double-figures in a semifinal victory.
Keara Simpson added 14 points and 16 rebounds for the sixth-ranked Cardinals, Halla Eborall had 13 points, six rebounds and five assists, Heidi Sellman added 12 points and eight rebounds, and Anna Schrade had 10 points.
For fifth-ranked Yakima Valley, Nicole Rasmussen scored 17 points, Kamri Von Oelhoffen added 15 points, six rebounds and seven assists, and Jenni Johnson had 15 points and six rebounds.
Umpqua 96, Highline 51: Taylor Stricklin exploded for 32 points, five assists and four steals as the second-ranked RiverHawks avoided elimination in a loser-out matchup.
Cielo Gonzalez added 19 points, and Grace Campbell had 13 points, seven rebounds and five assists. Umpqua made 52 percent of its shots, 36-69.
Jazmina Lafitaga led Highline with 14 points and seven rebounds, and Emolani Morris added 10 points and six rebounds.
Centralia 68, Portland 38: Lindsey Nurmi tossed in 19 points, and Becca Snaza added 12 as the Trailblazers turned away Portland in a loser-out matchup.
Also for Centralia, Piper Cai had nine rebounds and four steals, and Caitlin Yenne added six rebounds and four steals.
R.A. Long graduate Khloe Snair paced the Panthers with 10 points and five rebounds, and Clare Faber grabbed 11 rebounds.
Be the first to know
Get local news delivered to your inbox!