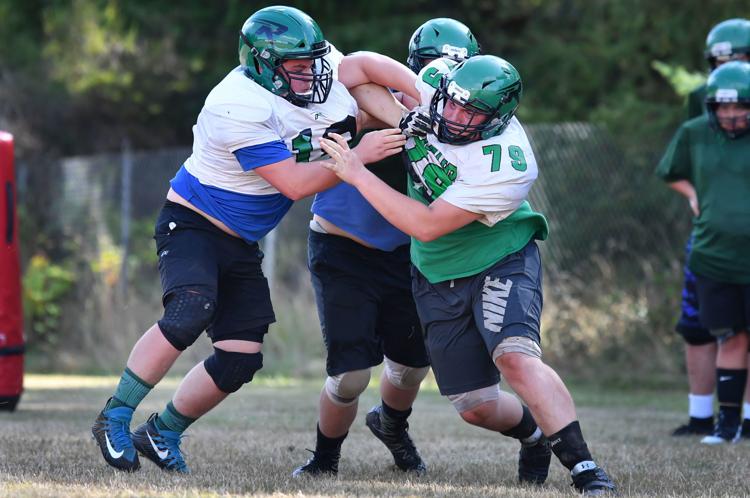 It's often said in sports that winning a championship is the easy part. It's repeating that's the hard part.
That's the position that the Rainier Columbians are in entering the 2019 football season, riding a 13-game winning streak and a state title, its first since 2010.
So how does a team not get so wrapped up in that? The answer is simpler than one might think.
"Every week it's like we're playing in a championship game," senior lineman Ethan Crape said. "It's just about getting the win that week, that specific week, not the season as a whole. We don't really care about the record, because we know when it comes time, we'll be playing at our best."
In other words, Rainier plays 13 one-game seasons. Not one 13-game season.
It's not an uncommon outlook. Many teams in many sports look game-to-game, focusing on the ground ahead, where the chance for an obstacle is greater, than the horizon, which beckons ceaselessly.
What the week-to-week, game-to-game focus does is to recognize weaknesses and correct them. Big-picture viewing generally assumes a team is good enough to roll to a title — or the title game — without ever a thought of improving.
Rainier certainly had success last year, outscoring opponents by an average of 26 points with the second-highest scoring offense and the lowest-scoring defense in the state.
But it had moments where it was challenged. No. 2 Amity nearly beat Rainier in the 60-54 instant classic. Clatskanie played two of the closer games against Rainier a season ago, once in the quarterfinals of the playoffs that resulted in Rainier's lowest scoring output of the season, just 18 points.
One could argue that Rainier's preference to walk with its eyes on the ground as it walks and not the horizon allowed it to not look past Clatskanie (twice) or Amity. As it turned out, Rainier clobbered the highest-scoring offense in the state (Cascade Christian) in the final by holding it to a season-low 14 points.
You have free articles remaining.
"That was the key to our success last year," Crape said. "Even though we went 13-0, (coach) Mike (King) let us know that all those regular-season games, win or lose, we knew we'd be in a spot to be looking good."
But, now that Rainier is the defending champion, it now wears that target.
The Columbians know that and aren't worried. Again, it's not about the big picture to them. It's that "it's the championship game every week" mentality once again.
"It all starts with leadership," King said. "We bring back one of our captains from last year's team, and he's an exceptional leader. David Katon is a great leader. Kenny Tripp is a sophomore, but that last name tells he's a great leader. Those kids aren't gonna let that become a distraction or become a focal point. We've said it before, it's kind of a saying: 'We do what we do around here.'"
And what Rainier does is reload. At least recently.
The Columbians are looking for their fourth-straight season with nine or more wins. In high-school football, that only comes with reloading, as guys graduate constantly. Rainier has had to replace its quarterback twice, as well as numerous receivers, linemen, running backs, linebackers and defensive backs. The only player from Rainier's breakout 2016, in which it won 10 games, is Crape, who will be gone after this season.
But the Columbians have to replace all but one offensive lineman. Most of the defense is gone. Most of the pass-catchers are gone. It'll be a bunch of new faces sporting the familiar green helmets.
But that doesn't matter for the Rainier players. They've watched as good players came and went, and the quality didn't drop. It got better, actually.
So why would it be different in '19?
"Winning's contagious, and last year we did a lot of winning. It was something special," Katon said. "I think with this group of guys — we bring back a lot of key guys and we lose a lot of key guys, but we have that next-man-up mentality, and they're gonna step up, and it's just gonna keep flowing up."