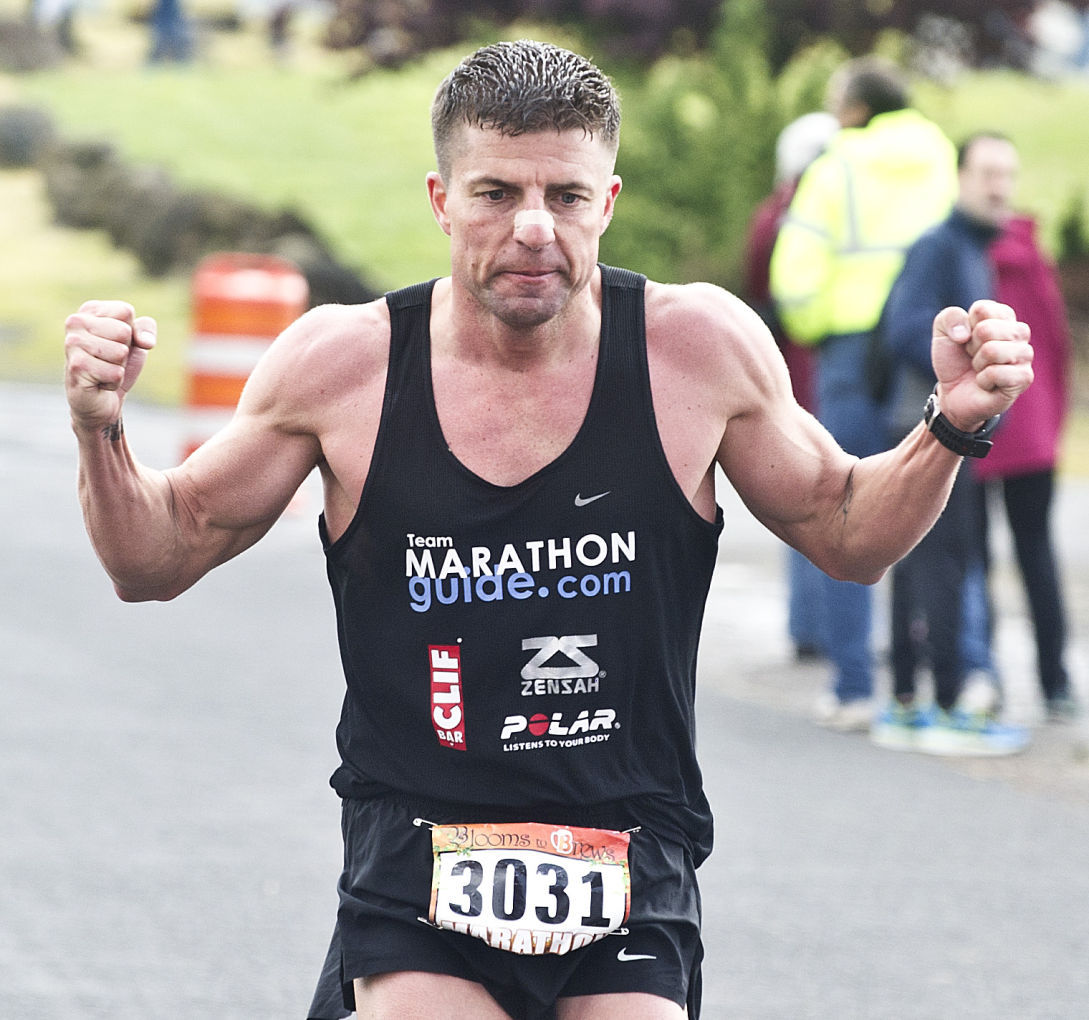 Warren McDermott broke the tape at the first ever Blooms to Brews Marathon. But he was not the winner.
McDermott didn't cheat. He didn't bend the rules. Instead, it all went awry for the 27-year-old Portland resident with about 8 miles to go, when he approached a fork in the road with the overall lead and received some very unfortunate directions.
"They had a ton of people standing there, so I asked, 'Which way do I go?'" McDermott said. "And they told me to go the wrong way."
Instead of finishing the marathon course, McDermott followed the half-marathon route almost to its end before he realized the mistake. Race officials guided him on a secondary loop to complete the full 26.2 miles, but McDermott's time of 2 hours, 49 minutes and 59 seconds was eventually nullified.
That left the door wide open for Chuck Engle. Listed on his official race entry as "MarathonJunkie Engle," the 44-year-old from Alexandria, Va., won the inaugural race in a time of 2:54:04, qualifying for next year's Boston Marathon in the process.
But Engle wasn't in Woodland to qualify for the 2016 edition of the country's most famous road race. In fact, the Blooms to Brews was his final tune-up before competing in this year's Boston Marathon, his 10th, on April 20.
"When I came across the finish line, I heard some things about winning or not winning. That was not the goal today," Engle said. "I was just out here to enjoy the course and see the scenery, and if I get the win, I'm not going to complain.
"But you never like to see situations like this come up in a race."
Like Engle, Myra Jones made a lengthy trip to Woodland worthwhile.
A 32-year-old native of Leeds, England, Jones was the first woman to cross the marathon finish line Sunday, completing the course in 3:02:16.
Jones, who has competed in seven or eight marathons in Europe, was already going to be on the West Coast with her husband. While you're in the area, why not run 26.2 miles?
"We're doing a road trip from San Francisco to Seattle," she said. "We saw the races that were on the route, and this looked like the best one."
Jones said she spent most of the race in a cluster of three or four other runners, all doing their best to encourage each other as the miles flew past.
She finally gained some separation from second-place finisher Mandi Hart in the closing miles and came down the final straightaway with no competitors in sight.
"I'm just happy it's over, to be honest," Jones said with a smile.
Another vacationer was the first man to finish Sunday's half marathon. Keith Long, 57, breezed through the course in 1:20.13, then spent the next half-hour waiting for his wife, Linda.
The two road-race lovers from Beaumont, Kan., visited Mount St. Helens last week and plan on venturing into Washington's wine country before they return to the Midwest this Thursday.
"We wanted to take a little vacation, and we always look for a race when we're going on vacation," Keith said. "We hadn't been to the Northwest, and we found this one online and decided it was the place."
A resident of Washington did manage to win one of Sunday's races, however. That would be Shelby Wilkerson, 23, of La Center, who took the women's half marathon in 1:30.46.
Wilkerson wasn't even sure if she would have the day off from work until Friday. But once she was on the course, she led most of the way, aided by a little inspiration.
"I have a twin sister, Sara, and she just got a pacemaker," Wilkerson said. "A lot of the reason I want to run is for people who can't. I just thought about her the whole time. She was like my iPod, I guess."
Just about everyone had rave reviews for the marathon course.
"Gorgeous," Engle said. "So scenic. Everywhere you looked there was water and tulips and trees and mountains."