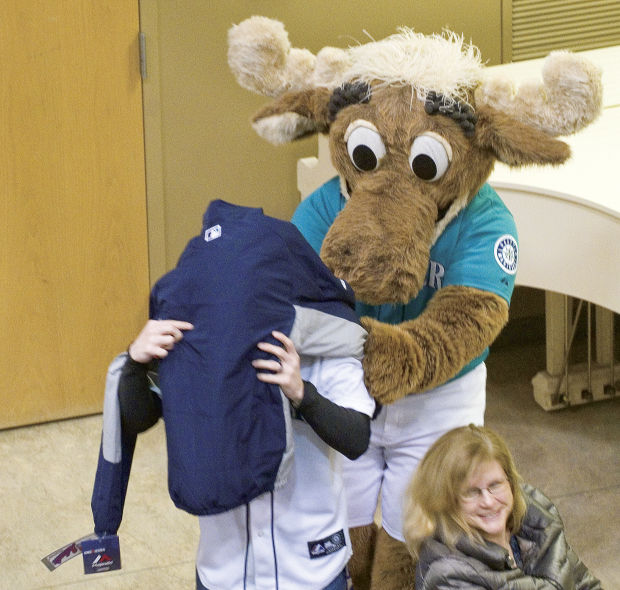 One of the Seattle Mariners' bullpen brigade, along with a reserve outfielder, a member of their broadcast team and the Mariner Moose will stop by Lower Columbia College on Friday as part of the annual Seattle Mariners Caravan.
The event, which features pitcher Charlie Furbush, outfielder Stefan Romero and lead broadcaster Rick Rizzs, will be from 4:15 to 5:45 p.m. at the Paul Laufman Auditorium in the new Health and Science Center located adjacent to David Story Field on the LCC campus. The event is free to the public.
Longview is the only Southwest Washington stop on the 18-day, 24-city Mariners Caravan, which also includes visits to Bremerton, Silverdale, Lynnwood, Tacoma, Portland, Lacey, Wenatchee, Yakima, Spokane, Walla Walla, Tri-Cities, Victoria, British Columbia, and Vancouver, British Columbia.
You have free articles remaining.
A short question-and-answer session with the players will be followed by an autograph and photo opportunity with the guests and Mariner Moose. Everyone attending the event will also be entered into a drawing to win prizes, including game tickets.
Furbush, a left-hander, was a key component in the Mariners' bullpen last season. He had a 1-5 record with a 3.61 earned-run average. In 42 1/3 innings spanning 67 games, he allowed 40 hits, struck out 51 batters, walked nine and ranked second on the team with 20 holds. In 35 appearances at Safeco Field, he had a 1.82 ERA.
Romero, a recent add to the Mariners Caravan after reliever Brandon Maurer was traded to the San Diego Padres, hit .192 with three home runs and 11 RBIs in 72 games with the Mariners in 2014. An Oregon State graduate, Romero hit .358 in 36 games at Triple-A Tacoma, where he also hit 12 home runs and drove in 36 runs.
Rizzs enters his 30th season with the Mariners broadcast team. Except for a three-season stint with the Detroit Tigers from 1992-94, Rizzs has been a key part of the Mariners radio/TV crew since 1983. A 1975 graduate of Southern Illinois, he was named the Ohio Sportscaster of the Year in 1981 by the Ohio Sportscasters Association.
Rick McCorkle is a sports reporter for The Daily News. Reach him at 360-577-2529 or rmccorkle@tdn.com.