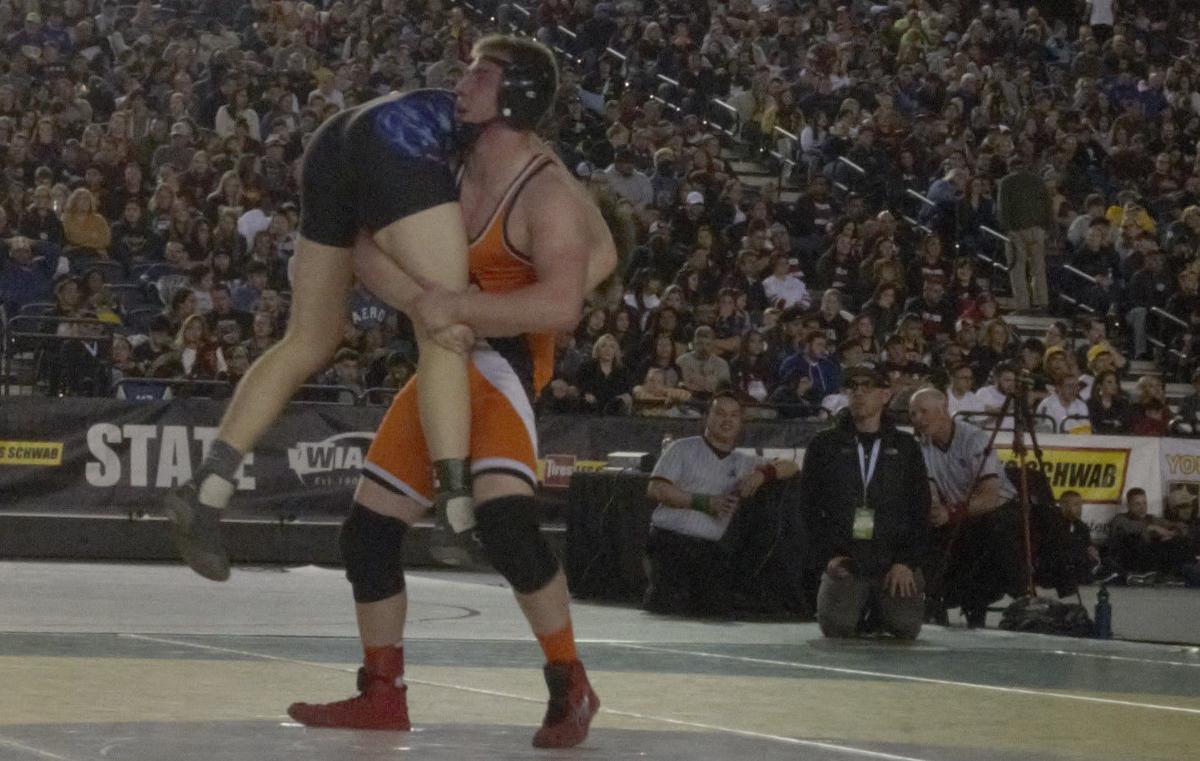 Abe Foreman could barely walk.
His right knee had been giving him problems all weekend. He was dragging it around even as he was pinning guys on Friday. His left ankle was barking, as well. Looming was Brody Klein, the strong and tough Rainier Mountaineer who had met Foreman in districts, subs, regionals and, now, the 160-pound B final.
Klein pulled out a 10-6 win, evening the season series, but the pair talked earlier in the day during the Parade of Champions and made an unusual pact.
"We've had the rivalry. We're friends. We've hung out. We talk a lot," Foreman said. "We talked before, during the walk of champions, and pretty much agreed that if it wasn't us, I wouldn't want to lose to anyone else."
The knee made it an especially tough matchup for the Kalama sophomore.
Klein is a leg-rider. His style is to take away his opponents' legs. It wasn't so much that Foreman couldn't use his legs — they were barely functional as it was — it was that Klein was putting pressure on his knee by wrapping his legs around them.
But Foreman never relented. He was balanced and strong even while Klein rested his entire weight upon his back.
"That kid is never gonna give up," Kalama coach Jarred Staup said after his 10th and final season as Kalama coach. "To really be in that much pain and basically not be able to use one leg, to keep it that close in the finals, pushing the pace at the end of the match just shows how tough he is, how determined he is and how hard he worked."
The Rainier senior managed an early takedown and held Foreman close enough for a two-point nearfall.
Starting the second round, Klein exploded from the bottom and got an escape point, then added a takedown for a 7-0 lead. Foreman had to work to even be alive.
But he came back valiantly in the third. He started with a takedown, conceded a point then scored another. Klein reversed but Foreman returned the favor, making the Mountaineer earn the title after all.
Foreman fell 10-6. He left the mat in more than one kind of pain, some of which was noticeable while others weren't. But his pact with Klein held.
"I'm pretty broken up. It hurts a lot," Foreman said. "I just hide it better. I've been doing this for a lot of years. I know what it's like to win. I know what it's like to lose. Yeah, it's lame. I want to cry, thrown your headgear on the ground. But you gotta be a man and walk off the mat with your head high."
Foreman was part of a Kalama team that fell short of expectations, but also one that was missing two state champions, a pair that represented the foundation of the group.
But it was only the pair of sophomores — Foreman at 160 pounds and Ian Campbell at 138 — went cleanly through Friday. It was only the sophomores who wrestled on the biggest stage: the finals.
Only minutes after his season ended by someone he considers a friend, Foreman thought out loud about his season or his methods or the weekend, and Campbell made his way over.
He told his teammate and classmate that he was proud of him, that he did great. It was a show of support that suggests the closeness of the Kalama team, how they galvanized after the loss of the two centerpieces.
"A month ago we were looking at possibly being a top-two team at state," Staup said. "To lose two returning state champions, team leaders who set the pace in the room, it's tough."
Campbell's relatively chipper attitude wasn't misplaced.
He ran into Colin Silverthorn of the factory that is Tonasket in the final. Silverthorn won his third state title and figures to be a four-timer. There is no shame in losing to guys like that.
Campbell fell 8-4, holding Silverthorn scoreless in the first period and working through a near pin in the second.
The exceedingly polite sophomore wanted to win, but he allowed himself recognize that he was happy to be there, that he was second, and that isn't half bad.
"I wanted first. I wanted to be the best in my weight bracket," Campbell said. "It stings.
"Even though I took second (and) I didn't get what I wanted to, I want to keep my head up high."
Be the first to know
Get local news delivered to your inbox!