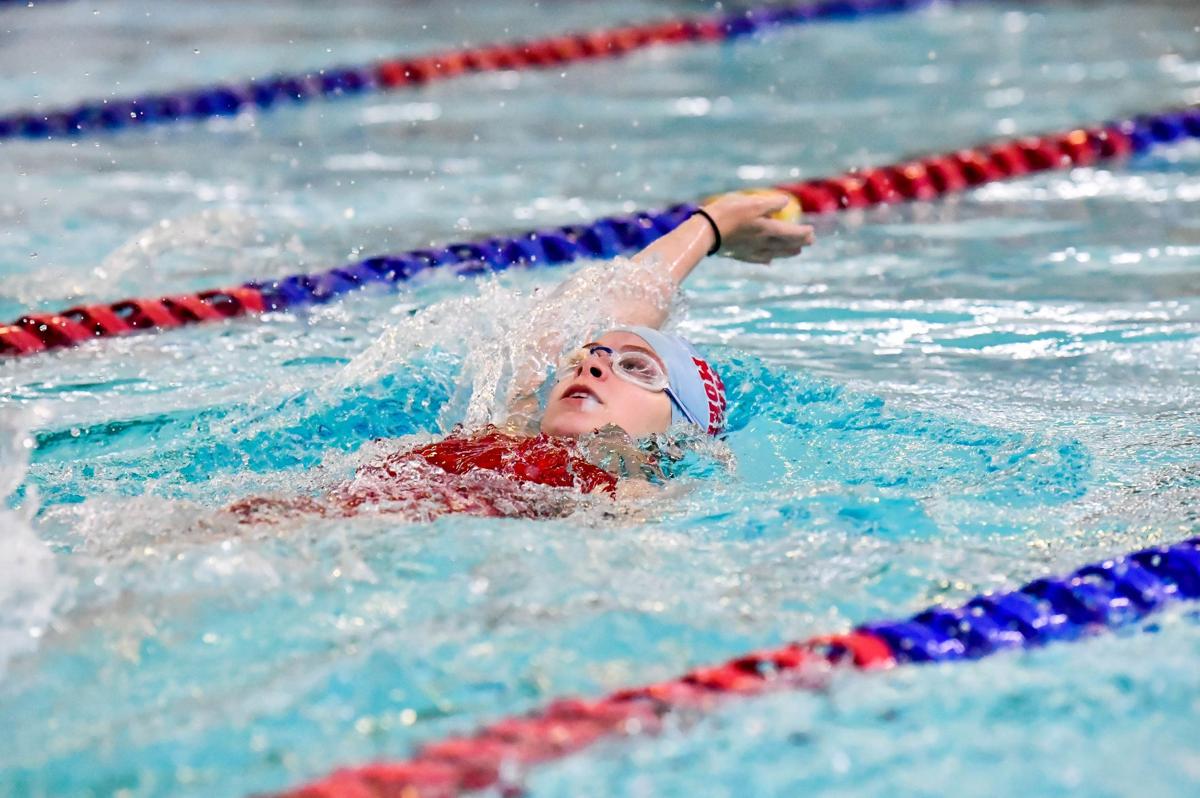 KELSO — An event dubbed the "COVID Classic" put a bow on the 3A/4A swimming season at Gaither Pool on Saturday, with Mountain View winning every race except two on the day and finishing first with 374 team points. Despite only taking one first-place finish, Kelso compiled enough runner-up spots to come in second with 269 points, nearly as far ahead of third-place Prairie as it was behind the Thunder.
The lone win for the Hilanders came in the 400-yard freestyle relay, where Angie Eugenis, Hanna Kuhn, Shayla Kazensky, and Carli Williams came in first at 4:35.82, over 15 seconds ahead of Mountain View's group.
Eugenis had two individual runner-up finishes earning second in the 200-yard individual medley in 2:23.47 and the 500-yard freestyle in 5:55.68. Williams took second in the 100-yard Butterfly in 1:14.39, just behind Mountain View's Amy Ipe and barely a second in front of Prairie's Kenzy Ward.
Kelso's 200-yard medley relay team of Eugenis, Williams, Kazensky, and Jordan Sandoz finished second, and the Hilanders' 200-yard freestyle squad of Kuhn, Sandoz, Adah Moore, and Rachel Gould also finished runners-up.
Monarchs second, Lumberjills third in 2A swim championships
The best of 2A swimming in the area came to Dick Mealy Pool on Saturday to wrap up the 2021 season, with Mark Morris placing second as a team and R.A. Long coming in right behind the Monarchs in third.
Columbia River won the team title, taking first in five separate races and stacking multiple top-three finishes.
Rylee Berry paced Mark Morris with a win in the 200-yard individual medley in 2:33.92 and a first-place finish in the 500-yard freestyle in 6:17.56. Kaylina Smith added a win for the Monarchs in the 200-yard freestyle, racing four laps in 2:34.97. She also finished third in the 500-yard freestyle.
The Monarchs also earned points in the relays, with Berry, Smith, Alyssa Davis, and Ava Christopher finishing second in the 4x50 medley relay in 2:15.72, and those four earning second in the 4x100 freestyle relay in 4:30.10.
R.A. Long didn't finish first in any events, but Mikey Mace showed off both sprint speed and endurance, placing third in the 50-yard freestyle (28.36) and second in the 500-yard freestyle (6:35.93). Kylie Hueth added a second-place finish for the Lumberjills in the 100-yard breaststroke in 1:23.91.