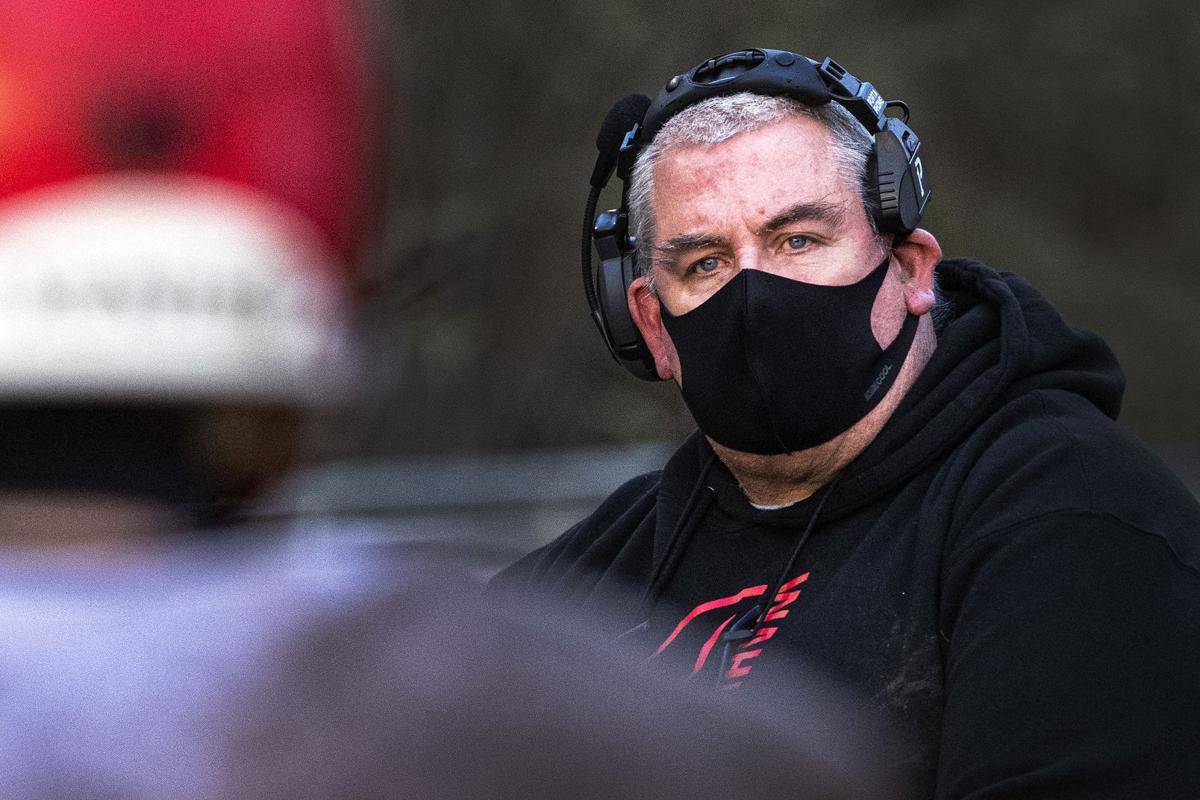 Eric Hansen knew the time was coming, but that didn't make it any easier. The longtime head football coach at Wahkiakum wrapped up the altered spring football season midway through March, but wasn't quite set to make the big call just yet.
"I wanted to reflect to make sure I was ready, that's why I delayed mine," he said. "I talked to my family, and I was ready to step back and quietly go into the sunset."
Earlier this week, Hansen officially made the call, announcing his retirement after 19 seasons as the head football coach in Cathlamet.
"I felt like it was time to step back and enjoy some falls for an occasion without every minute of the weekend and week devoted to coaching," Hansen said. "I thought it was time to relax a little bit, spend time with family, and give somebody else an opportunity."
Hansen started his coaching career with the Mules back in 1993, coming on as a volunteer assistant for Andy Wolf after graduating from college. A year later, he was put in charge of Wahkiakum's middle school program.
After four years with the younger Mules, Hansen moved up to the varsity program as an assistant coach in 1998. He spent three seasons working under Wolf, then one under Vic Reykdal after Wolf retired, before being promoted to head football coach in 2002.
In his 19 seasons in charge, Hansen racked up 112 wins for the Mules.
"When we have kids go through his program, we know they're going to come out the better side a better person," said Wahkiakum athletic director Rob Garrett. "I feel like he really does a good job of doing his best to give the kids an opportunity to grow and become young, responsible men.
"To me, that's extremely valuable, and to the parents and our community. Obviously, we've had some awesome success in the win/loss column, which is great; it's always fun to win, don't get me wrong."
Along the way he worked with his good friend Marc Niemeyer, who joined him on his football staff along with coaching the Wahkiakum baseball team. After 12 years at the helm, Hansen's son Dylan graduated, and the coach thought about hanging up the whistle and clipboard then. But Niemeyer made his case for him to continue.
"I wasn't quite ready I don't think, and he said, 'You've got to go at least until my son Ashden has graduated,'" Hansen said.
That was back in 2014, when Ashden Niemeyer had many years to go before even hitting high school. Seven years later, Niemeyer just wrapped up his senior season, helping lead a senior-heavy Mules squad to a 5-1 record in the COVID-19 abbreviated spring slate.
Right after Wahkiakum's baseball season ended in late April, coach Niemeyer announced his plans to retire. Two and a half months later, it's Hansen's turn.
In those two months, Hansen continued to manage the offseason duties of a coach like refurbishing helmets and running camps — now condensed into a five-month span instead of the usual nine.
"Super professional way to go out," Garrett said. "From a school district's standpoint, we really respect that and appreciate that. That was awesome of him. A lot of coaches would be like, 'Well, I'm done, that's not my responsibility anymore.'"
Hansen also spent the interim period helping prepare Ryan Lorenzo — who came onto the football staff as a volunteer assistant — to possibly take over the program. He and Niemeyer have worked with him to ascend to the head-coaching job this coming season, and the Wahkiakum School Board is set to make a decision regarding Lorenzo at its next meeting.
Now, Hansen said he's looking forward to having the time to go out and watch football further afield, going to watch other schools, as well as make the occasional cross-state road trip to Martin Stadium to watch Washington State play.
"That will be nice, to just take Friday nights, and say, 'Hey, what's the game of the week?'' he said. "It'll be nice to see Coach Perkins and Mark Morris play, or Coach Amrine and Kelso play, or see some of the games we don't normally get to see because you're caught up in your own league and own area."