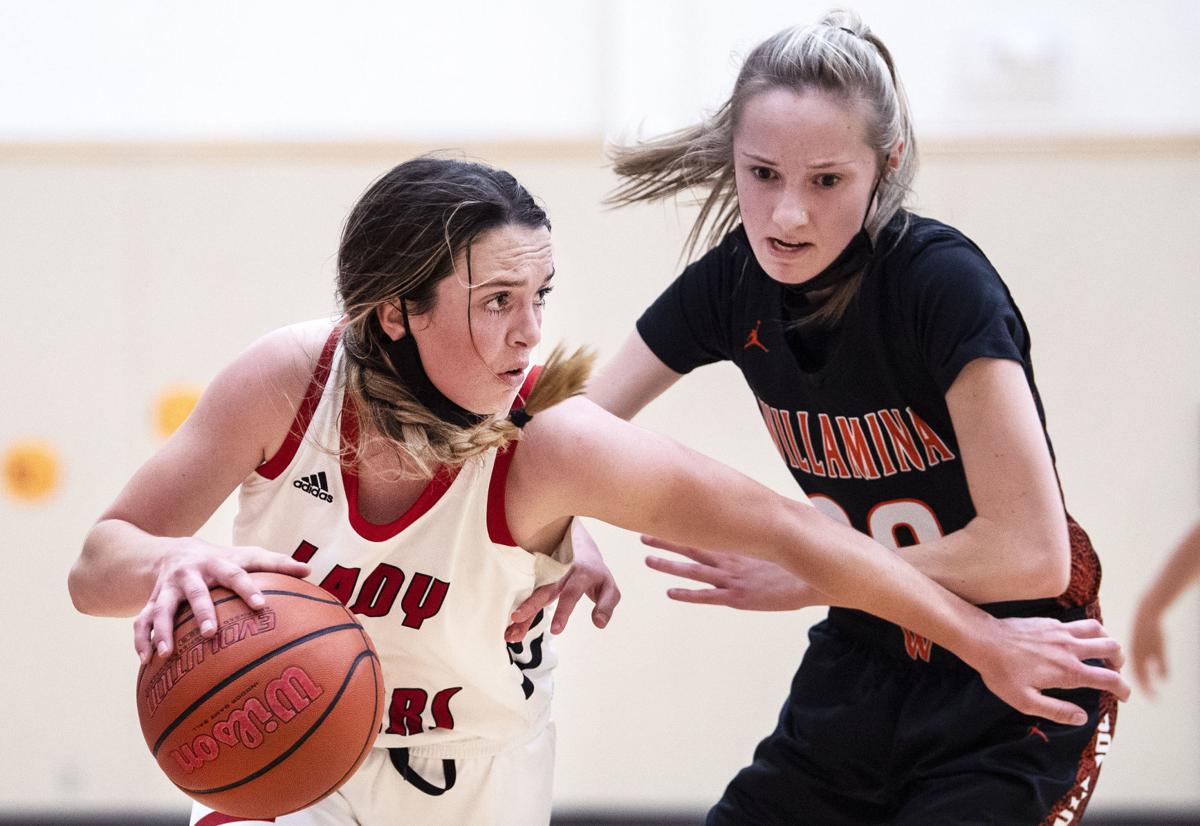 CLATSKANIE — Clatskanie marched its way to a 3A Coastal Range league title with a 63-38 win over Willamina on Tuesday to send the Tigers' seniors off with a win on senior night.
"That was a big game," Clatskanie coach John Blodgett said. "Probably as far as our league goes, that was the biggest game for us."
Shelby Blodgett and Olivia Sprague continued their work as Clatskanie's leading duo. Blodgett finished with a double-double with 13 points and a team-high 15 rebounds, while Sprague led the Tigers with 22 points thanks to four 3-pointers on the night.
The Tigers started a bit slow on both sides of the floor and let the Bulldogs stay close as Clatskanie entered the second quarter with a three-point lead.
Then, the Tigers turned up the heat.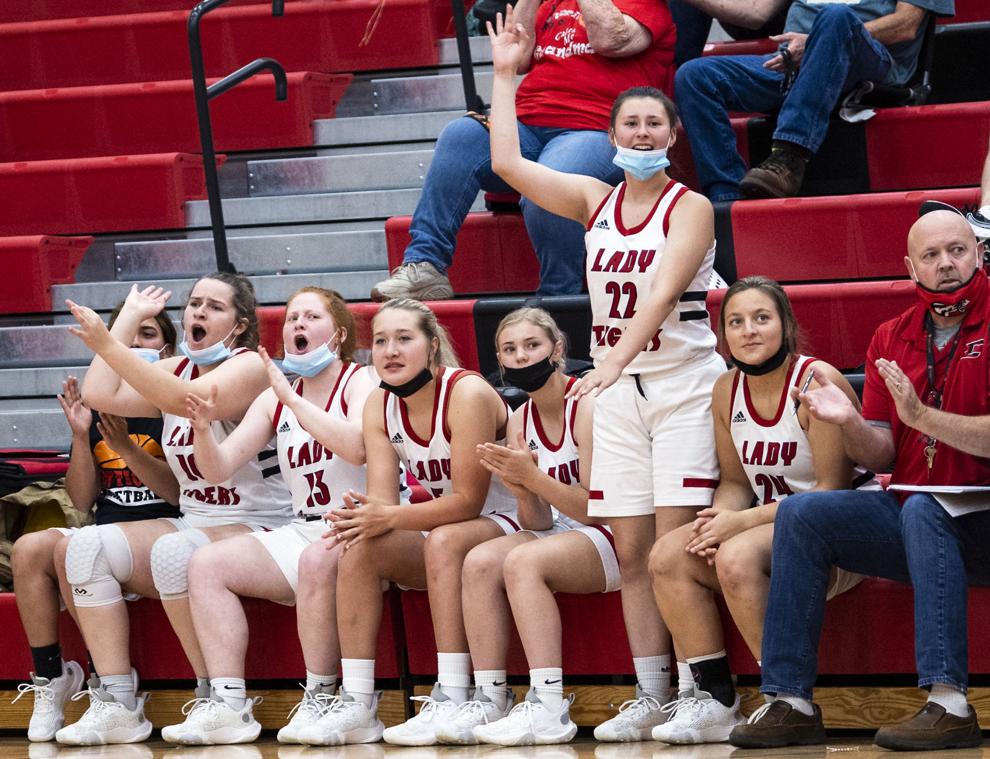 Clatskanie ripped off a 17-0 run to start the second and bring the lead to 20. Kaity Sizemore sparked the run with a 3-pointer and also capped it with another three on back-to-back makes to help the Tigers take the lead.
Willamina eventually broke its scoreless streak but only cut the Tiger lead to 36-20 by halftime.
Coach Blodgett said it was the Tigers' increased effort on the defensive end that helped provide a spark.
"I think we just kind of felt like we were in the sand a little bit to start with and I think we just kind of sped it up a little bit," he said. "That's just kind of our thing. It usually multiplies once we get a deflection then a steal and a layup."
Both Shelby Blodgett and Sprague said "energy" was the key to pulling away from the Bulldogs.
"We have to get energy," Sprague said. "Our defense really sparks our offense so once we start getting stops, we start getting hyped and then the bench gets hyped and then everyone just has the confidence that it takes to get us going on the offensive side."
Shelby Blodgett said the increased momentum helped them slow down and focus on their offense.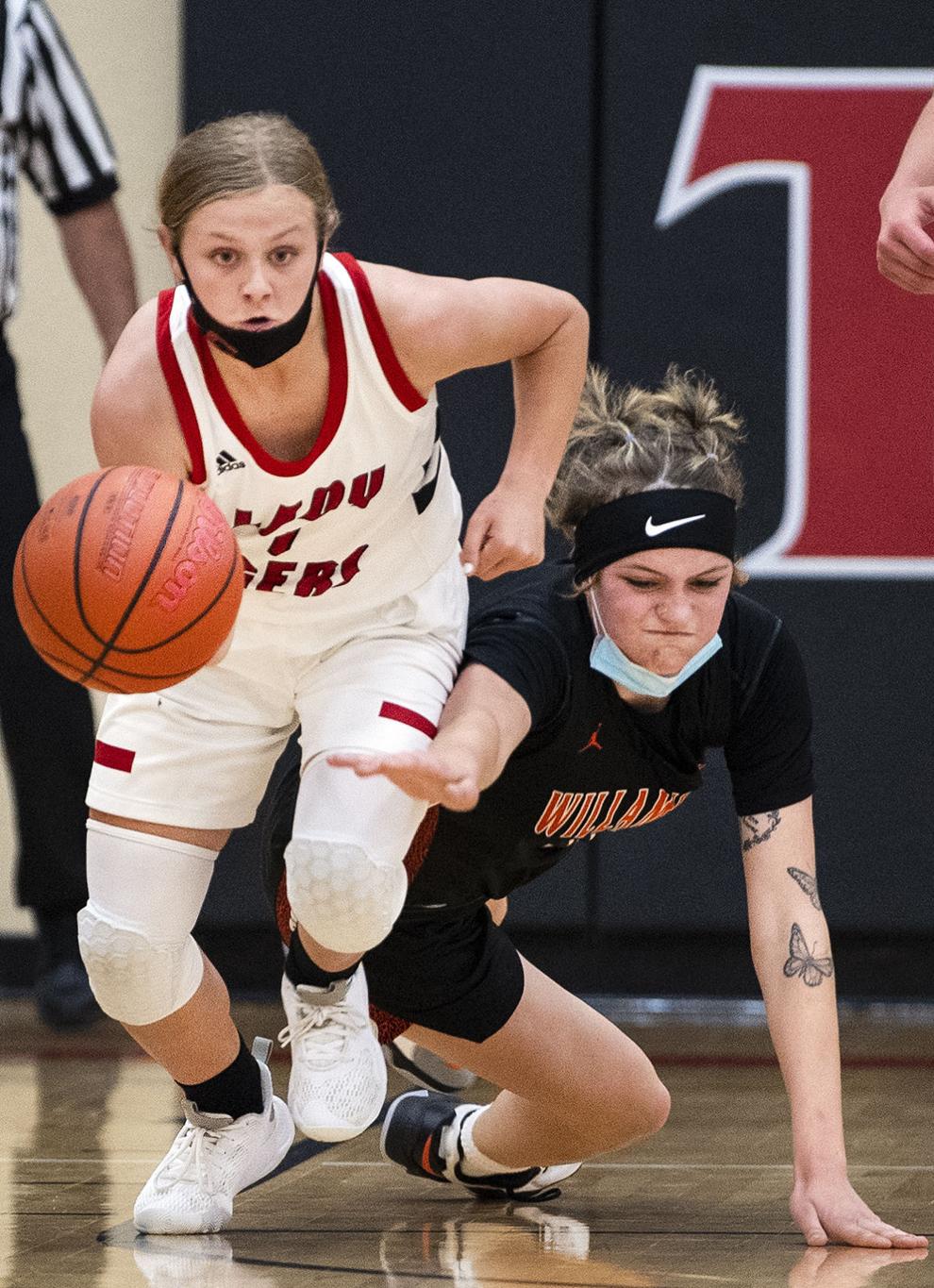 "We talked about it and said we wanted to get ahead of them so that we can start running our plays and basically we just said that we wanted to have all the energy and give all our effort and we knew efficiency would follow that," she said.
The Tigers kept up the intensity on the defensive side of the ball in the second half as they held the Bulldogs to just six points in the third quarter. However, the Tigers' offense slowed to the tune of just 11 points, but their strong defense helped them build their lead to 21 at 47-26 heading into the fourth.
Then the Tigers buried the Bulldogs in the fourth thanks to three straight 3-pointers. The first long ball came off the hands of Sprague before Maya Helmen connected from deep on back-to-back possessions to sink the Bulldogs.
Sizemore benefitted with multiple open looks thanks to the focus that was put on Blodgett and Sprague and finished with 12 points on the night.
"They doubled Shelby anywhere in the box and chased her all over…and Kaity, it left her wide open for many shots and she can make them," Coach Blodgett said.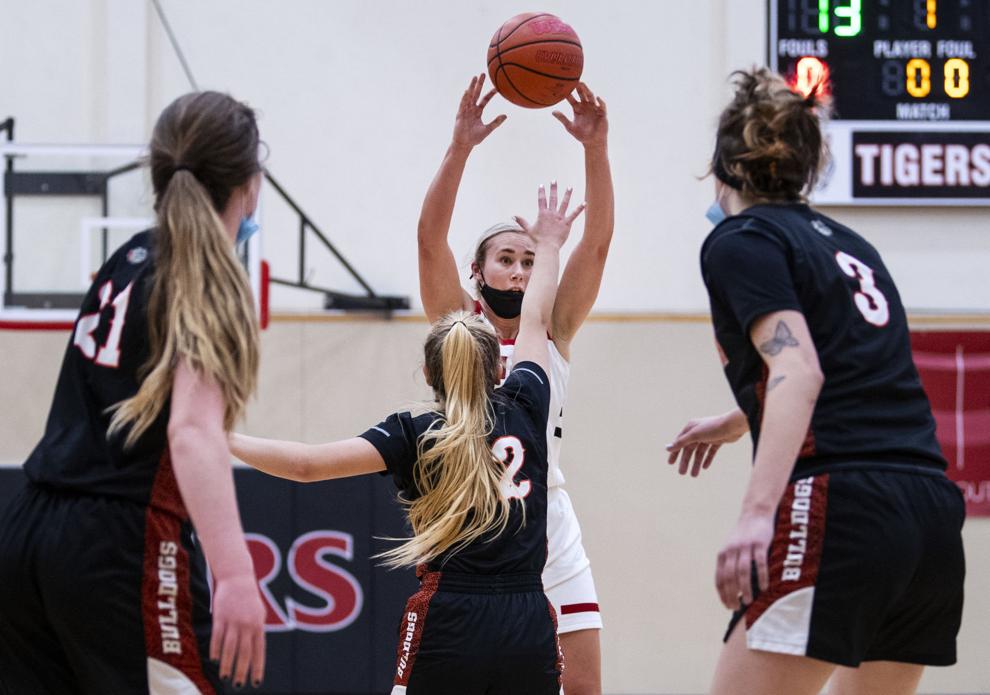 There is no doubt that the Tigers are a force to be reckoned with when Blodgett and Sprague are at their best.
"I think when we're both on it's really hard to stop because you're never really sure who you're supposed to guard and then we have so many other options that if you do lock down on Sprague and I, then we have other players that can get other shots," Blodgett said. "When we're on, everyone's on, so it's really tough to stop that."
The Tigers frequently work through the duo of Blodgett and Sprague and they naturally draw the most attention.
"Half court (offense) is tough for us because they know that and they're going to try to cover those two up," Coach Blodgett said. "So when other players can step up we're in really good shape."
Overall, Coach Blodgett liked the way his team turned things around and locked in on the defensive end and held the Bulldogs below their target scoring total.
"That's my mindset, we're going to win on the defensive end and make it tough for them to score," he said. "Our goal this year was to hold teams to 40 or less and we feel like we're good enough offensively that if we keep them under 40 we're going to win most of those."
With the win, Clatskanie (9-0) stays perfect on the season and locks up the top seed for the 3A Coastal Range league, and a home playoff game, ahead of their final regular season game against Warrenton at 6 p.m., Friday, in Warrenton.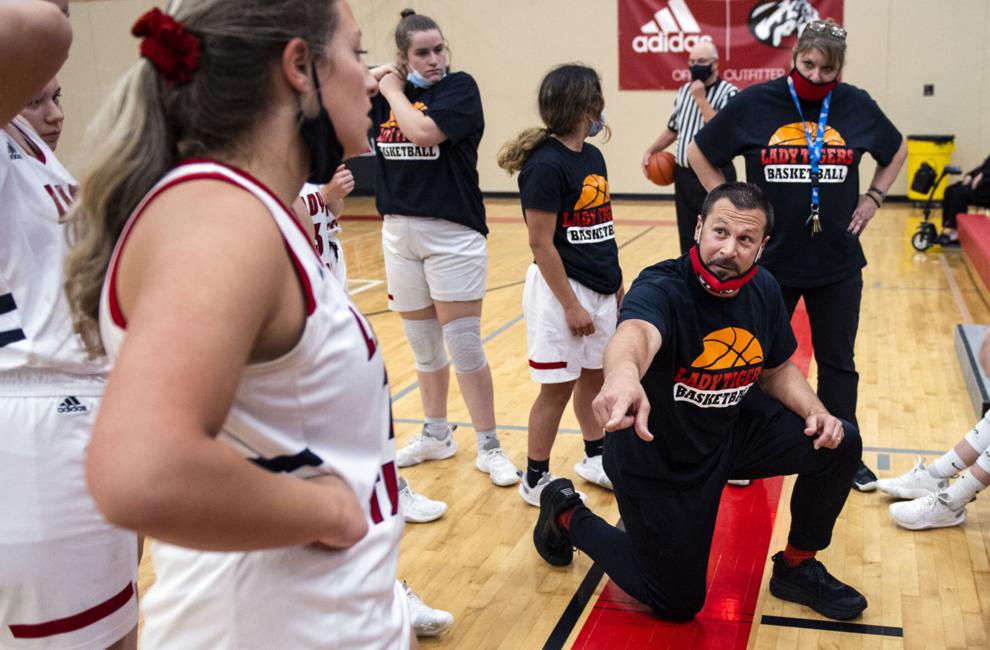 "I just think we've got to go in there and do what we do…they're a young team and they're kind of up-and-coming," Coach Blodgett said when asked about how the Tigers can finish the season with a perfect record.
The Tigers still have work to do before they head into postseason play next Monday due in part to the condensed schedule as a result of the COVID-19 shortened season.
"We're trying some new stuff and we're trying to take the middle away and we're getting better at it," Coach Blodgett said. "We've had really limited practice time and then we're still not in great basketball condition."
Still, Coach Blodgett knows what his team's focus in practice will be leading up to the regular season finale and the playoffs.
"I think our emphasis this next week will be the defensive side of it," he said.