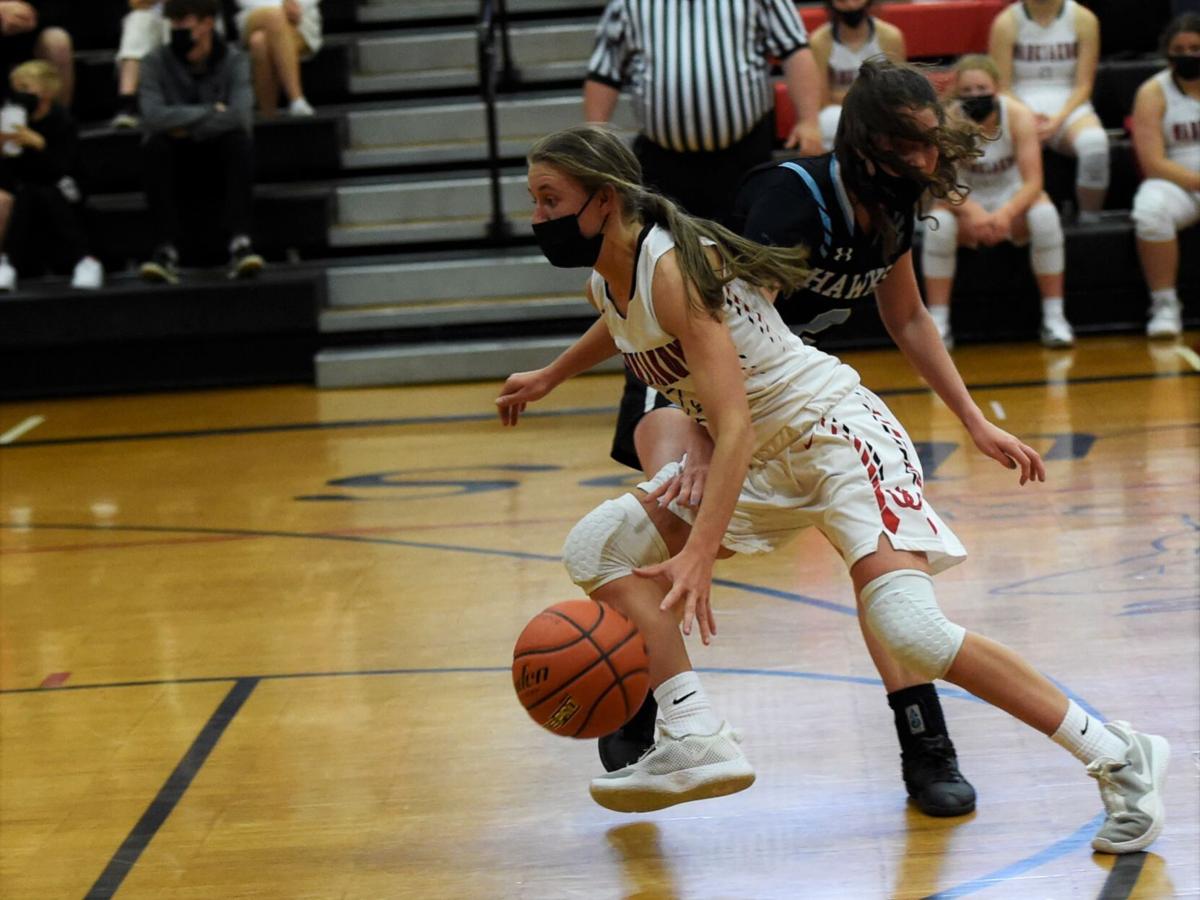 CENTRALIA — For those unsure of what happens when a transcendent individual meets an overpowering team, here's your answer: the team wins.
On one side of the second girls 2B District IV semifinal at The Hub on Wednesday was Ilwaco's Erika Glenn, fresh off a record-setting scoring performance against Rainier (Wash.) in the quarterfinals. On the other was Wahkiakum, which came in undefeated against fellow 2B schools, with an average margin of victory nearing 50 points.
But Wednesday, the Mules effectively put Glenn in a box, and with their star limited, the Fishermen had no hope of even keeping it close in what ended up being a 71-31 domination by Wahkiakum.
From Ilwaco's first possession, Wahkiakum's defense set the tone. As Glenn took the ball up the floor, two Mules stood at midcourt, and pounced as soon as she crossed half court. Under pressure, Glenn had to pass it out to the wing, at which point Wahkiakum broke into a box-and-one defense with one goal: to not let Glenn get her hands back on the ball.
"You don't do it with one," Wahkiakum coach Rob Garrett said. "Obviously, we went to a box-and-one, but you've got to get her to pick up her dribble early, and then from there, you've got to play team defense, know where she's at, hedge on screens... Across the board, I thought we did a phenomenal job defensively tonight."
The Mules executed the plan to perfection. A day after making 21 baskets in a 58-point performance against the Mountaineers, Glenn only took eight shots all game against Wahkiakum, and only made it to the line for one free throw. She still finished with 16 points, but none of those numbers were nearly enough to meet the challenge the Mules presented.
And once the ball left their star's control, Ilwaco struggled. The Fishermen got plenty of open looks from three-point range as the Mules recovered from their high double-team, but could only hit four long balls all day.
Aside from Glenn, Ilwaco shot just 20% from the field. But on most of their possessions, even getting a shot off in the first place was a challenge. When they tried to pass from the wing to the corner, they were trapped. Then, when they tried to send it into the key, the Mules in the post intercepted it, springing the transition offense.
"That's our goal," Garrett said. "We want to feed from our defense, and I thought we did that. We got out in early breaks because of our defense."
In the first quarter, Ilwaco only managed to get a total of eight shots off, and only three went in. That set up the final piece of the nightmare scenario for the Fishermen; without the other team having to take the ball out under the basket, they couldn't set up their full-court press, all but eliminating the possibility for the steals and transition buckets that have been their bread-and-butter this season.
"You can't get into your press if you're not hitting shots," Ilwaco coach Ned Bittner said. "If we're not getting hands on passes and getting Erika in transition, then we're not scoring, and we're getting into our half court set. Tonight, we couldn't do anything."
It took all of about four possessions to see how Wednesday evening was going to go. The first time Ilwaco did set up its press, Wahkiakum broke it in a matter of seconds before getting the ball to Emmie Niemela under the basket for two easy points.
Glenn came back with a transition layup — one of just six fastbreak buckets Ilwaco would get all night — but the Mules responded with a 9-0 run, taking advantage of turnover after turnover to keep the Fishermen from establishing anything offensively without white jerseys swarming everywhere.
Wahkiakum finished the game with 23 steals as a team — led by seven by Paige Mace and six by Jansi Merz — along with three blocks, and Ilwaco had plenty more unforced turnovers on top of that tally.
At the end of the first quarter, Wahkiakum led 26-7, and the route was only getting started. The Mules opened the second quarter on a 13-0 run before Zoey Zuern hit a 3-pointer and gave Ilwaco a chance to try to set up pressure.
Instead, the Mules beat the pressure easily yet again, with Niemela getting down the floor before anyone else and Mace finding her for another layup.
"We want to be pressed," Garrett said. "Please press us. I hope everybody presses us. Paige is seeing the floor at a great level, and the other girls are doing a good job of wanting the ball and cutting to open spots."
By halftime, the score was 45-15. Ilwaco wouldn't get a bucket down low until Chloe Stringer scored in the post early in the third quarter. But soon after that, Glenn picked up her fourth foul of the game and had to sit, and that's when things got even uglier.
With their best ball-handler out, the Fishermen were even worse off, at one point turning the ball over in the back court on two straight possessions as the Mules ended the period on a 10-0 run.
Nine Mules got themselves into the scoring in a game filled with Wahkiakum's trademark depth. Merz led the way with 19 points on 8-of-11 shooting, while Niemala added nine. Reigha Niemeyer pitched in 13, including a team-leading three 3-pointers; as a squad the Mules made nine threes.
Mace dished out nine assists for the second straight night; she has 33 through three postseason games this week.
The win put Wahkiakum one victory away from the District title. They were were scheduled to face Toledo at 5:30 p.m. on Thursday, back at the Hub.
"Our goal from Day 1 was to cut down nets," Garrett said. "If we play one more great game, we'll have that opportunity."