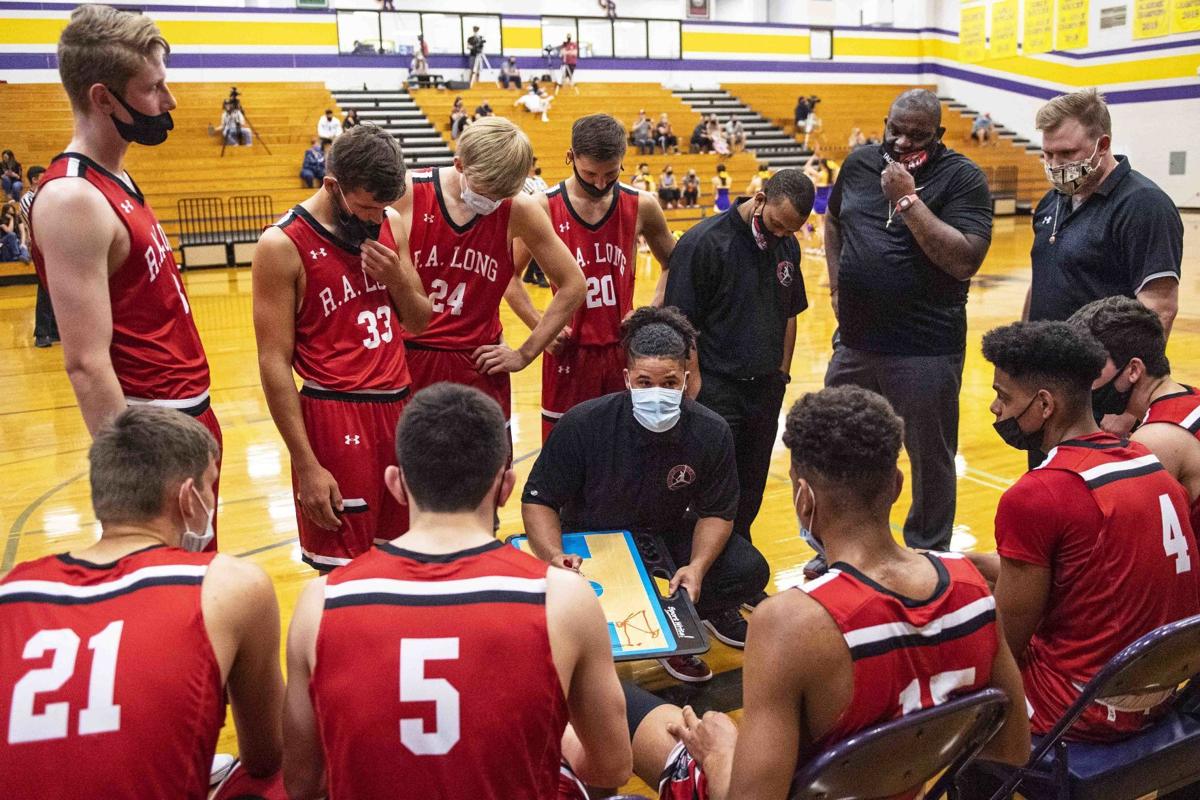 R.A. Long's historic 2021 basketball season won't end with a celebration. There won't be any nets to cut or trophies to raise. Instead, the Lumberjacks' season ended quietly Thursday after members of the team tested positive for COVID-19.
"COVID pretty much shut down our basketball program," R.A. Long athletic director DeWayne McCabe said. "It's a bummer because we aren't going to be able to play basketball anymore this season."
Due to mandatory quarantines and contact tracing, the Lumberjacks would not be eligible to return to the floor until after the completion of the District Tournament, McCabe explained.
Understandably, RAL coach Jeray Key said the players were upset to hear the news. Key noted he felt extra pain for the seniors, whose mandatory quarantines will force them to miss more than just the remainder of the season.
"They don't get to go to prom, they don't get to do their senior barbeque, their senior softball game and who knows about walking on graduation day," Key explained. "They're missing out on everything right now, including their last week of school. It was pretty upsetting."
McCabe said that players and coaches were still processing the news Thursday night following the cancellation of their previously scheduled league contest at Washougal.
"I feel like there is a lot of disappointment," he said. "I honestly feel like it hasn't fully settled in yet, but these are resilient kids."
Although the Lumberjacks don't get to see if they could reach their goal of winning a District title in an already truncated season, they still accomplished plenty during a season unlike any other. After dropping the season opener, the Jacks couldn't be beat. They rattled off 10 straight wins — including a sweep of crosstown rival Mark Morris — and won their first outright league championship in decades.
"It was special," Key said. "For how bizarre of a year it was, for as little work they had got together in the offseason together, to still be able to come out and do what they did…It was special."
Key said that the Lumberjacks picked up right where they left off last season despite the lack of preparation and the lack of certainty surrounding the season and that he expects the Jacks to do the same thing next year.
"Returning all of these players, I think we're going to have a good chance at making that run again," he said.
The Lumberjacks and the outgoing seniors have left a legacy and built a foundation that gives the program a bright future, Key said. Still, the Lumberjacks' coach said he wants his players to enjoy their successes before looking too far ahead.
"Right now, I'm just telling them to just enjoy what we had going right now," he said. "I haven't really looked too much into the next year… but what they accomplished, I want them to think about it for a while."
Key said he knows that this season will stick with his players for a while, but he hopes they focus on what they did manage to accomplish, as opposed to the inevitable "what-ifs."
"They're going to be able to look back years from now at what they accomplished," he said.
In the face of fresh disappointment and the shock of a premature ending, McCabe agreed with Key's assessment.
"Winning ten games in a row to win a league championship is still pretty cool," McCabe said.