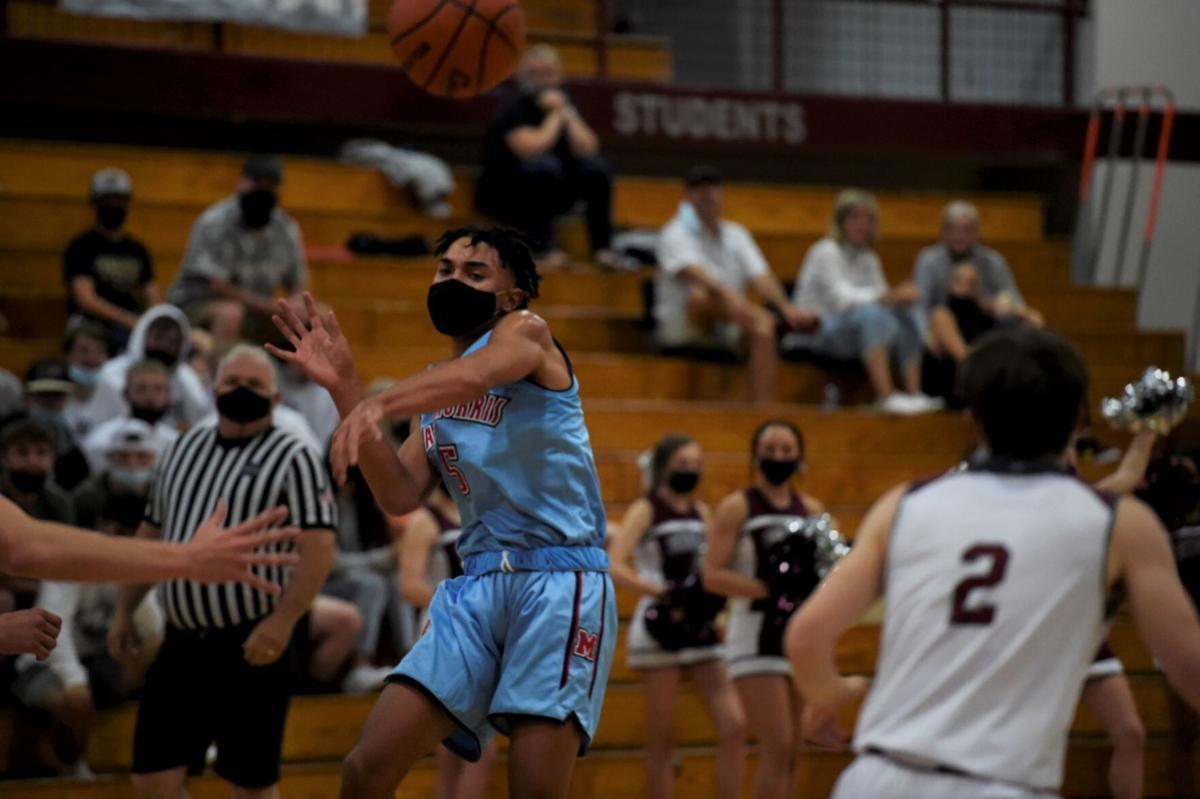 TUMWATER — Mark Morris made sure their hours spent burning up I-5 this week weren't wasted when they lodged a 68-45 win over Tumwater in a possible District IV crossover matchup disguised as a friendly non-league 2A basketball game.
Facing off against a team in green coached by former Monarch, Josh Wilson, the baby blue crew brought out their best dog steps and put the T-Birds through the paces for four quarters.
"I was very pleased with our overall toughness especially in the second half," said Mark Morris coach Bill Bakamus.
The Monarchs gave up a dozen points in each of the first two quarters but took a 31-24 lead into the half. Then they got so stingy they might as well have had long arms and deep pockets, allowing just five points in the third quarter to run their lead out to 18 points.
"We are starting to show some growth defensively, which is encouraging," Bakamus said.
Tumwater is considered by many to be the favorites in the Evergreen Conference. W.F. West is supposed to be their biggest competition. On back to back nights, the Monarchs dismantled both squads with a defensive death grip in the second half and while most of the team knows how to work the handcuffs, there's one that knows how to throw away the key.
"Can't say enough about how well Jamison Watson has been playing on defense for our ball club," Bakamus said.
Ashton Harvey chipped in a pair of steals, seven rebounds and 14 points for Mark Morris and helped to neutralize Tumwater's size inside.
When it came time to separate on the scoreboard, Deacon Dietz was up to the challenge, pouring in a game-high 27 rebounds while grabbing a team-high nine rebounds with three assists and two steals.
"Deacon Dietz had a monster game and the game is slowing down for him which will only make him better," Bakamus said.
Nate Millspaugh added 15 points for the Monarchs with four assists and three steals.
Luke Brewer led Tumwater with 10 points and Camden Oram added seven points.
Mark Morris (3-1) is set to play at Washougal on Monday before playing at R.A. Long on Wednesday.
Comets harry, stuff, and beat Vikings
NASELLE — Naselle tagged Willapa Valley with a fair few punches before the Vikings even knew what hit them, and the Comets rolled to a 78-56 win at home in 1B Columbia Valley League play.
The Comets poured in 32 points in the first quarter, jumping out to a huge lead and putting the game away early.
"We really came out firing, and it spurred off of our defense," assistant coach Tucker Glenn said. "The defense we were playing was forcing a lot of turnovers, getting out in transition. Guys were either getting threes or open shots going in. I think they burned three timeouts in the first quarter trying to slow things down."
At the top of that defense stood Jason Harman. The junior finished with nine points on offense, but from the opening jump, he simply did not let the Vikings have an easy trip up the court and set up their half-court offense without any disruptions.
"He might not have gotten the steal or the deflection, but somebody else did because of him," Glenn said. "It just kind of sped the game up, and they were either throwing the ball out of bounds or forcing up a quick shot."
As a team, Naselle forced 20 turnovers, and four separate Comets finished with multiple steals.
With the ball in their hands, the hosts were more than able to turn defense into offense as well. Kolby Glenn led the way with 27 points, Jimmy Strange scored 16, Kolten Lindstrom pitched in 13, and Warren Wirkkala added eight.
But all game long, it all came back to the dogged defending, keeping Willapa Valley in check the whole night, and implementing more and more harassment into the scheme.
"We haven't really gotten any practices, just games," coach Glenn said. "It's just teaching and coaching on the fly, and them learning on the fly. They did a really good job with that tonight."
Naselle (6-0) was scheduled to play at Pe Ell on Saturday, and start play next week Monday at Taholah.