WOODLAND — Good teams talk on defense, but on the offensive side of the ball the teams with the most chemistry tend to go off like a choreographed silent film with characters hitting their spots on cue. On Monday, the Monarchs were putting the talkies to shame with Braydon Olson playing the part of Charlie Chaplin on the to a season-high 40 points in a 95-71 league win over Woodland.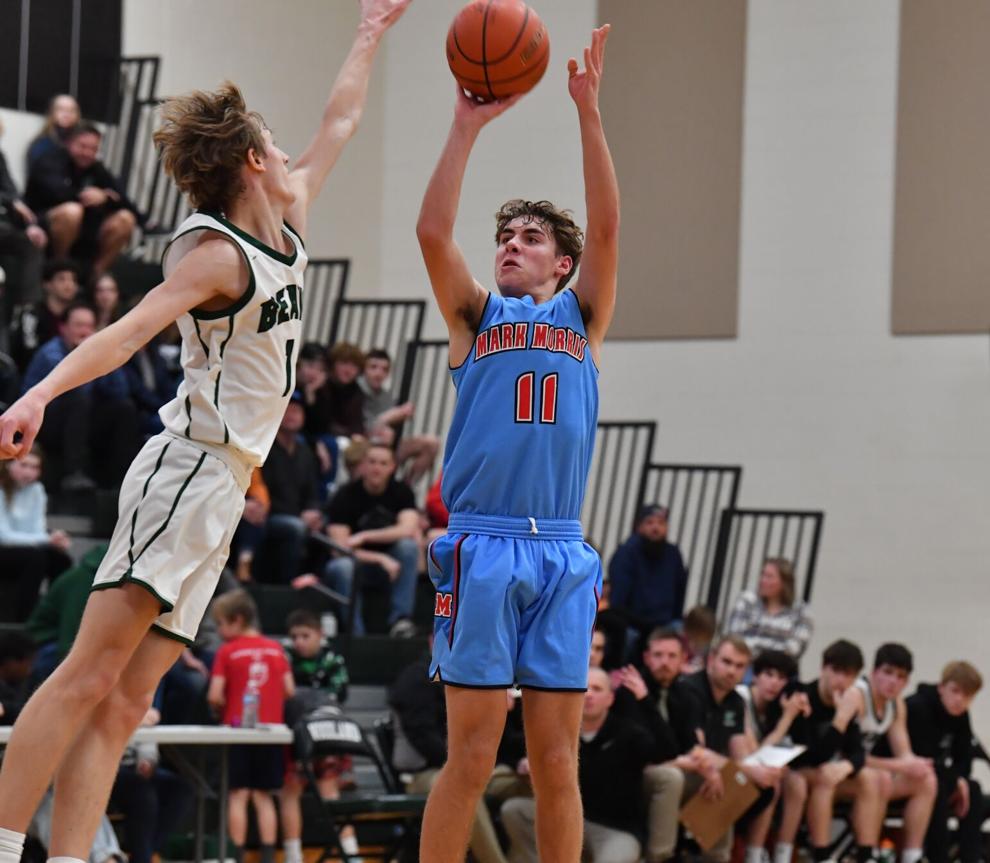 Olson scorched the Beavers for 20 points in the first quarter alone thanks to the help of five 3-pointers, plus three freebies he sank after being fouled on another long range look. The Mark Morris junior wound up tying his own school record with nine three-pointers made in the contest and missed an open pullup late in the fourth quarter before finding himself a seat on the bench for the final few minutes.
For the Monarchs it quickly became clear who was going to be the leading man on the hardwood stage.
"When you get into the game offensively, and you know that somebody has the advantage or has the hot hand and you go to them, that's selfless," MM coach Bill Bakamus said. "In that first quarter we just rode Braydon. I wasn't going to put the leash around him because the basket probably seemed like a hula hoop to him. "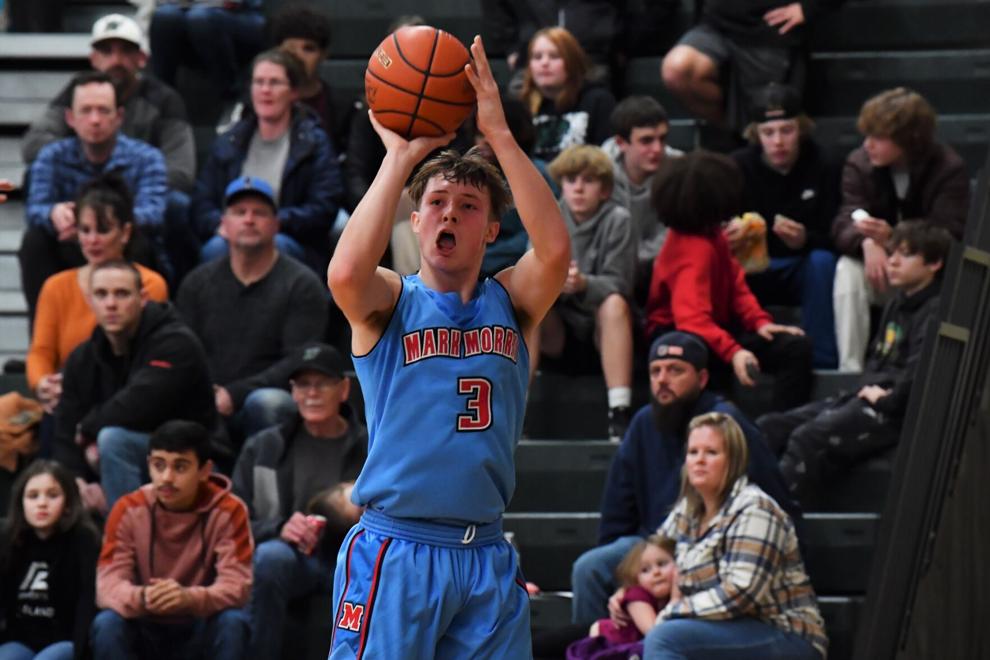 The Monarchs made a dozen 3-pointers as a team, with Malakai Gray adding two deft touches from deep, but without question Monday was the Braydon Olson Show. That much was painfully obvious to Woodland long before Olson cashed his fifth 3-pointer of the first quarter as the buzzer sounded and sent the Beavers to the bench trailing 29-15.
"We talked about trying to stop Braydon Olson," Woodland coach Justin Gabbard said. "The kid made nine threes, and he made all three free throws on one where we fouled him so he basically made 10 threes. I've never seen anything like it in my life."
Technically, if you count Olson's Dec. 15 showing at home against the Beavers where he dropped a game-high 33 points and a flurry of 3-pointers in a 75-58 victory, his most recent exploits were a sequel of sorts.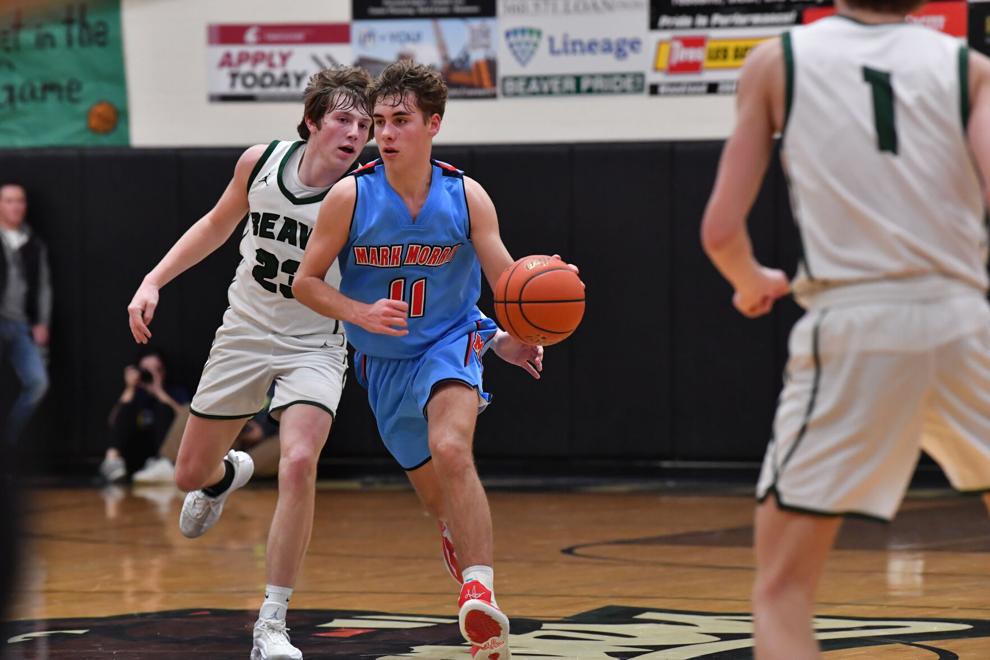 "The first time we played them, Parlin and Olson scored 62 points. Tonight they scored 63. That's the problem," Gabbard noted.
As for Olson, he didn't know he was going to grab the spotlight until he was already stealing the show. He made his first pair of three-pointers within the first four minutes of the game, then added two more over the next thirty seconds, putting the Monarchs up 14-7 and forcing a Woodland timeout.
"After I hit those first couple ones I knew things were going my way tonight," Olson said. "Pregame doesn't matter at all. It's really once the jump happens… honestly I wasn't really feeling it that much in pregame today."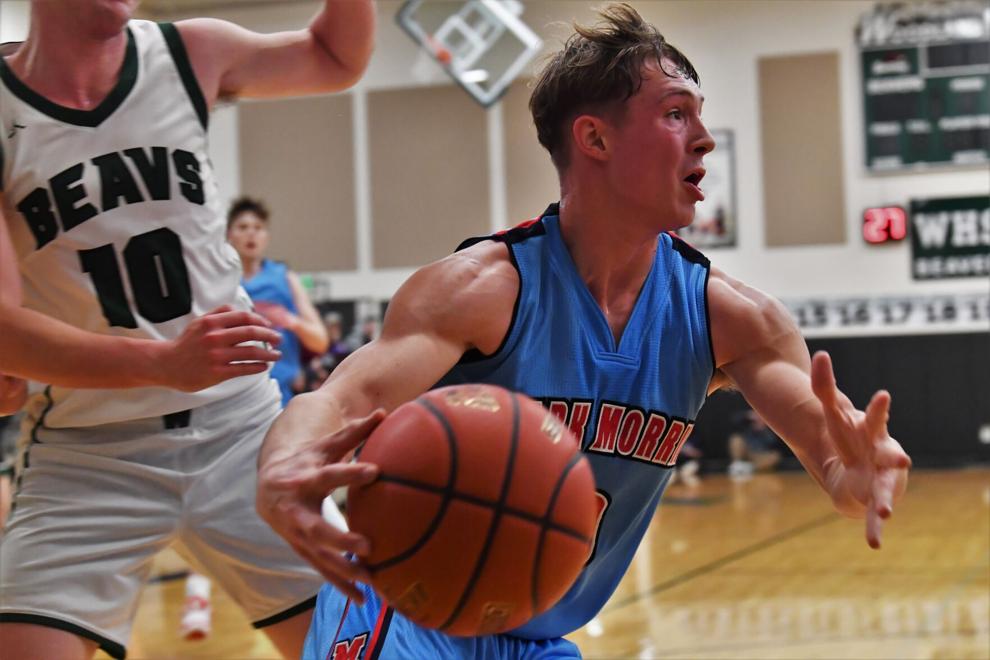 Once Olson began to draw a crowd of defenders the Monarchs seamlessly shifted their focus on offense to Kobe Parlin. The senior wing went to work from the elbow to the block, dominating the glass and scoring 23 points against an overextended Woodland interior.
"I just told him to be patient and you'll find your spots, and then we went to him by design," Bakamus said. "I think the greatest attribute that any team can have is when you celebrate your teammates success when they've got something going and you can genuinely care about what they are doing and their production."
Mark Morris saw Deacon Dietz add 11 points with Gray turning in eight of his own. Carson Bogner, Nash Bjorge and Dossen Morrow all chipped in four points and Jase Wygant found his way into the scoring column in the win. Those contributions, along with the ones that don't have a spot in the box score, were not lost on Olson as the Monarchs remained unbeaten and at the top of the 2A Greater St. Helens League standings.
"Honestly, we just get to our spots, get back in transition and play them straight up. We are so athletic and all our guys can run so we know that if we stop them we can go play offense and that's something we are really good at," Olson said. "Kobe did a really good job getting those tough buckets down low. Malakai was distributing the ball. Dossen's always hustling every single game and Deacon coming in there and making a difference."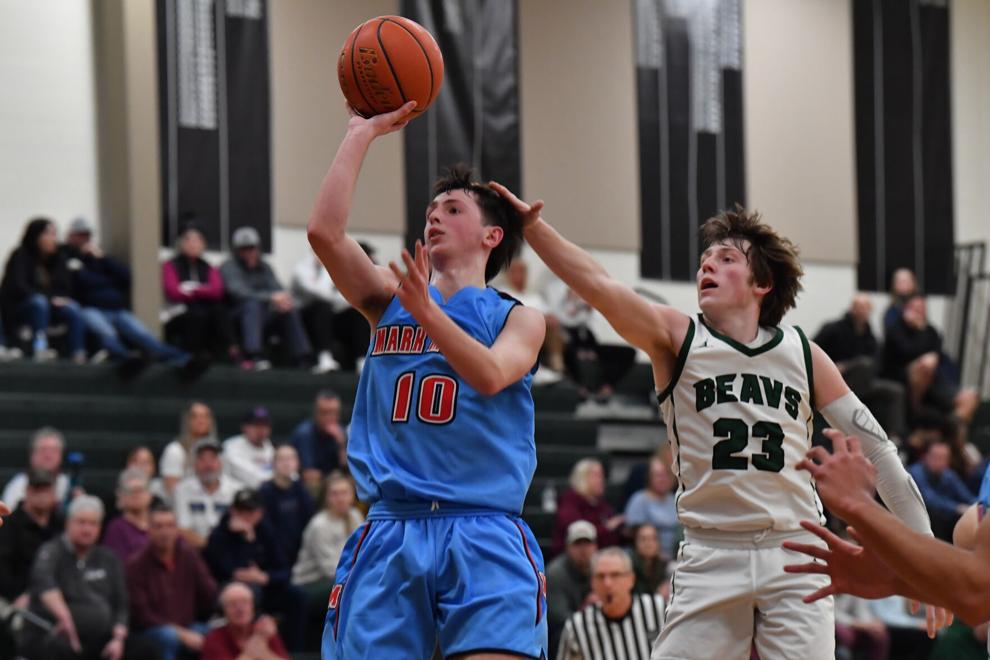 Woodland saw its own run of synergy in the second quarter when it scored 22 points and shaved three points off the gap before halftime. Beau Swett, Justin Philpot and Dane Huddleston all went to the locker room with 10 points and the Beavers looked conspicuously upbeat while trailing 48-37.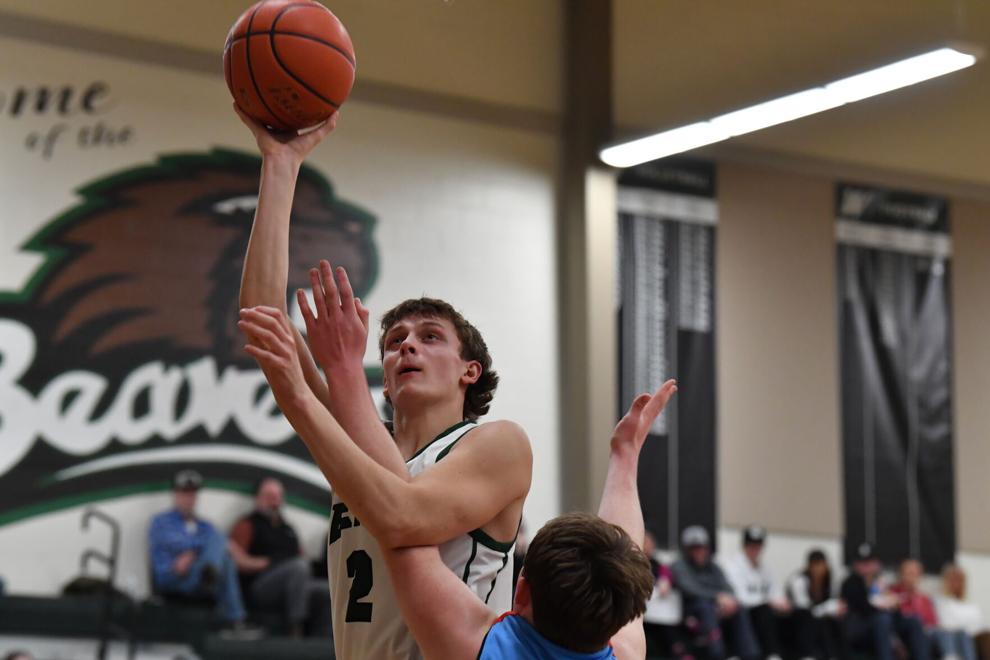 "That's the thing with this group. Multiple times we've had all five starters end up in double figures and on any given night it can be anybody. That's what I love about them," Gabbard said about his squad.
Swett finished with a team-high 22 points and Philpot added 19. Huddleston finished on 13 and Drew Burns added seven points while playing the part of metronome on offense.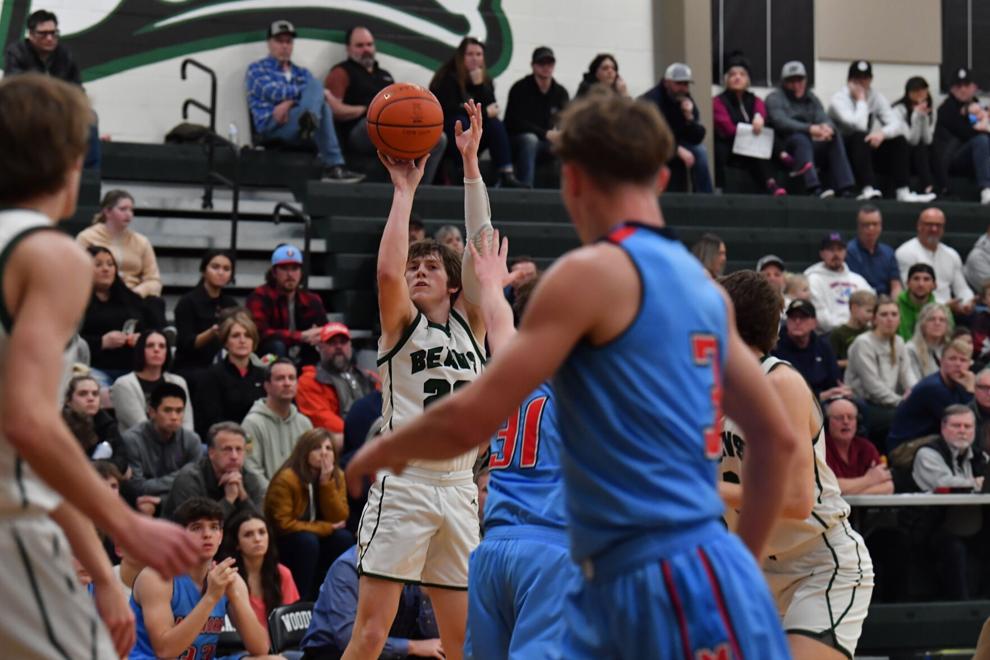 All of that was nice, and bodes well for the Beavers' postseason future, but against No. 5 ranked Mark Morris it wasn't nearly enough as the Monarchs dropped 27 points in the fourth quarter to turn a shootout into a blowout.
"We didn't play bad defense and our team never quit, they will never quit. (Mark Morris) just made a lot of shots and you can't give up 95 points. We just couldn't seem to stop it," Gabbard said. "At the end of the day we had some scorers, but not 40. We gotta learn from it and then flush it. We've got to win the ones that matter going forward."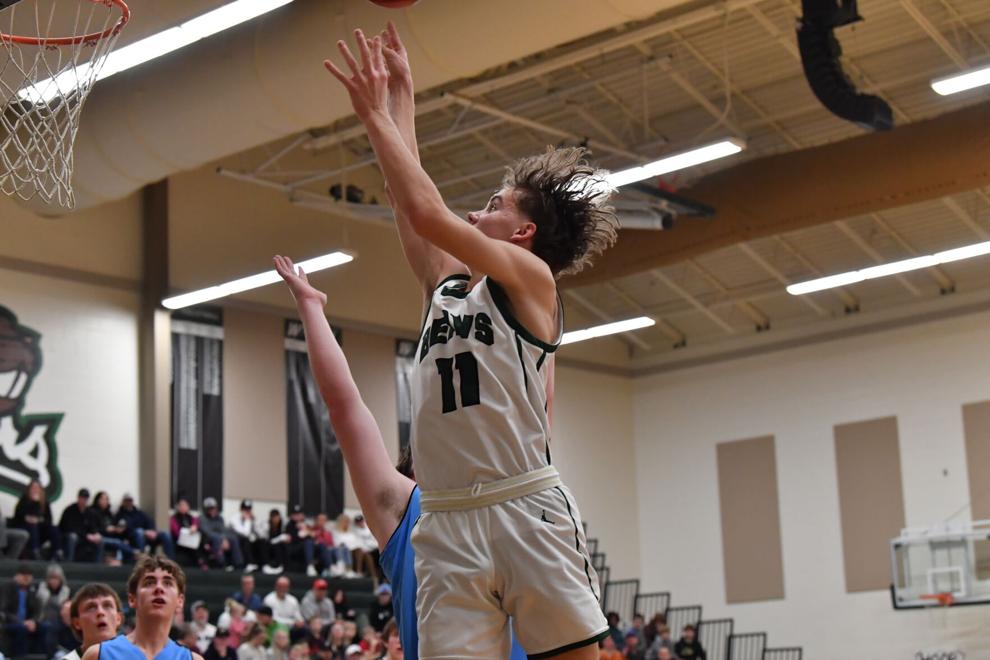 As for the Monarchs and their part in this drama of great expectations there is no time to be complacent. Their director knows what it takes to get his performers stage-ready and he's got a reputation for being tough to please.
"We had kind of a little bit of a jagged practice (Sunday). I didn't like the focus. Of course, when you're coming off the Winter Ball, you might still have your sea legs from boogying out on the dance floor," Bakamus said. "They had a little bit of an early exit."
If there's one thing Bakamus will not allow to be overlooked amidst the hoopla of dazzling shooting performances and winning streaks it's a workingman's dedication to defense.
"People forget that defense isn't just one guy against one. It's five guys playing collectively in harmony," Bakamus explained. "If the other team misses a shot and it's contested and everybody blocks out and you get a rebound, you know, people should cheer. That's the object of the game is to play team defense and ours was much better in the second half."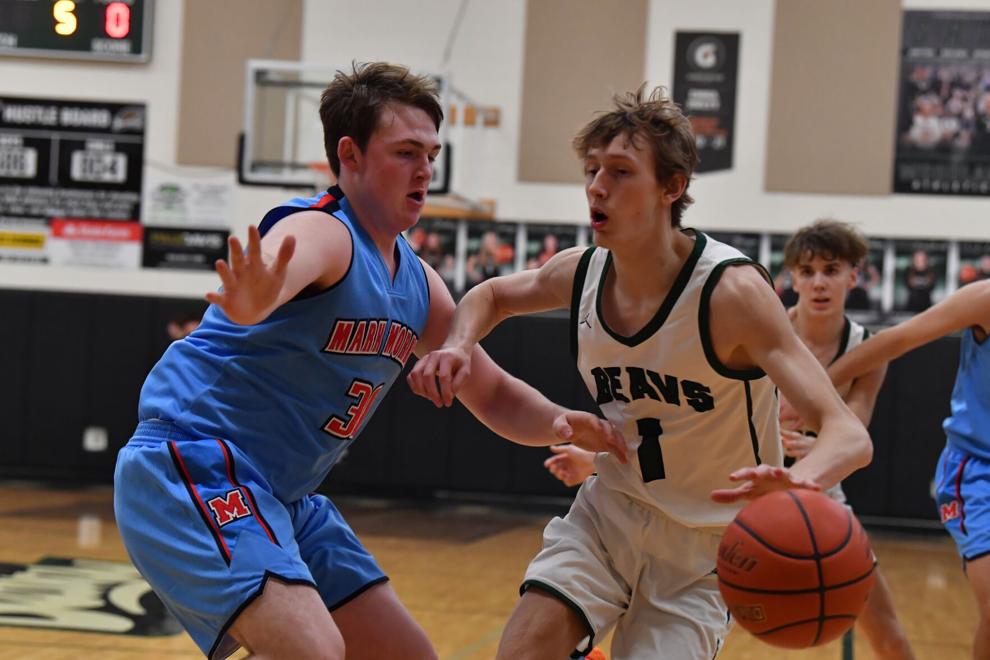 Mark Morris (15-1, 12-0) will host Fort Vancouver on Wednesday at 7 p.m.
Woodland (10-6, 7-4) now sits a half game behind Ridgefield for third place in the 2A GSHL standings. The Beavers will host Hockinson on Wednesday at 7:30 p.m.