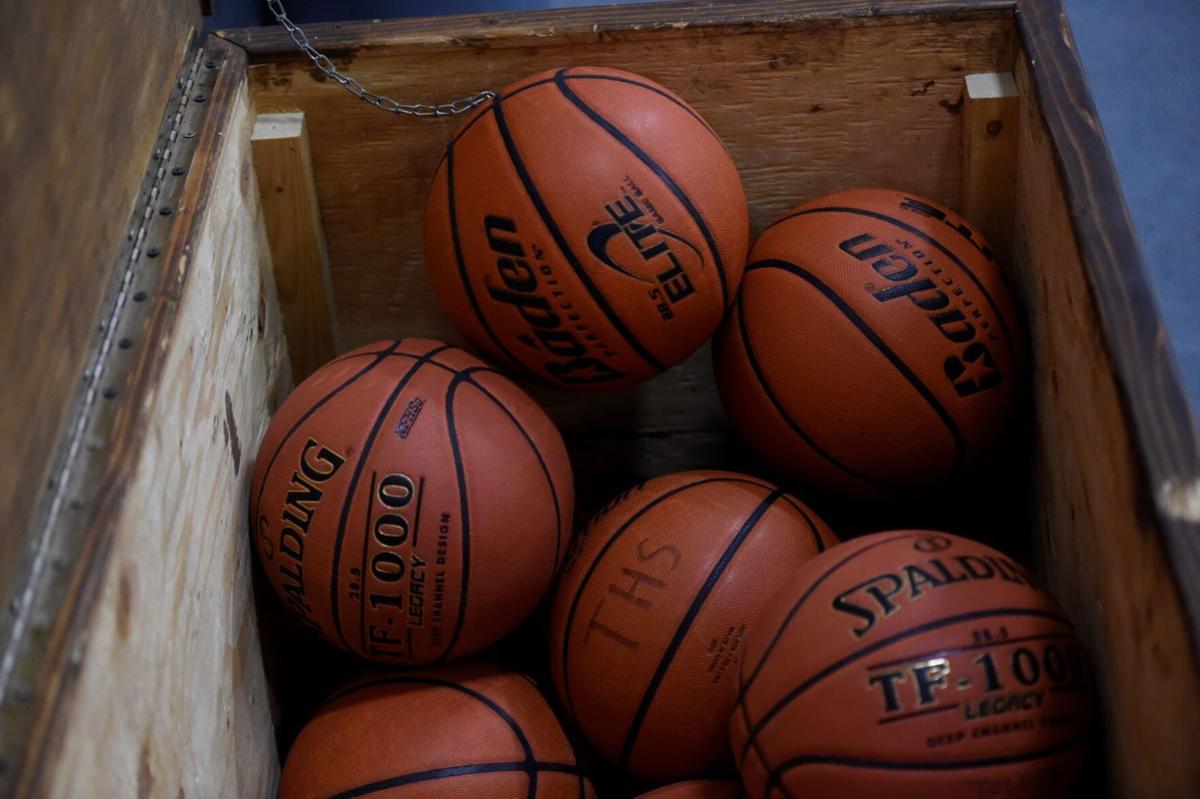 OAKVILLE — The weird, altered season that was the winter and spring of 2021 ended how its started for Naselle's boys: with a win and a trophy.
The Comets earned their third District title across the three separate seasons with a 66-51 win over Willapa Valley in the 1B District IV boys basketball championship game, getting revenge for their loss to the Vikings just last week in the highest fashion 2021 had to offer.
"Our goal from last year and getting third (at State) was to come back this year and win the whole thing in Spokane," Nasell coach Bill Olsen said. "Well, when we realized that that wasn't going to happen, that's when we reassessed our goals, and the kids bought into it. This is a special group of boys."
That group of boys — led by seniors Kolby Glenn, Warren Wirkkala, and Jimmy Strange, junior Jason Harman, and sophomores Joey Strange, Kolten Lindstrom, and Clay Berguson — put together one of the most dominant years possible without the traditional opportunity for a State title at the end of each season.
Across the fall, spring, and winter seasons, Naselle's football, baseball, and boys basketball teams combined to go 27-3. Two of those losses came in baseball to 1A Montesano, when the Comets jumped two rungs up the classification level. The lone loss to a fellow 1B side came just last Tuesday at the hands of the same Willapa Valley basketball team it faced — and subsequently downed by 15 — in the District title game.
"Obviously, we wanted to go undefeated, and 16-0 would have been nice," Olsen said. "But sometimes it takes that little bump in the road to re-energize yourself and realize that we have to do better."
In the game last week, Willapa Valley dominated the glass to win. Tuesday, the Comets didn't fare much better — the Vikings outrebounded them 35-20 — but it didn't end up mattering.
"They just missed a lot of putbacks, is what happened," Olsen said. "They were a lot bigger than us. Sometimes they got five or six shots, and they just didn't go in for them."
On the other side of the ball, the Vikings tried to get Naselle — and more specifically, Glenn — out of whack with physical play that at times bordered on downright chippy. But despite getting in a bit of foul trouble early, the Comets kept let cooler heads prevail and jumped out to a 13-point lead at halftime.
"Ultimately, they tried to kind of mentally take us out of our game by playing really physical, and hats off to my guys for not buying into that," Olsen said. "They did a really good job of keeping their cool, especially Kolby."
Willapa Valley honed in on Glenn and threw everything it had at Naselle's leading scorer, hounding him all over the court. In response, Glenn took advantage of the double-teams to find open Comets on the perimeter, most notably Wirkkala, who knocked down four 3-pointers.
Ultimately, though, Willapa Valley couldn't keep Glenn from doing his thing; the Vikings just made him change it up a bit. Instead of his usual game of hurting opponents from long range, Glenn put his head down and went to the lane, drawing fouls and going 12-of-14 from the free-throw line.
"No matter what they tried, Kolby wasn't going to get beat tonight," Olsen said.
Jason Harman added 15 points, brought down eight rebounds, and came away with four steals.
"He had a great game tonight; best game he's ever had," Olsen said. "Hopefully there's good things to come next year."
Wirkkala added his 12 points from behind the arc, and Jimmy Strange scored nine in his final game in a Naselle uniform, and the final outing for a group that almost literally won everything it was able to this year.
"They all get along, and that's a big part of high school basketball," Olsen said. "There were no egos, and they all compliment each other. They work hard. Can't say enough about them."