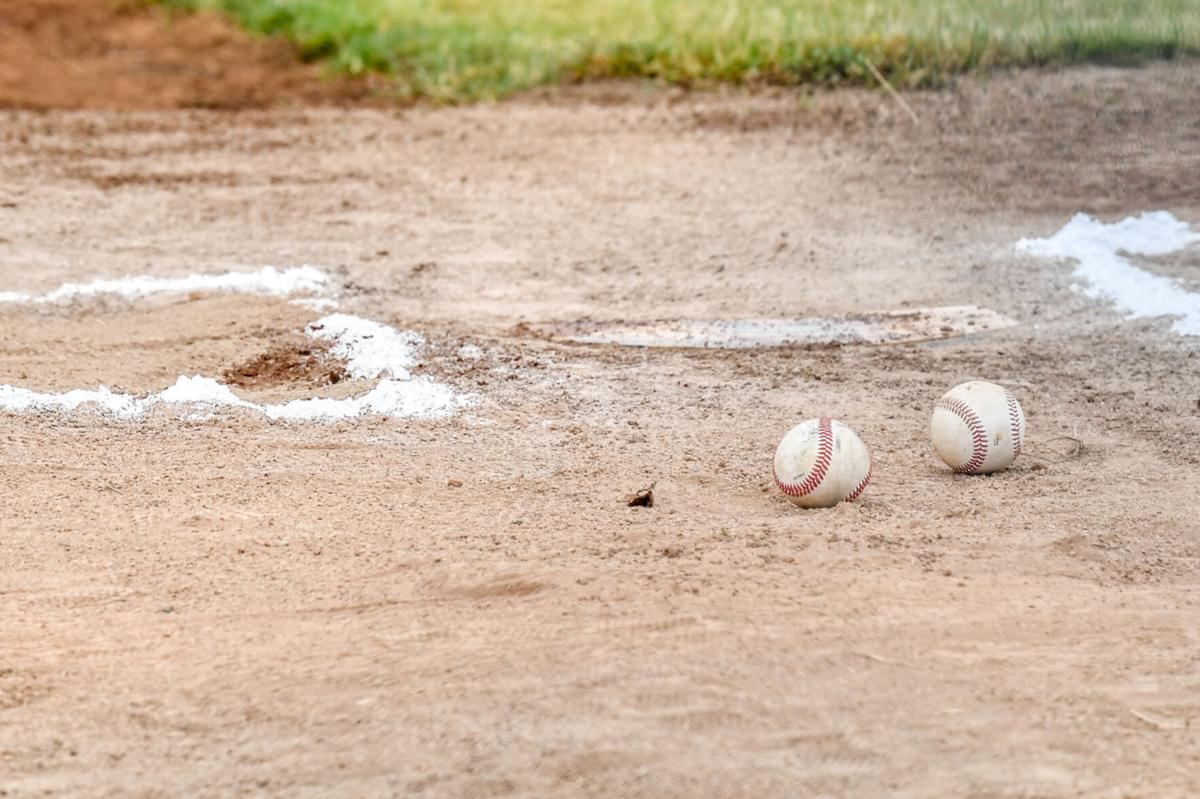 KALAMA — When the Chinooks play home games this season it takes a full team effort just to get all the bells and whistles in place. Without a traditional home field, the Kalama baseball team has been using Haydu Park in the games where they have last at bat, but before they get to take the field they've got to load up a truck full of shovels and rakes and other implements of destruction in order to prep the field.
On Monday, the 'Nooks made sure to pack their bats with the rest of their tools and then put them all to use with expert precision on their way to a 23-8 win over Morton-White Pass in a mercy rule abbreviated C2BL affair.
Kalama pounded out 17 hits in the game and put up nine of their runs in the first inning in order to set the nine pound hammer tone for the day.
"That did the job," Kalama coach Brandon Walker said. "They walked us a lot too but we had 17 hits so we'll take that."
Shayden Jones had a pair of hits and rove in four runs in the win and Brady Burns added three hits with a RBI. Tommy Brandenburg was 3-for-3 at the plate with a trio of RBIs and wound up just a homerun short of the cycle.
In case anyone thought the Chinooks forgot their power tool in the rush to get ready, Keaton Fisher made sure to launch a three run homerun in his one official at bat in the first inning. He settled for three walks the rest of the way.
"The first couple of games where we actually faced decent pitching, after that it's going to drop off, and we expected that. By game three we were way out in front of everything" Walker said. "It was just guys not making adjustments. This time it was literally, like don't think middle away, think right field. That's all we've been focusing on is right side, right side, right side."
Noah Imboden handled the first three innings on the hill for Kalama, giving up three hits and three earned runs and three strikeouts.
"(Imboden) did his job. He had them put the ball in play and he only had one walk, we just didn't make the plays behind him," Walker said. "We made a couple of errors in the third inning... That third inning was awful."
Ryan Cooney handled the final two innings of work for Kalama, allowing three runs on five hits while striking out four T-Wolves without surrenderng a free pass.
Kalama (3-2) is scheduled to play at Wahkiakum on Monday.
Mules skunk Mountaineers
CATHLAMET — The Mules had their bats and glove working Monday as they dropped Rainier (WA) 10-0 in a five inning rendition of C2BL baseball.
Beau Carlson tossed all five innings for Wahkiakum before the ten-run rule went into effect, racking up eight strikeouts and allowing just two hits to earn the win.
"Beau threw strikes and we played great defense behind him," Wahkiakum coach Marc Niemeyer said.
On offense, Wahkiakum took a little while to get their bats going but once the hits started to drop the Mountaineers couldn't figure out how to get them to stop. After scoring just one run through three innings the Mules went off for eight runs in the fourth frame and then finished off the ten-run win in the bottom of the fifth inning when Chance Cothren drew a walk to plated Dominic Curl.
Ashden Niemeyer led the Mules' charge with three hits and an RBI in four at bats. Curl had a hit and scored two runs and Carlson helped his own cause with a hit, a walk and an RBI.
"Offensively we really had some timely hits and took advantage of Rainier errors," Coach Niemeyer added.
Wahkiakum (4-1-1, 3-1-1 league) is scheduled to play at Napavine on Thursday.
Ducks hold off late Bulldogs' rally
TOUTLE — The Fighting Ducks gave their best wings a day off on Monday but still found a way to best the Bulldogs with a 7-3 win in a C2BL baseball contest.
Camden Wheatley got the nod for the start in the stead of the usual suspects against Stevenson and made the most of it by notching seven strikeouts and allowing no runs or hits over four innings. Conner Cox got out of his catcher's crouch and struck out four batters while allowing three runs on three hits over the final three innings.
Stevenson was hitless until the seventh inning when a homerun put them on the board and broke the seal. Back-to-back singles after the dinger brought a spark of life to the Bulldogs' dugout but Cox barred down to retire the next three batters in a row, including a punchout to end the game.
Offensively, Zach Swanson launched a two-run homerun in the second inning and finished the game with two runs scored. Ryder Moss added a pair of hits, a run and an RBI while Eddie Gould managed a hit and an RBI and scored a run. Fisher Wassell joined in on the fun with a hit and a run scored, while Conner Cox helped out his pitchers (including himself) with a double.
Toutle Lake (6-0) was scheduled to play at Onalaska on Wednesday before hosting Morton-White Pass next Monday.
Winlock lets Loggers roll to victory
WINLOCK — What was a 2-2 tie after three innings turned into a 10-3 win for Onalaska in the Egg City, Monday, as Winlock allowed the Loggers to pick up steam with the help of a handful of errors in their C2BL baseball matchup.
Jeremy Larson pitched a complete game for Onalaska, striking out 16 Cardinals along the way and allowing just three hits. But the top of the Winlock order kept things interesting until the defense gave the bag away.
Winlock starting pitcher Aiden Eitel was able to go 4 ⅓ innings before errors and workload considerations ended his day at 75 pitches. Eitel struck out five Loggers over that time and allowed just three hits and one earned run.
But a series of dropped fly balls and other defensive gaffes gave Onalaska too much rope to work with. After turning the corner into the fourth inning all tied at 2-2, the Loggers put up two runs in the fourth, one in the fifth, three in the sixth and two more in the seventh to stretch out their lead.
Ethan Cameron led the Onalaska offense with two doubles and a pair of runs on three hits. Mason Ulery added a pair of hits and runs from the leadoff spot for the visitors.
Mekhi Morlin set the standard for Winlock's offense with an RBI double, a run scored, and a stolen base. Landon Tiemens added a hit, a pair of walks and three stolen bases.
Defensively, the Cardinals watched on as Chris "Aussie" Heikkila played his eighth and ninth positions of the season by stepping in at shortstop and right field in addition to pitching duties and patrols in centerfield.
Winlock (2-4, 1-4 league) is scheduled to play Morton-White Pass in Morton on Thursday.
Washougal doubles up Woodland
WASHOUGAL — It was a road trip to forget for the Beavers on Monday as they headed east down the Columbia River gorge only to be rewarded with a pair of losses for their efforts as Washougal won their Greater. St. Helens double dip 4-1 and 13-0.
Woodland took a 1-0 lead in the top of the first inning in the game's first contest, but that would be the last time the odds were in their favor. Washougal answered back with one run in each of the first three innings and tacked on another for good measure in the fifth frame.
Blaine Hix led the Beavers' batsmen with three hits and an RBI in Game 1, while Daymon Gressett added a hit and run.
Mickey Woodward took the tough luck loss, spinning six innings while allowing two earned runs. He scattered eight hits and gave up just one walk.
The returns were far worse in the rematch as the Beavers managed just five hits and committed five errors in the five inning mercy-rule loss.
Keaten Stansberry took the loss in the second game after tossing three innings in which the Panthers put up five runs. It was the fourth frame, though, when the wheels came off for Woodland as Washougal put up eight runs to push the game beyond the ten-run limit.
Caden Norton had a pair of hits for Woodland in the nightcap while Asher Ulibarri, Tyler Young and Hix all added a base knock.
Woodland (1-4) is scheduled to play at Columbia River on April 12.
Comets down Vikings in five innings
MOSSYROCK — Three games into the season, and the Naselle baseball team's offense hasn't slowed down at all, with the latest big afternoon for the Comets coming in the form of a 14-2 win in five innings of 1B action at Mossyrock on Monday.
Naselle put up three runs in the first and three in the second before blowing the game wide open with an eight-run third, and from there it was all cosmetic as Joey Strange and Warren Wirkkala combined to shut down the Mossyrock order.
Strange threw 50 pitches in a three-inning start, striking out seven and allowing just a hit and two walks. Wirkkala took the last two frames and gave up a pair of runs on three hits and two walks, but by then the Comets' offense had put it far out of reach.
Naselle's offense combined for 16 hits — 14 of which came in the first three innings. Joey Strange and Warren Wirkkala both helped their combined cause with 2-for-3 days, the latter legging out a triple and knocking in a pair of runs. His brother, Jimmy Strange, went 3-for-4 at the top of the order with a double, three runs scored, and two RBIs.
Clay Bergeson had the best day at the plate of all the Comets on paper, going 4-for-4 in the cleanup spot of the Naselle lineup with a double and four RBIs.
Naselle (3-0) is scheduled to have the rest of the week off before hosting Lake Quinault on April 12.