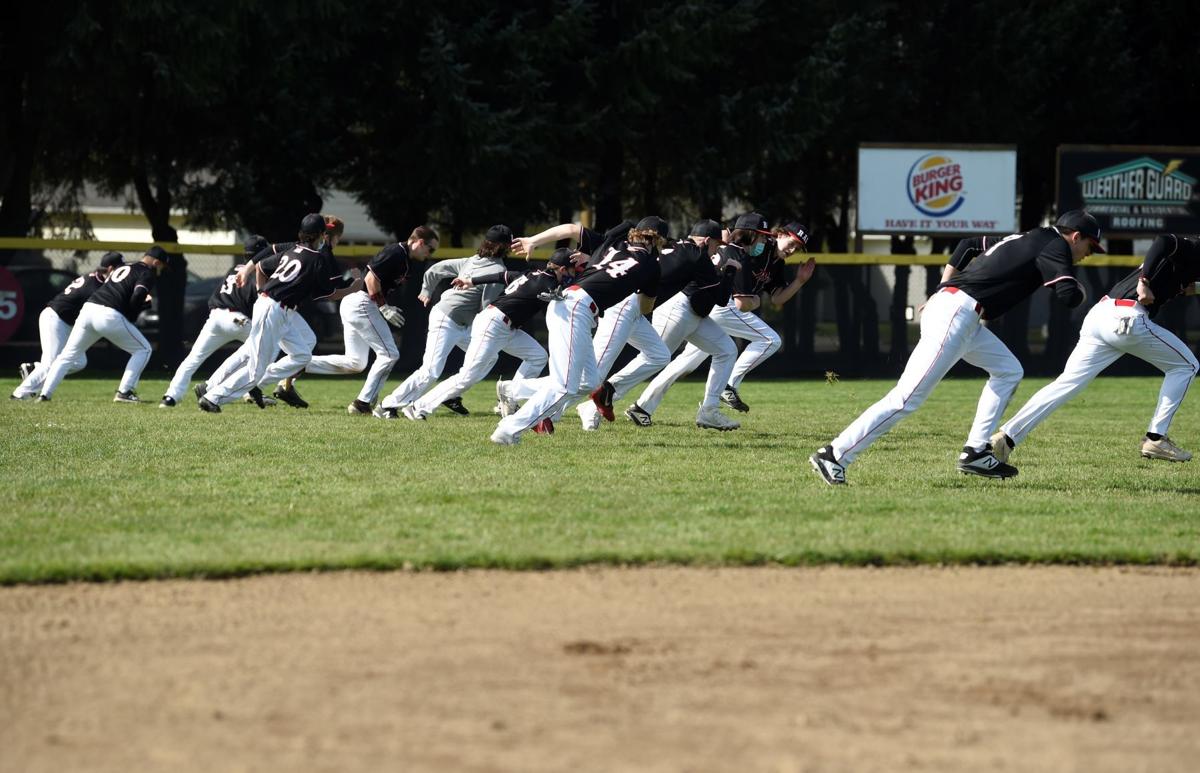 VANCOUVER — R.A. Long got oh-so-close to picking up its second win of the season on Monday but came up just short as Hudson's Bay claimed a 3-2 win in 2A Greater St. Helens League baseball happenings.
Israel Rutherford started the game on the hill for R.A. Long and surrendered three runs over 1 ⅔ innings.
On the whole, the Lumberjacks' pitching staff put up a great effort on the knoll but the defense wasn't able to secure the outs needed to keep the Eagles at bay. Haiden Witham pitched 3 1/3 innings with five strikeouts, one hit and one hit by pitch allowed while throwing zeroes up on the scoreboard. Jared Childers spent two innings away from his traditional spot behind the dish and was also able to hold the Eagles scoreless.
But those holes in the Jacks' defense proved too much to overcome. Childers, Sammy Hopper and Aeybel Millian all managed hits in the contest. Childers also drove in a run and Millian stole two bases. Israel Rutherford and Witham both found their way on base without a hit and scored runs, while Logan Dorland earned his way on base by wearing a hit by pitch.
R.A. Long (1-8) is scheduled to host Mark Morris on Wednesday.
Beavers settle for split
WOODLAND — It was feast or famine for the Beavers on Monday as they split a 2A GSHL baseball doubleheader with Hockinson, drooping the first game 11-2 before returning serve with a 9-2 win in the nightcap.
The Woodland bats were quiet in the opener with just three hits in the game. The Beavers managed to put up one run in the first inning and another in the fifth frame but there was nothing much more doing for the home team.
Daniel Blottenberger was 2-for-3 with an RBI for the Beavers in the loss, while Mickey Woodwdard added the only other hit.
Brett Martynowiez pitched 4 ⅓ innings for Woodland and allowed one earned run on four hits with three strikeouts..
In the third inning, trailing 2-1, Woodland looked like they were going to make a comeback when they put their first two runners on base and then called for a sac bunt to advance their runners ninety feet. But the Hawks defense held and didn't allow a run in the frame, shifting the momentum over to their side of the diamond for good.
"Hockinson played solid baseball. Didn't make any mistakes and capitalized on ours, like a good team should," Woodland coach Joseph Brown said. "Walks and errors caused us to let a good, competitive game slip away, as well as failure to execute with runners on base."
The second game was the ying to the opener's yang as Woodland put up eight hits and played nearly perfect defense.
"(Our) standout for Game 2 is Asher Ulibarri who pitched the complete game," Brown said.
Ulibarri racked up seven strikeouts over the course of the game while allowing just one earned run to notch the win.
Offensively, Tyler Young led the way to victory with two hits, a walk, a run and an RBI. Blottenberger added two hits and a run for the Beavers while Daymon Gressett, Mickey Woodward and Ulibarri all notched hits, too.
Woodland (4-7) will now have to wait while the rest of the 2A GSHL wraps up league play before beginning their postseason run.