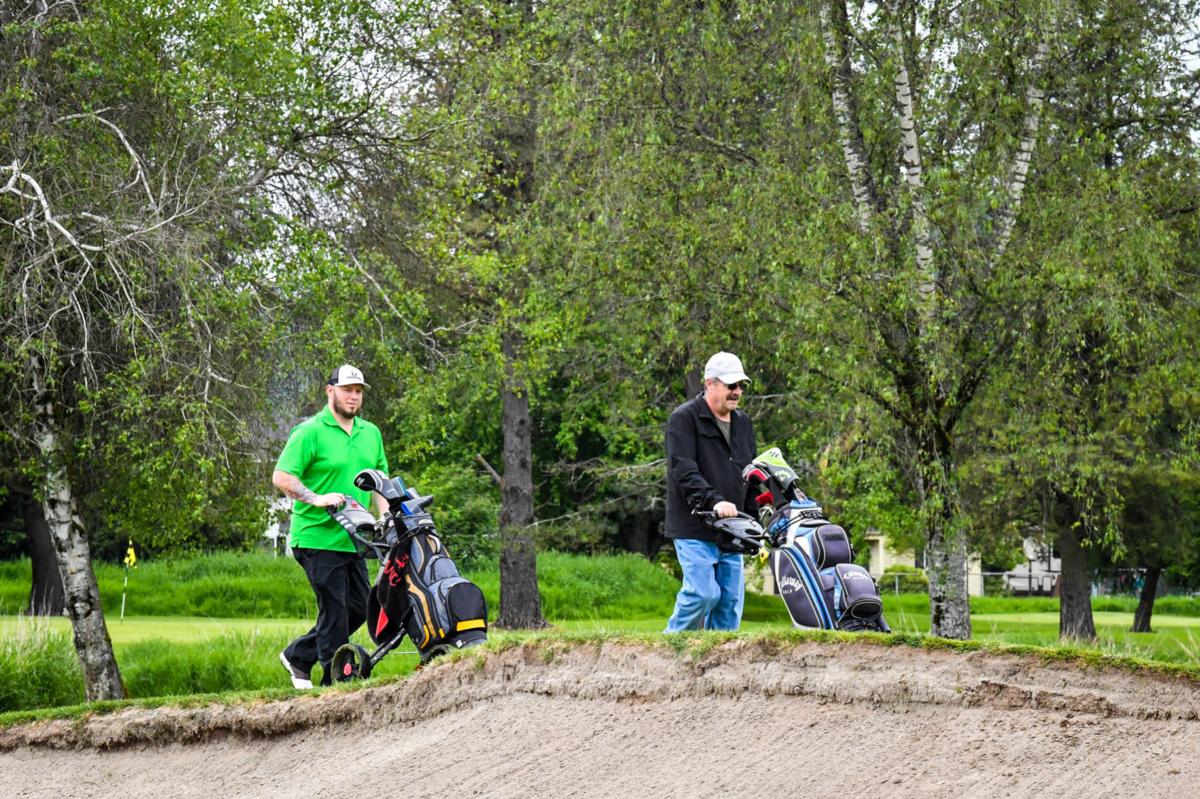 Little by little, like a duffer in a cutoff crisscrossing down the first fairway, things are beginning to look more normal on at least one popular public expanse — the golf course.
After shutting down entirely in mid-March under a directive from Gov. Jay Inslee golf courses in Washington were allowed to begin testing the waters back on May 5. That's when groups of two were first allowed to return to the course with a lengthy list of precautions in place in order to help prevent the spread of COVID-19.
Then, last week news came down from the governor's office that groups of four would once again be allowed to make their way around the course together as part of a gradual easing of social-distancing regulations.
The news was greeted with a collective cheer from scratch golfers and novices alike. Subsequently, tee times have become a hot commodity as the public seeks to escape the confines of their homes in order to whack the little white ball with a crooked stick for a while.
"They went from two-somes to four-somes overnight so it's been a lot just to keep up with the regulations as an operator," noted Jim Nickerson, manager of Mint Valley Golf Course.
When courses reopened in early May there were 25 stipulations from the state regarding operations both on the course and in the clubhouse. Last week's update included five changes to those guidelines.
"Golf is widely seen as an activity that is viable and relatively low risk, however there are additional precautions that need to be in place to ensure the safety of players, golf course staff and club/course officials," read the update from the Governor's office.
Previously groups of four were only allowed if all members were from a family sharing the same household. The new guidelines allow non-related foursomes to strike out on the course, and related golfers are even permitted to share a motorized cart. Restrictions on driving range use have also been eased and course operators have been told they can once again set out garbage and recycle cans around the course… so long as they don't have lids.
Other safety precautions remain in place.
Rakes are still absent from sand traps and golfers are allowed a courtesy drop into some fresh sand if they don't like their lie. Ball washers have been taken down from the course. Foam inserts still prevent putted golf balls from dropping deep down into the cup where fingers would be forced to commingle, and practice greens have had their holes removed entirely. In the meantime, golfers are making due by simply putting at push-in pins. Cash has also been banished from the course in order to cut down on hand to hand transactions and the restaurant remains closed.
On Friday Lewis County was approved to enter Phase Two of Gov. Inslee's reopening plan. That means that restaurants and lounges at courses like Riverside and Newaukum Valley in Chehalis were able to open effective immediately. While that sort of return to normal will inevitably be met with cheers at Mint Valley's 19th Hole, Nickerson says everyone has been taking the changes in stride in the meantime.
"The people have been great. They've been respectful. They understand that we're dealing with something that we've never dealt with before. I think they are just so excited to be out and doing something," Nickerson said.
He noted that the expanded use of the driving range has been a big help for golfers looking to knock the rust off after their government imposed sabbatical from the course.
"Before the update on Friday the rules were that you could only use the driving range 30 minutes before your tee time, which was a little rough," Nickerson admitted.
He added that a growing number of golfers have been utilizing the par-three course in order to hone in their skills before hitting the big course.
"It was a way to show off a part of our course that we really haven't been able to showcase. A nice little par-three, six hole course where you can work on your short game," Nickerson noted.
In spite of the various one-off oddities around the course Nickerson says turnout has exceeded typical usage rates ever since courses reopened on May 5. Even when groups were limited to groups of two Mint Valley was booked from 6 a.m. until at least 6 p.m. with about 210 people hitting the course each day. Now, with groups of four back on the table, the course has seen upwards of 250 golfers even on overcast days that typically top out around 200 episodes of first-tee jitters.
"Today was a pretty average day weather-wise and we did close to 250 rounds," Nickerson said on a day like any other this week. "I would say regardless of the wind and rain people are still coming out. Which is good to see."
Nickerson added that the speed of play for a full 18 holes has been running right around three hours and fifteen minutes, which he said is a near land speed record on Longview's municipal course.
Craig and Easton Marshall of Lexington were one pair of locals who made their way to Mint Valley this week. Craig, a former R.A. Long an Lower Columbia College athlete, and his son, a 14-year old do-it-all in Kelso's sports programs, even managed to keep it a father-son affair as demand spiked on courses around the region.
"Foursomes were open but I scheduled it for it to be just E and I," the elder Marshall explained. "We went with the attitude that, 'Hey, we haven't been golfing too much so we're not really going to worry about the score. We're just out there to be outside and enjoy ourselves. It was nice to be there and getting out of our routines we've fallen into."
Marshall noted that he played a round at Three Rivers Golf Course right after two-somes were first allowed back on the course, and he's also gotten in a rain-soaked round in Oregon where groups of three were allowed before Washington. He said he enjoyed both of those excursions under various sets of rules and reduced capacity settings. Still, he didn't quite know what to expect when he showed up at Mint Valley on Tuesday.
"I thought it was going to be slow play because I saw so many carts but it was actually just people trying to get their own carts to stay safe," Marshall said. "There wasn't much waiting. It was just a nice steady pace all the way across."
While this time of year is typically reserved for baseball in the Marshall household there's a good chance Craig and Easton will find their way back to the tee box before the batter's box.
"During baseball season I try not to take him out so it doesn't screw up his swing, but we're absolutely going to go out again," Marshall noted. "Heck, he may like to golf more often now just because it's something that gets him out of the house."
That experience is something that Nickerson believes may turn into a trend.
"I could see this becoming the new normal, especially with golfing and fishing being the only two sports allowed right now," Nickerson insisted. "I'm seeing a lot of young faces out here. More than I've ever seen. I think this could wind up being a real springboard for the sport of golf."
Be the first to know
Get local news delivered to your inbox!