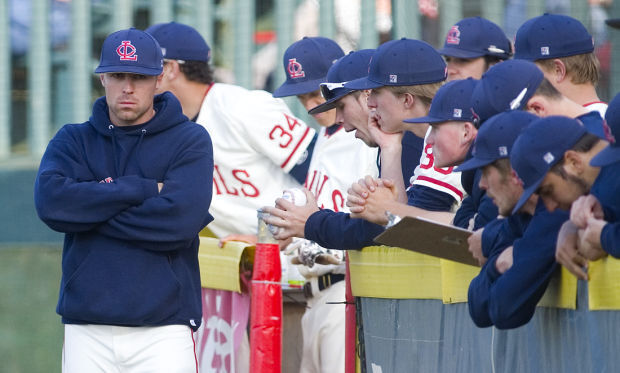 A familiar face is returning to the Pacific Northwest this weekend but he'll be sporting new colors on a bigger stage. Former Lower Columbia College head baseball coach Eddie Smith will be in Eugene, Ore. this weekend to compete in the NCAA Regional tournament hosted by the University of Oregon as the hitting coach for the Louisiana State University baseball team.
Smith served as the Red Devils skipper for four seasons from 2014-2017 after stints as an assistant at the University of Virginia, Santa Clara University and Notre Dame.
"It was my first time being a college head coach, and I think that there's things that you learn the first time going through being a head coach," Smith said. "There's only one way to learn them and that's to have the experience."
During his tenure at LCC, Smith said he felt an instant connection with the area and was set on sticking around for a while.
"The whole Longview-Kelso community, from day one, was home for me," he said. "It was a place that I absolutely loved. I've never lived somewhere where I've had such a passion for the place and that was because of the people."
When Smith took over for the Red Devils, he was already familiar with the expectation of success that the LCC baseball program had as he spent time playing for NWAC foe Centralia Community College in 2003-2004, before he finished his playing career at Notre Dame. He inherited a program that wasn't quite up to previously established levels of success for LCC and was determined to return them to their typical lofty heights.
"The first year was a really tough year," Smith said of his time at LCC. "We were just OK, not good at all by LC's standards, probably pretty average by everybody else's standards. Then we had three really exciting years after that. I think there were a lot of changes, a lot of growth for me personally as a coach from my time there."
LCC athletic director Kirc Roland was complimentary of Smith's tenure as a Red Devil.
"Eddie did a great job when he came here," Roland said. "He was an NWAC player, so he understood the mission of what community college athletics mean and I think Eddie always respected the greatness of our program when he got here."
Smith led the Red Devils to NWAC titles in 2015 and 2017 before moving on to be the hitting coach and recruiting coordinator at Tulane University.
"I think that that was a place where I really got to test my recruiting abilities at a national and worldwide level," Smith said of his time at Tulane.
Roland said he's always happy to see former members of the LCC athletic department carry on the Red Devil legacy at other schools.
"Just like we beam with pride when our student-athletes go on to the next level…there's the same deal in coaching," he said. "It's great to see coach Smith having success at the Division I level."
After a two-year stint with the Green Wave, Smith moved on to his current job as the hitting coach at LSU where he got to focus solely on improving the Tigers' performance at the plate.
"I think that when you have that much time to dedicate to something like that, you find out some things and you're a craftsmen, you continue to try to get better every single day," he said.
Now, Smith and LSU roll into Eugene as the third seed in the Regional. Oregon hosts the tournament as the top seed while Gonzaga sits at number two and Central Connecticut State enters as the fourth.
Smith, originally from Olympia, said he's happy to be close enough that his family and friends can come watch him coach.
"Everybody's in the Northwest still and excited," he said. "I think the last count I was at 23 tickets that had been left for family."
Addressing the Regional, Smith said he's confident in his players ability and believes a tough slate of teams in the SEC has the Tigers ready to take on anyone.
"I think that if we play our best baseball we can beat anybody in the country. I think the SEC schedule has prepared us."
The Tigers finished the season strong as they won four of their last five series after beginning conference play 1-8.
Smith isn't the only one with connections to both LSU and LCC. Alex Brady, an R.A. Long graduate and former LCC pitcher is a member of the LSU baseball team. However, the southpaw won't be making the trip with the team to Eugene as part of the travel roster for the postseason.
"Alex has been a great asset to our team this year," Smith said. "He's done a good job in different situations and it's something where it's been great to have him around."
Brady pitched eight total innings in relief for the Tigers this season. He allowed eight runs on eight hits and struck out eight batters.
"I'm just as proud of Alex," Roland said. "Eddie gave him a great opportunity and Alex was a contributing member of that team. He pitched and he pitched well at spots. That's just a harsh reality of college baseball."
Moving forward, Smith touched on his future in coaching earlier this week.
"I think, right now I've got total focus on winning a National Championship this season," he said. "But I think in my heart I've always wanted to be a head coach at the highest level...preferably something a little closer to the West coast."
On Thursday, Utah Valley University announced Smith as their new head coach. Smith confirmed he will finish the remainder of the season with LSU before taking over the new program.
Roland has no doubts in Smith's ability as a coach and believes "the ceiling for Eddie is anywhere in baseball."
"He's an upstanding guy that loves mentoring young men through college baseball," Roland said. "Eddie is an ultra-smart guy. He's very intelligent, just real detail oriented. Qualities you look for in a head coach."