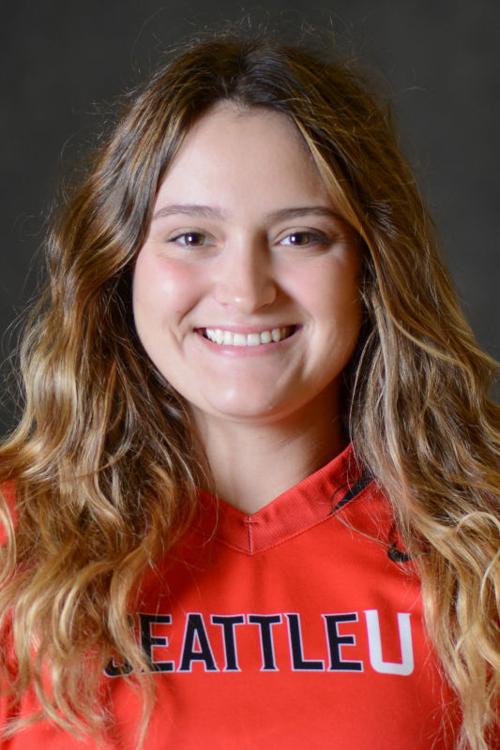 One year ago, Madison Cathcart was a wide-eyed freshman first baseman settling into playing Division I softball at Seattle University.
Now, the R.A. Long graduate has exploded onto the national stage as one of the top power hitters in the nation.
After hitting five home runs and collecting 40 RBIs in her first collegiate campaign, Cathcart leads the nation in home runs (12), total bases (76) and slugging percentage (1.246), is second in RBIs (32), and tied for third in doubles with nine. She's also 10th in on-base percentage (.634), and 16th in batting average (.508) and hits (31).
In a recent 7-4 victory over the University of Toledo, Cathcart came up with the bases loaded in the bottom of the seventh and drilled a walk-off grand slam which went over the right field scoreboard. She finished the game hitting 3-3 with a solo homer, a double and six RBIs.
In the Red Desert Classic held in St. George, Utah, Cathcart collected a career-high four hits with a double and an RBI in a 6-5 loss to Southern Utah. She also hit two home runs including a game-tying two-run blast in a 6-5 nine-inning victory over Montana, and had two hits including a round-tripper and three RBIs in a 12-6 drubbing of Southern Utah.
Cathcart's teammate, former Lower Columbia College centerfielder Nicole Bolasky, has also found success in her senior season with the Redhawks.
Bolasky has started 21 of 22 games, and is hitting .232. She also leads the Western Athletic Conference in stolen bases with a perfect 12-12. She hit 3-4 with an RBI in the 6-5 nine-inning win over Montana, went 3-4 with three runs in a 12-6 win over Southern Utah, and stole two bases as a pinch-runner in a 7-4 win over Toledo.
Rakoz closes one door, opens another
The collegiate basketball career of Toledo's Brennan Rakoz may have ended abruptly at William Jessup University, but he was recently accepted into the Master's Program for Business Administration at the school.
Rakoz, who started all 31 games for the Warriors, averaged 6.4 points and 5.9 rebounds. He netted 16 points and grabbed five rebounds in a 105-67 drubbing of San Diego Christian, which gave his team a program-record tying 19 victories on the season.
The Warriors qualified for the NAIA Golden State Athletic Conference Tournament, but fell 98-74 in the opening round to Westmont College. Rakoz played 18 minutes and had no points.
Brejchova named all-CC
Ex-Lower Columbia College guard Katerina Brejchova closed out her collegiate basketball career at Northwest Christian University with selection to the all-Cascade Conference first-team.
Brejchova, a native of Prague in the Czech Republic and a graduate of Vernonia High School, was the Beacons' court leader, averaging 6.9 points, 8.6 rebounds and 3.6 assists.
NWC earned its first-ever at-large bid into the NAIA Division II Women's Basketball Championships, but fell to Indiana's Taylor University 61-54 in the opening round.
"This was a special class of seniors, and I love them and I am so thankful for the effort and the time that they gave us," NCU coach Keith Alexander said on the school's website. "… Kat has been our heart this season. She worked her tail off and made us go, and I'm very proud of her."
Brejchova had 10 points in her final game.