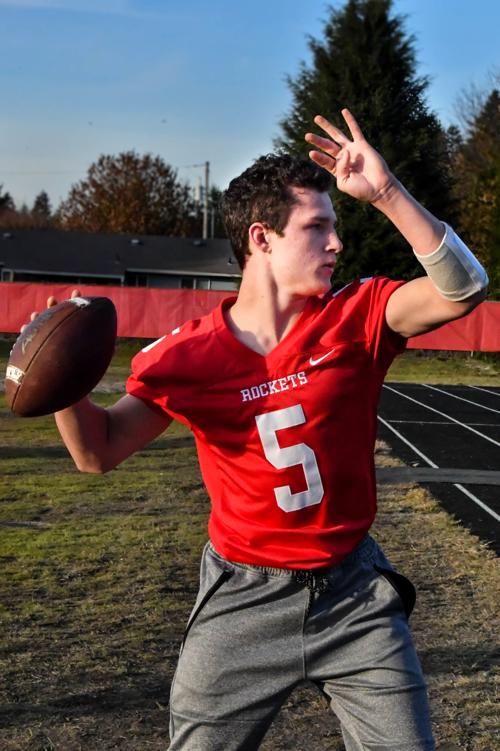 After losing its star quarterback to a broken ankle last week, Castle Rock will put freshman Chase Rusher under center in its playoff opener against Hoquiam Friday night.
Coach Aaron Gehring said he's nervous but also excited about Rusher calling the signals.
"It's just the next guy in. Chase Rusher does a great job. He's very excited to play. (Chance Naugle) is a great player, leader, motivator. But Rusher's getting his opportunity. He'll do a great job," Gehring said.
Rusher said he knows he's not Naugle, who has passed for 88-43 for a total of 668 yards, ending in 10 touchdowns.
But he says he's ready for varsity action.
"It's going to be a real struggle for me but I'm going to do the best that I can. If we do (win), it's going to be kind of for him. Naugle's going to be the one we want to go out and get that 'W' for," Rusher said.
Castle Rock is 4-1 in the league and 7-2 overall, a reversal of last year's 2-3 and 3-6 records. In contrast, Hoquiam made it to the state quarter finals last season.
Tonight's game is a rematch. The Rockets lost the season opener to the Grizzlies 48-12. The loss has the Rockets motivated.
"We want to come out here in our home stadium and show them we're ready for them. We're the better team. In the beginning we were not (playing) to our best of our ability. ... Now we're at the point where we are going to go over the top," Rusher said.
He's pleased with the team's growth this season.
"We're practicing great now. We're super focused. We're mentally and physically ready for this game. Hopefully we'll come out with the dub," Rusher said.
Gehring said he's counting on the Rocket defense and run game to take pressure off Rusher.
"We have a strong run game. (We have) one of the best defensive lines in the area. Wyatt Partridge, Austin McQuilliams, Landon Gardner, Parker Watts — they're just going to keep pounding the rock," Gehring said.
Filling in for Naugle won't be easy, but he's confident in his teammates and plan to have fun.
"Wyatt Partridge is insane. Our whole team is just physically ready. We know we can get there," Rusher said. "I'm just really hoping we're going to come out of there with the win."
This matchup is something the whole senior class has been waiting for, Gehring said.
"It means a lot to these guys. They are ready to go," Gehring said.
Be the first to know
Get local news delivered to your inbox!