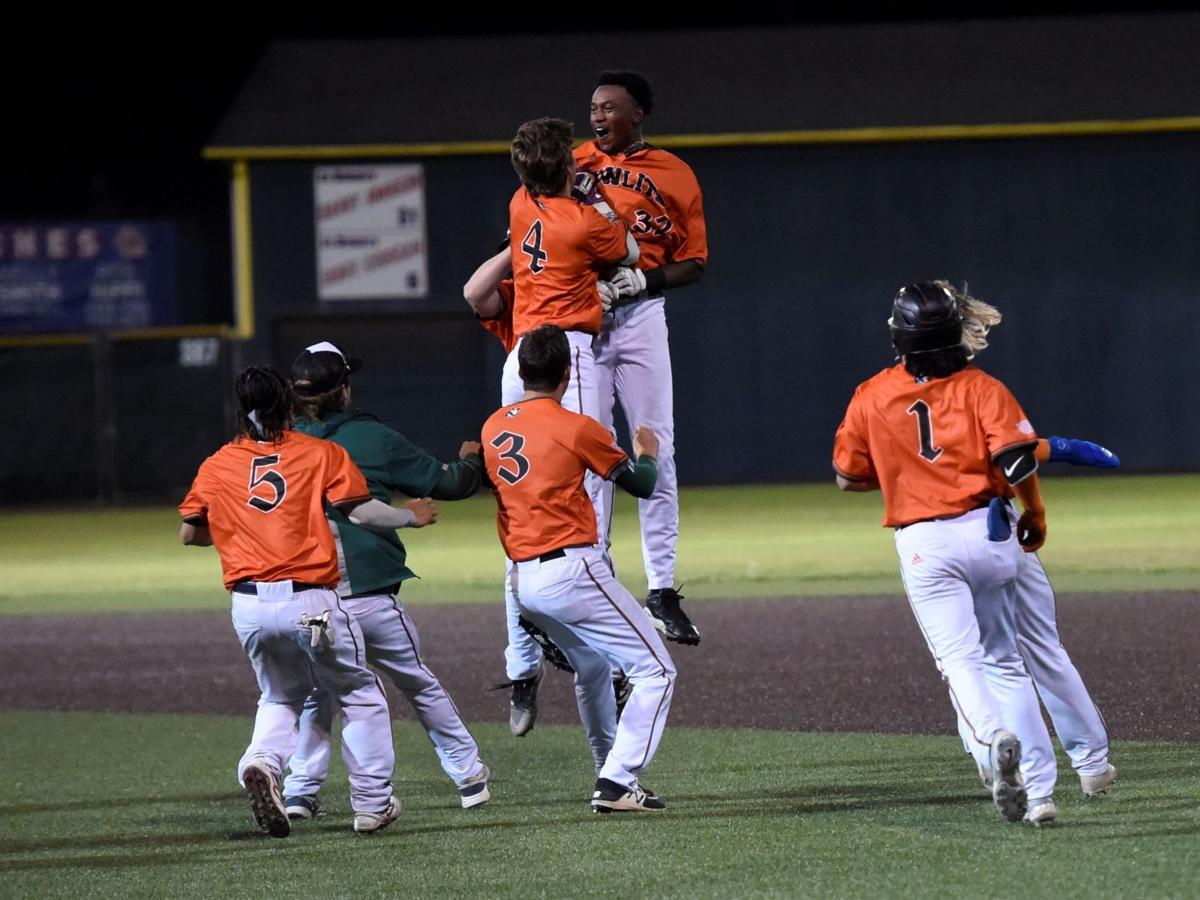 Jaden Sheppard, as he's done in virtually every at-bat this summer since he joined the Black Bears, went to the plate in the bottom of the 10th inning hunting a fastball.
After a first-pitch offspeed missed, Port Angeles' Zach Thomas gave him one. And Sheppard didn't miss.
"I've been in that situation quite a bit here," Sheppard said. "Honestly at this point, it was just keeping myself composed, keeping my approach up the middle, and not trying to do too much."
Sheppard did just that, lacing a ball right past Thomas up the middle, scoring Broc Mortensen easily from second and giving the crowd a Story Field a 3-2 walk-off win to cheer about.
In a game filled with missed opportunities and runners left on base, it was a complete reversal at the end.
The bottom of the 10th was just the third frame in which the Black Bears didn't put either of their first two batters on base. Broc Mortensen — who already had a double in his statline, and had come about a foot shy of a home run in the bottom of the eighth — came to the plate trying to do one thing. But after foul balls on multiple huge hacks put him in a two-strike count, the center fielder from UCSB battled, taking two close pitches to draw a two-out walk. That brought up Dawson Martin, who kept the line moving quickly with a single on a 1-0 count to set the table up for Sheppard.
"That's kind of what it takes.," Cowlitz skipper Brian Burres said. "You can't try to do it with one swing every time. Broc took what was given to him; he didn't get the strikes he wanted to hit, he took some pitches. Then Dawson did a good job. And I liked how aggressive Shep was in the zone. He got a pitch to swing on, and he went early."
One of the largest and strongest hitters on the Black Bears roster, Sheppard faced a month-long dry spell when opposing teams realized how much trouble he had dealing with breaking balls and simply refused to throw him anything straight. Less than two weeks ago, his batting average sat under .120. Since then, though, the slugger has started to find more and more success against offspeed pitches, with hits in five of his past six starts.
And that — combined with the pressure situation Thomas found himself in — forced the Lefty righty to come into him with a fastball.
As Mortensen rounded third and crossed home plate, the Black Bears spilled out of the dugout and sprinted across the field to Sheppard, who turned off first, chucked his helmet, and soon found himself in the middle of a mob.
"I got happy," he said. "My heart was racing a lot, and I was finally able to take a deep breath and let it go. That felt good."
Sheppard's winner was the just the second hit with runners in scoring position of the day for the Black Bears, who left 11 men on base. The first came all the way back in the first inning, when Sam Brown singled with Brock Bozett on second base, but the Lefties' throw how beat Bozett to the plate for the third out of the frame.
Port Angeles spent most of the game in the same situation — the Lefties ended the night with 15 runners left on base — but started it with run in the top of the first off of Carson Angeroth, and as the evening wore on, it seemed like that might improbably be enough.
The Lefties doubled their lead in the top of the sixth. Then, Brown finally took matters into his own hands, crushing a shot over the wall in right for his first home run in a Cowlitz uniform — in just his second game at Story Field — to cut the deficit to 2-1.
"He's full of energy, he's talented, he'll play anywhere for you," Burres said. "He's a great addition."
Cowlitz manufactured the tying run in the bottom of the seventh, when Matty Fung and Matthew Schwarz walked, Rikuu Nishida bunted them over, and Bozett hit a sacrifice fly. The Black Bears threatened to walk it off in the ninth with two on and one out, but couldn't do anything with it.
In the top of the 10th, Mark Woinarowicz was eight pitches into an immaculate inning before Jack Holman fouled off his 0-2 offering. On the next pitch, Woinarowicz thought he had Holman out looking, but umpire Jordon Shepherd disagreed. Woinarowicz faltered after that, walking Holam on a full count before walking Garrett Lake as well.
Burress turned to Liam Hatakenaka — Cowlitz's seventh pitcher of the evening — who plunked the first batter he faced to load the bases and went to a full count on the second, but the lefty forced an easy groundout to send the Black Bears back to the dugout.
Cowlitz's staff combined to allow just the two runs despite giving up 11 hits, five walks, and two hit batters.
"It's not like we were wild, but sometimes here and there we would miss," Burres said. "It's trust in your defense, and continuing to attack the zone. They got some guys that were having some good at-bats, and you could see it out there. We just had to maneuver through those baserunners."
Woinarowicz finished with five strikeouts to lead the way in his 1 ⅔ innings of relief, while Angeroth struck out three in the four-inning start and Keegan Wright punched out two in a clean eighth.
On a three-game winning streak, the Black Bears will try to get their first sweep of the season in a Sunday afternoon capper against Port Angeles.