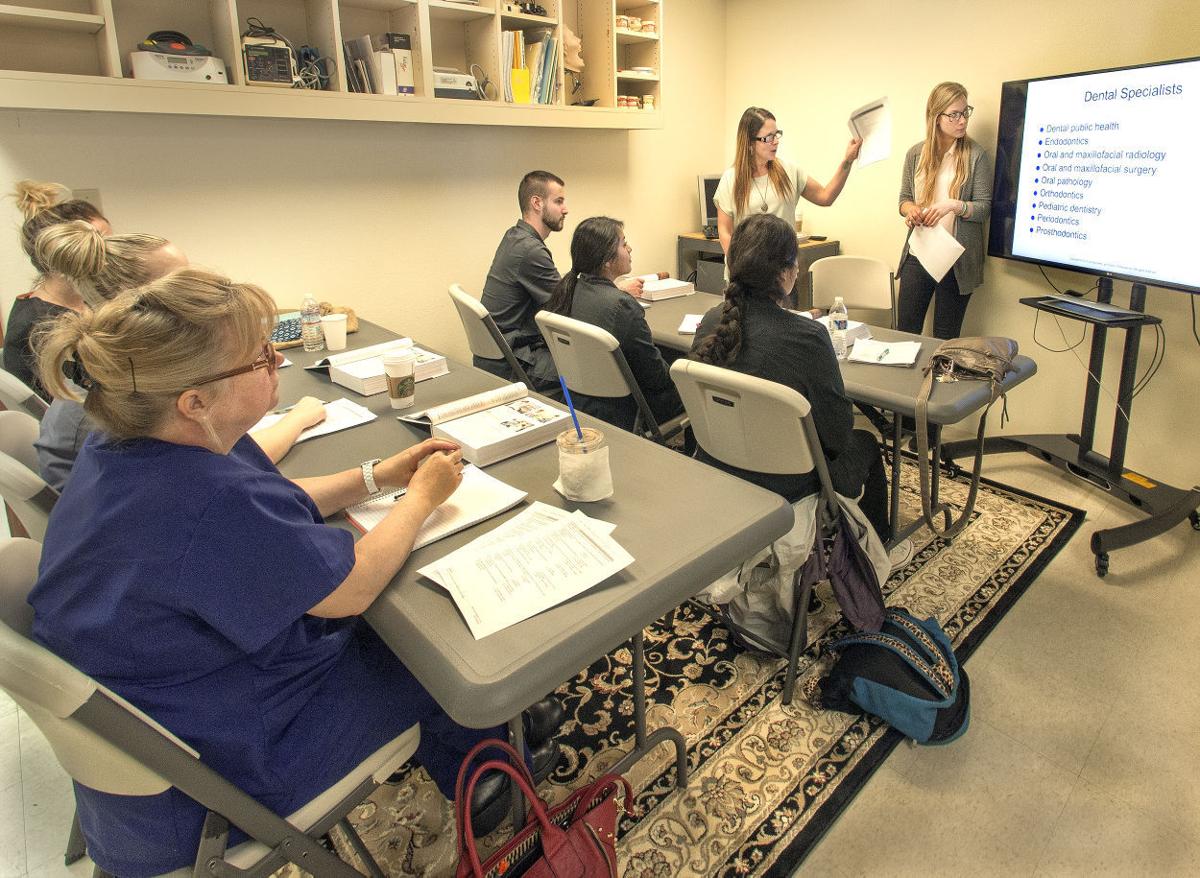 Aiming to better prepare dental assistants and keep more of them in Cowlitz County, two Longview clinics have started the county's first dental assisting school.
Lower Columbia Dental Assisting Academy (LCDAA) taught its first classes Monday to six students. The 13-week course can enroll 12 students at a time, will take place quarterly and costs $4,000. Students take classes twice weekly and are taught by former lead dental assistants and current officer managers, Tara Parker and Kelley Knowles.
Unlike hygienists — who generally do higher-level tasks such as cleaning teeth, taking x-rays and filling cavities — dental assistants sterilize equipment, prepare and clean-up rooms and assist dentists during procedures by organizing tools.
Executive director Scott Gourley said Longview Family Dental and Apple Family Dental, which run the academy, have seen a frustrating number of assistants who are poorly prepared. He estimated that one in four dental assistants the companies hire quit because of stress or because they've been poorly trained.
Gourley said students lack technical expertise and frequently have never worked on patients until their first day on the job. Because the academy is Cowlitz County's only dental assisting school, Gourley hopes more local residents will be able to get jobs closer to home, rather than in Vancouver or Portland, where the nearest schools are.
"They'd see blood or pus for the first time or smell it, and they'd walk," said Gourley, also the marketing manager and chief financial officer for Apple and Longview Family. "(Here) they get hands-on experience from day one."
Combined with online courses, students do regular job-shadowing at either of the clinics. One week of the course is dedicated to job placement and interview practices. Hopefully, with regular hands-on experience, students can decide early on whether they fit the industry, Gourley said.
Gourley said typical dental assisting courses last nine months. LCDAA fast-tracked its course by shortening the time it takes to teach ancillary topics, such as the history of dentistry and the role of women in the industry.
Gourley said dental assistants are in high demand, and his clinics have had a hard time finding qualified assistants. They're hiring currently.
"We want to have that shock early on so they know what they like," Gourley said, adding that students can be refunded for classes they don't take should they decide to leave the academy. "One of the worst things you can do is go into a profession that doesn't fit your personality."
Workforce Council Hires Alyssa Joyner as outreach specialist
The Southwest Washington Workforce Development Council (SWWDC) has hired Alyssa Joyner as its Cowlitz Wahkiakum Outreach Specialist.
Joyner will seek to connect businesses, education and community groups with the free employment training services provided by WorkSource, and other programs involved in the public workforce system.
Prior to joining SWWDC, Joyner was a Vet Corps Navigator with the Washington Department of Veteran Affairs.
In the last two years, SWWDC has invested more than $2.3 million in Cowlitz and Wahkiakum counties by funding programs at WorkSource, Lower Columbia College, Educational Service District 112 and Goodwill. In the past year, SWWDC has provided Cowlitz companies more than $109,000 in grants to improve the skills of their existing employees, thereby helping the companies remain competitive.
Contact Daily News reporter Lauren Kronebusch at 360-577-2532.