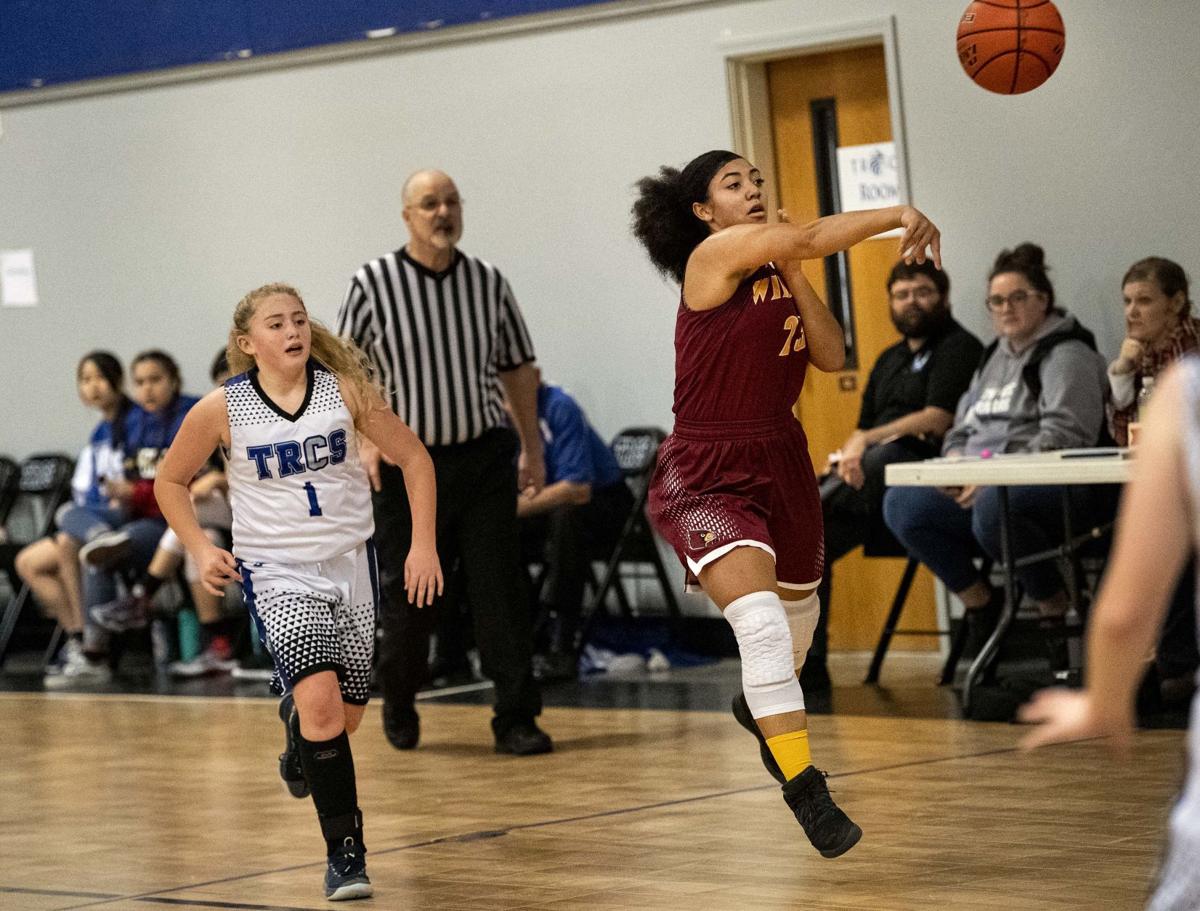 The two most important players were both hurt and unavailable, so the Three Rivers Christian and Winlock girls had to hope that the young players on both rosters would grow into larger roles.
It was an encouraging night on the tile floor of Three Rivers in Longview, with Winlock surviving for a 28-27 win behind 10 points from Karlie Jones.
"I feels good to win again," Jones said.
Winlock's Addison Hall was out with a knee injury and lone Eagles senior Kaylena Morrison was also in street clothes.
But in their absence, both Winlock and TRCS saw progress.
Winlock needed a ball-handler and the job fell to Angela Gil-Munoz, who hadn't played there all season.
Hall was pleased with the freshman. She scored 8 points and showed an aggressiveness and a desire to score that had been absent while the Cardinals so heavily relied on the very skill Hall to carrying everything.
"Angie had the best game of her career so far," Nelson said. "I think she had near double-digit rebounds. I liked her aggressiveness. We haven't seen that from her all season."
At the other bench, Wayne Hayes is working with what has to be one of the youngest rosters in the state.
Of the Eagles' 10 players, three are freshmen, one is a sophomore and three are in eighth grade. Jessie Tevis, who led all scorers with 12 points, is one of three juniors with Morrison the only 12th-grader.
"For us, it was a positive game," Eagles coach Wayne Haynes said, mentioning the Jan. 4 43-7 loss to Winlock. "They just hammered us well, kept us off the boards. For us, it was an opportunity for us to see how we improved. We definitely demonstrated to our fans, and ourselves, that we we've made improvement."
With all the inexperience and youth, the fourth quarter was still entertaining.
Winlock built a seven-point lead at 26-19, threatening to put it away. But TRCS came right back, scoring four straight to cut the lead to 23-19 with 4:22 to play in the final period.
It spread hovered there until Winlock took a timeout with 28-25, but could not ice it.
You have free articles remaining.
TRCS came competently back up the floor and Kendal Newport, one of the three Eagles juniors, secured an offensive rebound and got the putback, bringing TRCS within one at 28-27.
As Winlock tried to cross the timeline, the Eagles press forced a turnover right in front of the Cardinals bench, and Hayes took a timeout to talk over the situation with 12 seconds left.
"This is the first time we've actually used our press," Hayes said. "We don't use our press as much. Our press helped us in terms of keeping us in the game, focused on the game. It wasn't set up to primarily just to steal the ball, it was to set up to help us with our intensity and to stay intense on the floor."
The Eagles got several good looks — including another offensive rebound and putback attempt from Newport, but it rolled out and Winlock survived, picking up its first win since that Jan. 4 win over the Eagles.
"I think we needed the confidence that it would give us, because we've never had to play without our leading scorer," Winlock coach Tori Nelson said. "The fact we were able to pull out a win without here, is huge for all of them."
Winlock (5-10, 0-5) is now in an essential playoff stretch.
The Cardinals must win three of their next five games to make the playoffs, and they think there are enough winnable games to achieve that goal.
Hall's injury shouldn't last much longer, they hope. Are the Cardinals excited, or nervous?
"I think I'm more excited about it," Jones said. "I have confidence in us."
For the Eagles, this result is not a bad one. Considering the last time TRCS met Winlock it went wildly in Winlock's favor, the improvement of the astonishingly young roster is all Hayes can hope for.
"That's part of what you're looking for," Hayes said.
Winlock 28, Three Rivers Christian 27
WINLOCK — Karlie Jones 10, Angelo Gil-Munoz 8, Azhia Camps 4, Kindyl Kelly 2, Elizabeth Wolfe 2, Alexa Barragan 2, Rylei Krusmark, Madison Meehan, Kiya Peppers.
THREE RIVERS — Jessie Tevis 12, Kendal Newport 11, Kelsey Poyner 2, AnnaJoy Tevis 2, Crystal Pan, Kailea Guinto, Isabella Jones, Anella Morse.