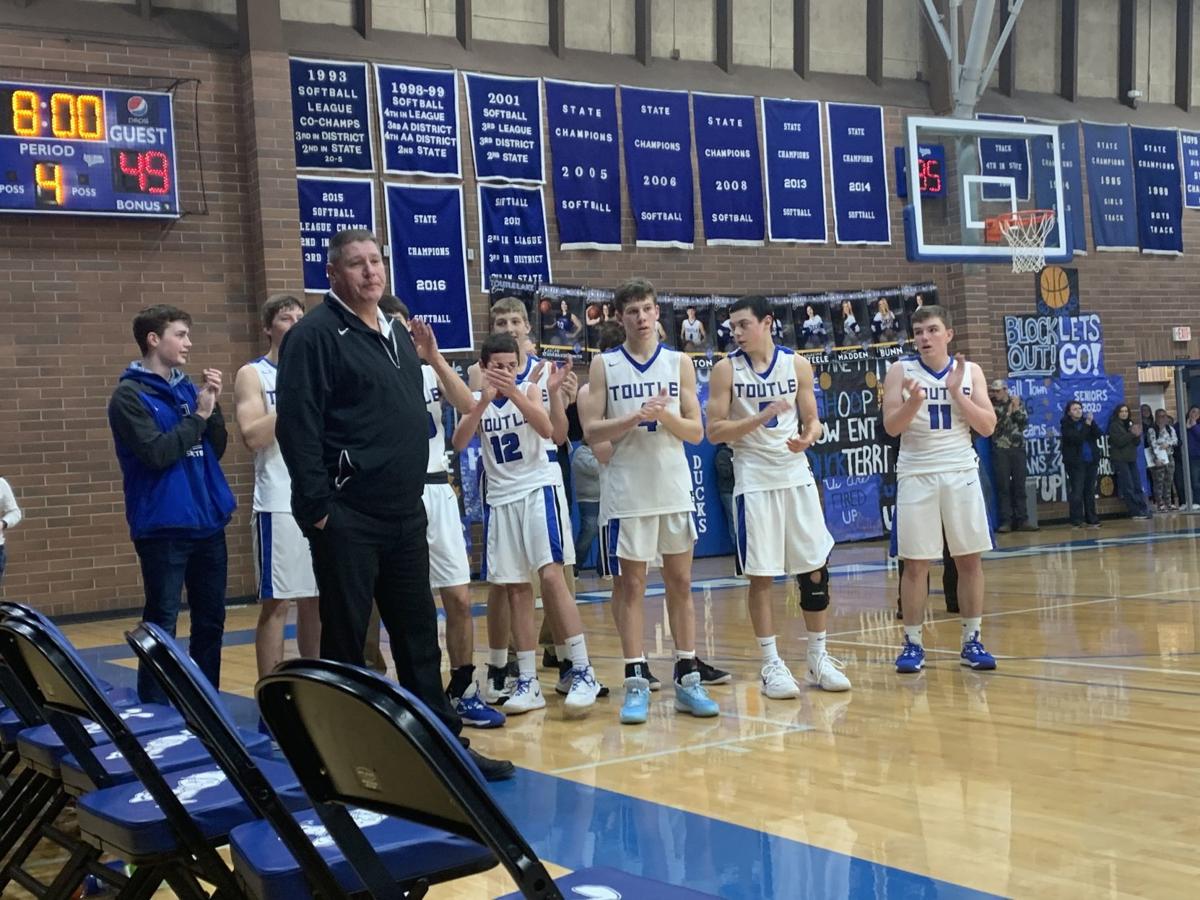 The game wasn't technically completed but everyone knew it was over. Toutle Lake's lead over Mossyrock was insurmountable and even the Vikings bench knew it.
With a few minutes left and the Ducks bench emptied, the PA microphone, not used since introductions, was turned on and an announcement was quiet, but heard. Stick around, Duck fans, for a presentation.
Mossyrock's final shot found no rim, the rebound bounced harmlessly and time ran out. Toutle Lake claimed a 71-49 win. It was the Ducks' ninth of the season and its first in the 2B Central League this season.
It was also Eric Swanson's 500th as a head coach. The whole crowd stayed and applauded. He waved at the faithful, not letting on how meaningful it was to him.
"He's just definitely not an emotional person," his basketball-playing son, Zach, said. "He doesn't show it around people. He'll eventually just forget about it."
The kicker? His son Zach, an eighth-grader, even, scored 26 points with 7 rebounds and 6 steals. All Zach knows of his dad is the basketball coach, and he understood what 500 means.
As happens after high school basketball games, the gym slowly empties. Some stand around, waiting to greet the players after a job well done. The opponent walks through together, headed to their bus and home. Basketballs bounce off the hardwood and off the rim, youngsters shooting on the baskets they revere and recent grads shooting at the oh-so familiar rims.
Eric Swanson emerged from the locker room. He shook hands. He's congratulated. He talked to former assistants, former players, family. He joined in a group photo with the Swanson clan after something three decades in the making.
A tall, broad-chested man with a military-style haircut, Eric Swanson doesn't give off emotional. But he fought back tears as he answered questions about Wednesday's milestone.
The fact is, Eric Swanson entered rarified air, one of 20 high basketball coaches in the state of Washington to earn 500 wins. Mark Morris' Bill Bakamus is one, with 615 and counting. Ed Pepple is the winningest coach with 915. He also spent time at Mark Morris. Naselle's Lyle Patterson is fourth with 623. If the Ducks continue to win, he can pass the likes of Mike Carlquist, Gene Smith, Len Eathorne, Joe Harris, and maybe even Jake Mayberry.
"It's meaningful," Eric Swanson said as tears began to well. "I guess I look at each season differently. I knew we'd reach (the milestone) this year, as long as we'd stay healthy. It just kinda shows the longevity. Assistant coaches, players, from the time I started — it's a big part."
It's been 29 years coaching, and none of this is lost on him.
It wasn't lost on him that the milestone happened on his home floor in the building he's given so much to. It wasn't lost on him that his family was there, with his older son, Cam, watching, but not playing. Even if he didn't make it obvious how much it meant immediately following the final buzzer, it was obvious afterward as he had a chance to think and reflect and articulate.
"I just — I just appreciate the commitment this community has given," Eric said, again fighting back tears, some still trickling down his cheek.
Ever the coach, though, Eric Swanson moved on to the basketball game he just coached, and he wasn't exactly contented.
It was interesting, though. They say numbers don't lie, but they might obfuscate. Such was the case at in the Toutle Valley on Wednesday night.
The Ducks (9-2, 1-0) scored 44 first-half points on 16-of-47 (34 percent) shooting. Broc Keeton (18 points, 9 rebounds, 4 steals, block) had an and-one, as did Chase Hadaller (5 points, 8 rebounds) and Zach Swanson all did the same.
The Ducks hit just two 3s in the first half. Lots of layups rolled harmlessly off the rim, even as Toutle Lake forced 15 first-half turnovers while committing just two themselves.
"We missed too many gimmes and turned over too many times. Those were the disappointing things offensively," Eric said. "And we didn't defend well tonight. We kinda hang our hat on how we play D. And they made some tough shots, we just didn't defend really well."
Toutle Lake led 44-24 at halftime, a comfortable lead by any measure. But there were some leaks that could be concerning down the road.
Mossyrock (2-8, 0-2) shot 4-of-8 from 3-point range in the initial 16 minutes. Matthew De Hoyos hit three of them, then hit three more in the second half to led the Vikings with 18 points. Gunner Mulligan and diminutive freshman Keegan Kolb each hit bombs, as well.
The lack of attention to the 3-point line didn't necessarily hurt Wednesday night, but it's something to keep in mind, especially considering the way the newfound member of the 500-win club wants to play defense.
"That's our philosophy: makes teams put it on the floor and try to beat us off the dribble and take away the 3-point line because it's such a weapon for anybody," Eric said.
It was fitting, though, that Mr. 500's son took over in the second half.
There was some buzz about the eighth-grader entering the season and he's largely lived up to it. Keeton is Toutle Lake's go-to, though he shot just 5-of-21 from the floor even if he did hit both of Toutle Lake's 3s.
There's also Jackson Cox, who had 12 points with a clean mid-range game.
Zach Swanson played like a coach's son. He followed his shot and got putbacks. He defensive created steals for himself or his teammates, or just turnovers in general.
It wasn't lost on him, either, the meaningfulness of Wednesday night's win.
"It's very meaningful," Zach said. "It's a great accomplishment for him. He's worked very hard for that. Past teams have been good. It's great to be on a winning team.
"I can see — he knows what he's doing. He's been around the game of basketball. He went to college. He knows how to coach a team, and hopefully he can carry us on to a state title."
Ever the coach, Eric Swanson didn't spend much time looking back, though he did briefly. He looked ahead, to what his 29th basketball team has yet to accomplish.
"It's nice that we got it done at home, but it's out of the way," the elder Swanson said. "I know it's been on everybody's mind. Now we get to move on and press forward and that's behind us. To me, it's a neat thing. But the biggest thing is we're 1-0 in league."
Toutle Lake visits Wahkiakum on Friday at 7 p.m.
Toutle Lake 71, Mossyrock 49
MOSSYROCK — Matthew De Hoyos 18, Gunner Mulligan 8, Keegan Kolb 6, Ryan Bellino 6, Aiden Weist 5, Dyllan Padrick 4, JC Workman 1, Warren Nelson, Jake Comer, Tryn Thompson.
TOUTLE LAKE — Zach Swanson 26, Broc Keaton 18, Jackson Cox 12, Taylor Lundquist 6, Chase Hadaller 5, John Nicholson 4, Hunter Hadaller, Connor Cox.
Be the first to know
Get local news delivered to your inbox!