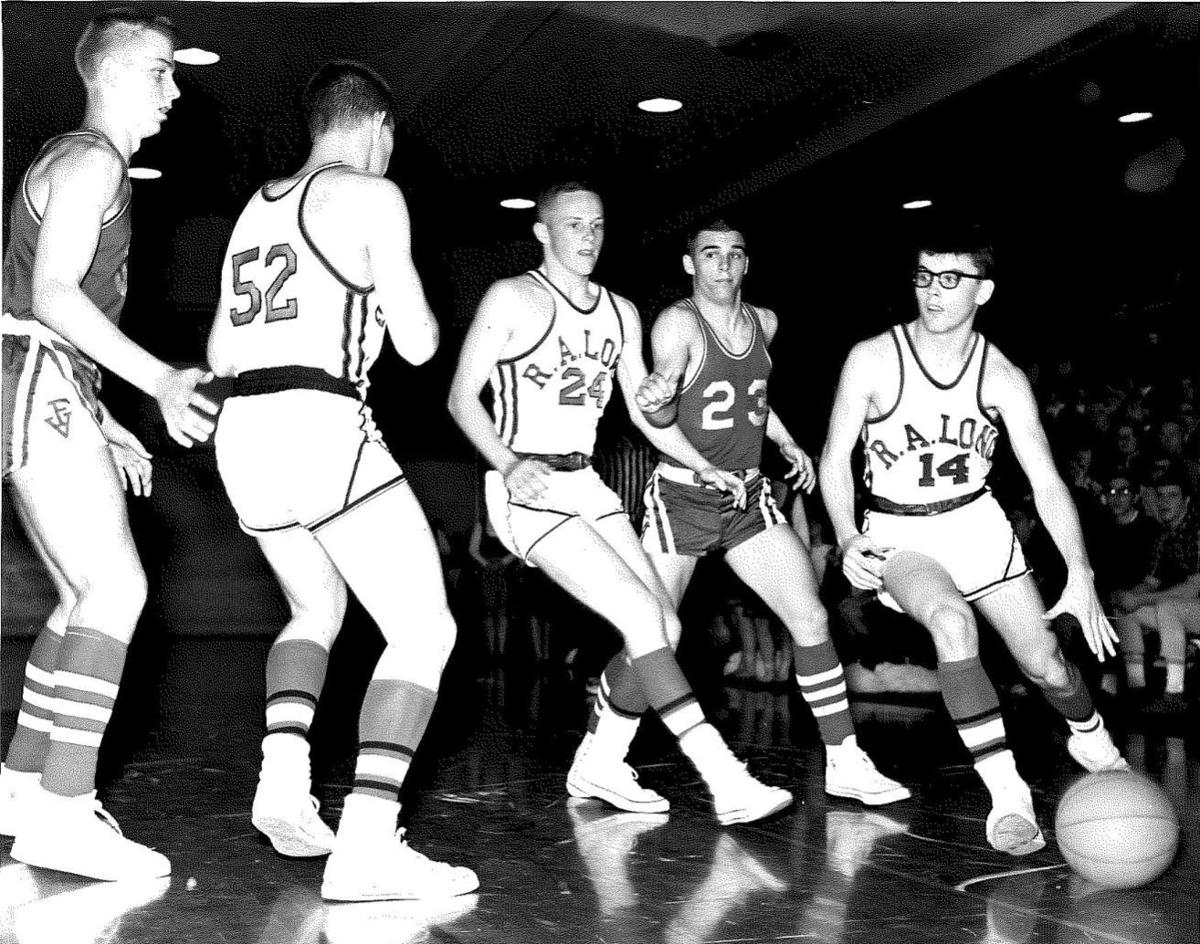 It's August of 2008. It's hot as Hades at one of our first R.A. Long football practices of the season. In walks a man everyone recognizes but no one knows why he's here.
A couple of dogged days go by. We're running sprints at the end of a practice. Someone complains to me about the new coach. Why is he here? What does he know about football?
I turn and stare daggers through my face mask.
"That's Mike Polis," I said. "He's a legend."
Unimpressed, this teammate asks me to prove it.
"Mike Polis was the quarterback of the only R.A. Long football team to win a state title," I said.
Now, Mike won't tell you that. He didn't tell us then, and he would barely confirm my claim now. But it's true. And his mere presence helped the team connect to a history, and expectation, of success.
So, too, was the case with Terry Miller. Except I didn't know it then. Back then, I was the guy asking, "Who is he and why is he here?"
Rally Wallace entered a doubles tennis tournament 15 years ago and wound up paired with this guy named Terry.
Turns out, the guy could play. And not just tennis.
Wallace, in his own right, was a helluva basketball player and had returned to town to coach. At that point he was an assistant at Mark Morris. Over time, Wallace learns who the mystery Terry is — It's TERRY MILLER, son of Tiz Miller, R.A. Long legend.
But Terry never let on. He was just Terry. Terry the athlete. Terry the friend. Terry the best man anyone knew.
Wallace soon learned his wife, Michelle, and Terry's wife, Polly, graduated from the same high school in the same year and were friends. Eventually, Terry joined Rally's coaching staff at R.A. Long. Terry and Rally had become friends, colleagues, inseparable.
"They were truly great friends, — fishing, golfing, tennis, dinner, etc.," former player, Scott Pisapia said. "As a player when you see the love your coaches have for each other, it creates a strong team environment. We looked forward to seeing our coaches every day."
And Pisapia isn't the only one who saw it that way.
"When reminiscing about Coach Miller with some of my peers this week — current R.A. Long coach Jeray Key, Tanner Bradley, Payton Miller, Morgan Baker — the same sentiments kept repeating," Pisapia added. "Terry was extremely kind, funny, soft-hearted, a player's coach, wise, someone we loved seeing. When he spoke, everyone listened."
There is a basketball drill every player knows, and hates, but does anyway because it gets them on the floor — Four players. Two trying to get a rebound on either side of the key and two trying to block them out. One person — usually a coach — shoots a free throw with an intent to miss. After all, making the shot essentially results in a redo.
Terry Miller shot those free throws during our drills at R.A. Long. We were tired, sweating, panting, frustrated, angry, and testy. That drill is how fights start.
"He'd make 'em left-handed. He'd make 'em right-handed," former player Sullivan Carter said. "I don't think I ever remember him missing a free throw."
Terry would make one shot and Rally Wallace would blow the whistle and reset the drill. Then he'd make another. Whistle. Then he'd make a third. Whistle. A fourth. Whistle. New group. A fifth make. A whistle and a reminder from Wallace he needs to miss. Terry says he doesn't know how to miss and drains one more.
Another whistle and continuous full court layup drills were the result.
"It's not like Terry to miss," longtime friend and former teammate, Bill Call, said.
Pisapia had his own free throw experience.
As a senior during the 2008-09 season, Pisapia challenged Miller to a free throw contest.
"It was a rite of passage to challenge him to a free throw contest. And lose," Pisapia said.
And, sure enough, Miller won. The prize? A milkshake. Years later, Pisapia joined the staff at RAL and finally paid up.
"Best five dollars I've ever spent," he said.
This is the second time a coach of mine has died.
When I was in college, I was walking to the elevator in my dorm one day when I got a text from my dad. Dave Anderson had died suddenly.
This man brought me up to JV football as a freshman and believed in me. My junior year he brought all of the defensive backs — he was our position coach — to his house at Champ Place to watch film and eat pizza and laugh and make jokes. He was one of us — a Jack.
We had a news article of him, while a Sheriff's deputy, tackling a suspect who tried to flee the hospital. On the paper someone circled the word "tackled", drew an arrow and wrote the word "form." It had to have been Dave himself. That was his personality.
It all came full circle for me when I covered his son in a Civil War. How the time flies.
Terry Miller is now the other coach I've lost. This week he fell victim to pancreatic cancer and you don't have to look very hard to find pain, to see the grief, to feel the loss. And I empathize.
I was probably a year out of college and when I came back to town during Christmas break and played in the alumni basketball game at the Lumberdome. I think it was my first time back in the building since I'd graduated. Let me tell you, the trauma of those suicide sprints and line drills and continuous layup drills were still fresh.
My team eventually won the game when Joel Barkdoll stole an inbound pass and kicked it to me streaking to the rim and I laid it in with seconds left. We won. I hit the game-winner. The only one of my life.
I felt like I'd finally impressed Terry. It felt so good.
I knew Terry was a legend. I knew — only tangentially, only anecdotally — that Terry was an absolute dude. The only name people mention alongside his in terms of scoring is Adam Perry. That's really, REALLY, high praise.
So, I hit the game-winner and I'm floating back toward our bench, letting everyone know who won the game. I see Terry. He smiles. He tells me I played well.
Why did it matter so much? Why did I care?
Because it was Terry Miller. Because it was Coach Miller. Because his mere presence made you want to play hard. Because he came back to his old school to be an assistant coach, and never wanted anything more. Because he was there to watch an alumni game full of guys he could still wax on the court if he wanted. But we were guys he'd coached. He was there. He watched. He cheered. He supported us.
When Carter took over the Castle Rock varsity basketball program before the 2017-18 season his first call was to Miller to recruit him for his staff. Miller gently turned down the gig, but the lessons Carter learned under Miller still inform how he coaches to this day.
"Looking back on it, even when I was coaching at the high school level (at Castle Rock), I was very fired up my first year," Carter said. "His advice was always to connect with kids on a deeper level than basketball. Like, have actual, real conversations."
When I moved back to Longview a year ago, I was excited to cover people I had played with, for, and against. Guys like Bill Bakamus, and Brandon Walker, and Erik Bertram.
But the opportunity I'm most grateful for is to write something like this column about someone so meaningful, so popular, so important.
For this column, I interviewed a former coach, and it became emotional.
"He's my friend," Wallace choked, "and I'll miss him."
It's always been interesting to me how people forget to change tenses when it comes to the departed. Everyone starts in the present, flicks to the past, then returns to the present. It's like they refuse to believe the truth, then relent, then defiantly keep them alive with their words.
That's how people stay immortal. It's not the records. It's not the National championships at Linfield College in 1968 and '69. It's not basketball or tennis or chess victories.
It's the man. It's the fishing and the after hours scouting with Wallace. It's the hours of chess or home run derby or kickball with Call.
Terry's daughter, Lori, recounted a story where her father knew all the rules to kickball by the time he was 6 or 7 years old.
Near the end, Terry refused to play chess with Wallace.
"I can't think more than two moves ahead," he told his friend. "Maybe when my mind works better."
It never got better, and he was competitive, so they found other pursuits.
"He was the best friend to all his friends," daughter Annie Miller said. "I aspire to be as good a friend as he was to all of his friends. Always put his heart and soul into anything he did."
Be the first to know
Get local news delivered to your inbox!