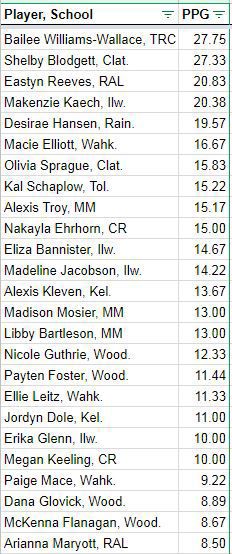 Scoring leaders through Jan. 3 
Here are the games we have not yet received reports from. Please email sports@tdn.com with a boxscore if your team's game is on here.
Rainier at Toutle Lake girls
Clatskanie vs. Waverly College boys
Clatskanie vs. Blanchet Catholic boys
Naselle vs. Willapa Valley girls
Naselle at Warrenton girls
Naselle vs. South Bend girls
Kelso girls at Surf N' Slam 
Rainier boys vs. Valley Catholic 
Teams excluded from leaders due to lack of games reported (must have at least 50 percent of games played): Naselle girls.