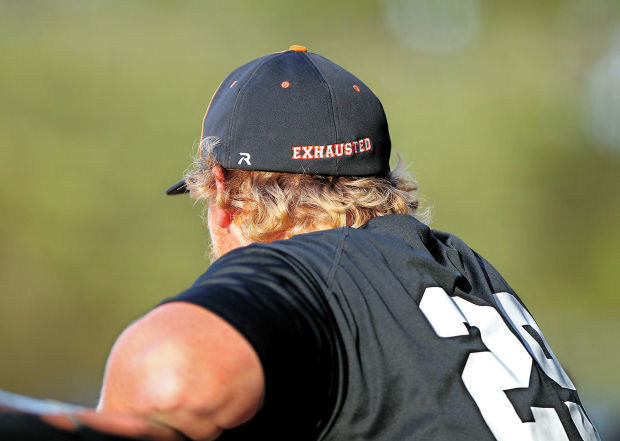 Mention the name Dave Orzel to any local baseball person and there will be some nod of affirmation.
Some might've known him well, whether they played for him at Kalama or Castle Rock. Some might've known him only peripherally, hearing second-hand stories about a man with superstitions and wacky philosophies. And a track record of success. Lots of success.
But what most think of now is that the biggest personality in the room, or dugout, is not here after falling victim to a failing liver in late winter 2014. His memory lives on, though, through the Rural Baseball Inc. program he helped to found, and the off-kilter fables that get weirder and weirder the deeper you dig.
"Dave was the most passionate, colorful baseball coach I've ever met," Lower Columbia Baseball Club coach Joe Bair said. "He loved his players. And showed his affection toward his players more than anybody I've ever coached with. And guys responded to that."
Orzel moved with his parents and older brother from the Bay Area to rural southwest Washington when he was a child, and instantly became involved in athletics, namely baseball.
He and his brother, Robby, were both standouts, but the younger Orzel decided he never wanted to leave the game he loved so much. So he became a coach, and never stopped.
He ran Kalama's very successful high school program for years, producing players like Nick LaRoy, Danny Morrow, Brandon Walker, Robbie Sanders, and so many more.
Walker eventually filled Orzel's spot atop the Chinooks program only a few years later, and the significance of that responsibility is not lost on him.
"It's pretty special, I will say," Walker said. "My uncle and him, they played a lot of baseball together — semi-pro, that kind of stuff. So I had known him for really, almost my entire life. When you take a position like that — I will say it's a little bit different than other small schools because, let's be honest, there's a bit of a legend around here, right? When you take a position like that, there's a lot more pressure to win, and you want to kind of follow in the same footsteps, but do it in your own way. There's only one Dave Orzel.
"It's unique. It's special. I think about it all the time."
Baseball people are typically noted as the most superstitious of all athletes.
Jeremy Giambi tells a story of the lucky piece of skimpy underwear that the Yankees wore to break slumps. It always worked. Some players refuse to let others even touch their gloves. Ichiro is one of those. Baseball players are weird.
Even among eccentric peers, Orzel might've been the weirdest. And that's a compliment of the highest order.
"Dave was a psycho, in the best way you can be," RBI coach Nayt Taylor, a former player under Orzel, said.
Walker recalled a story from 2007, his sophomore year, when the Chinooks were playing at White Pass. Kalama wasn't playing particularly well, Walker remembered, and the Chinooks were losing, but not by a lot. That's when, during one fortuitous half-inning with Kalama at-bat, a black cat ran on the field and changed everything.
It's probably not surprising to learn that Orzel freaked out, called time and started chasing the black cat around the field, trying to herd it into his dugout.
"We kept it in there for the entire half-inning we were up to bat," Walker said. "Put a quarter in the merry-go-round,' he used to say. And we go on this big half-inning offensively."
Walker took a turn at the plate during that half inning, with the black cat safely stashed away, and he stuck a foul ball on top of a light pole.
Kalama scored a bunch of runs that inning and went on to win the game, but some youngster let the cat out, and Orzel wasn't happy.
Of course he wasn't. That left the outcome up to chance.
"He wouldn't let us live that down," Walker said.
Outside of a handful of kids from special pedigree, it's traditionally been difficult for smaller-school players to get a fair shake in some summer baseball programs. There are, of course, exceptions, but guys from Castle Rock, or Winlock, or Rainier can easily get passed over in favor of players with more familiar faces from Kelso or Longview.
Orzel and Joe Bair, now the AAA coach at Lower Columbia Baseball Club, saw a market inefficiency there and wanted to exploit it to everyone's advantage. They had coached together at Castle Rock when Bair got the job there, and Orzel followed, trading his beloved black and orange for the hated red and white.
"Dave put his, whatever you want to call it, (aside) and gladly wore the red and white," Bair said. "He loved those kids."
The odd couple wanted to give those types of kids a chance to play under a pair of former college baseball players who each had been successful high school and summer coaches.
And so, the RBI program was born.
Rural Baseball Inc. is currently run by Jordan Nailon and Taylor. Nailon played for Orzel on the RSG Lumberkings of the summer ball circuit, and coached under him at Castle Rock. Taylor played for Orzel in the summers with Competitive Athletics out of Castle Rock and then anchored the pitching staff on the first incarnation of RBI right after their coach, and friend, died.
To honor their fallen mentor, the RBI coaches put on the annual Dave Orzel Haymaker Memorial Tournament at Winlock High School. It seems fitting that it's held at a small school.
"Everywhere's shut down, but they're playing baseball (at Winlock) and Dave's name is associated with it," Bair said. "It's pretty incredible.
Orzel's parents, Wayne and Barbara, proprietors of the famous Kalama River bait shop, come each year to watch and soak in the memory of their son.
"He has just been honored year after year in so many different ways," Barbara said. "You never really realize the impact he made on the entire area."
One summer, Taylor and the Competitive Athletics were at a tournament in Lewiston, Idaho and they weren't playing well. Fed up, Orzel left the dugout, bought some popcorn, then took up station sitting behind the opponents' dugout where he actively rooted against his own team.
He was making a point. And his players understood it.
"There are so many Dave stories," Taylor said. "We try to do our very best. We have some Kalama guys and their dads played for Dave or they know Dave. It's a small world, you know.
"We just had a guy come up to us from Vancouver who used to get fishing supplies from Dave's store in Kalama. It's cool, man. It's cool."
Wayne Orzel flipped through roughly a million business cards in his wallet as he spoke about his son. He was looking for one from a baseball coach his younger son had played for so many years ago.
Wayne talked about what all Dave would do for players — How we never let them ignore their futures, whether baseball was included or not.
He talked about how, while coaching Kalama, his son had convinced Tommy Lasorda, the legendary Los Angeles Dodgers manager, to come to little ol' Kalama to speak to his team. Together they broke bread and washed it down with wine while talking shop about the big time and the bush leagues.
The baseball between the lines was important, though it was always couched in fun. But there was a larger, more emotional aspect to Orzel's coaching: He wasn't just dealing with players, or athletes, or kids. He was dealing with people, with their lives. And he never lost sight of that.
"He found the time to connect with everybody," Taylor said. "He made you feel so much better than you really were. He's just one of those dudes who you won't ever forget that you played for Dave. It's two years of (my) life that (I'll) never forget."
As he makes moves in his coaching career Taylor finds himself comparing himself to Orzel regularly. It can be a staggering feeling to try to measure up to a man who so many would build a monument for.
"It still feels like I can't connect with every single dude," Taylor said. "And he found a way to do it. That's tough. And not just on an athletic note, but on a personal one. When I left that summer (in 2013), I couldn't wait for the next one."
Be the first to know
Get local news delivered to your inbox!