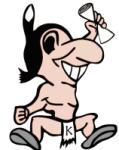 In the wake of Columbia River High School dropping its Chieftains nickname last week the Kalama School Board is ready to restart a decades-old conversation about Chinooks mascot.
At its virtual meeting Monday afternoon, the Kalama School Board gingerly approached what Kalama School District Superintendent Eric Nerison called the "mascot situation."
Without a formal vote, the Kalama School Board agreed to direct Nerison to form a committee to explore adopting a new mascot image to formally replace Kalama High School's Charlie Chinook, which has been gradually phased out since 2007-08.
"We aren't in any huge hurry to solve it," Nerison said during the meeting. "We just need to agree we need to do something."
School board members said the committee would feature alumni and other community members and Chinook members themselves. The board was careful to distance itself from the committee as a check on itself.
Part of Kalama's gradual phasing out of Charlie Chinook included removing the caricature from center court in the gymnasium. Prior to that the school had also altered Charlie's accessories by removing a tomahawk and scalp from his hands and replacing it with a diploma lifted over his head. But the buck teeth remained and Charlie's skin seemed to change to white, as well.
And, Kalama's official logo on the WIAA's website still features the revised Charlie Chinook, not the intertwined orange KC logo that has become more prevalent over the years.
In 2016, the school welcomed members of the Chinook Tribe, who spoke about their history and culture and challenges, such as seeking federal recognition.
Around that same time the Kalama student body expressed their desire to have a new logo they could use on shirts and printed materials. That's when Charlie Funk, a member of the Chinook Tribe, began working with students to create an accurate representation of a Chinook Indian, complete with a wood paddle and a cedar basket hat.
But after much preemptive publicity that potential move petered out without any actual change.
"That's kind of where it stalled out," Nerison said. "We never really followed through with finalizing a new image."
Nerison added that he wasn't keen on the idea of "erasing" the past, and that alumni have repeatedly told him they never considered anything to be wrong with Charlie's image or the name Chinooks.
Board Vice President Wesley Eader suggested erecting a display case in the school to illustrate the history and timeline of the mascot.
Board President Ryan Cruser was the most cautious about continuing the use of Native imagery at all. He noted that Oregon high schools are already directed to avoid Native American mascots.
"We could come up with this whole process of Charlie in Native dress that the tribe approves of, but we can't use it at all and we're back to square one," he said. "We can still have an agreement with the tribe, we can still use Chinooks, but I think we need to get away from Native American imagery."
The KC logo, which is evocative of the Kansas City Chiefs NFL logo, currently graces Kalama's football helmets, basketball shorts and website, among other places.
Still, it is not universally loved by students. Instead, they long for an image they can rally around as a point of Kalama pride.
Athletic Director Kevin Wright suggested that Kalama's logo, whatever is chosen, should be professionally designed, looking at the branding complications that can come from community-based selections.
Furthermore, Wright acknowledges the difficulty of Kalama's position as it relates to logos. He noted that upon his hiring two years ago he was contacted by tribes from around the country who said that Native American names themselves weren't offensive, but depictions and images can be, and often are.
"We want the Chinooks to be proud of what we do," Wright said. "We don't want to offend anyone by whatever character or rendition or logo we come up with. We want it to be something that everyone can be proud of."
The school board ended its Monday meeting without taking any formal action, but committed to continuing the discussion at a meeting in early October.
Be the first to know
Get local news delivered to your inbox!