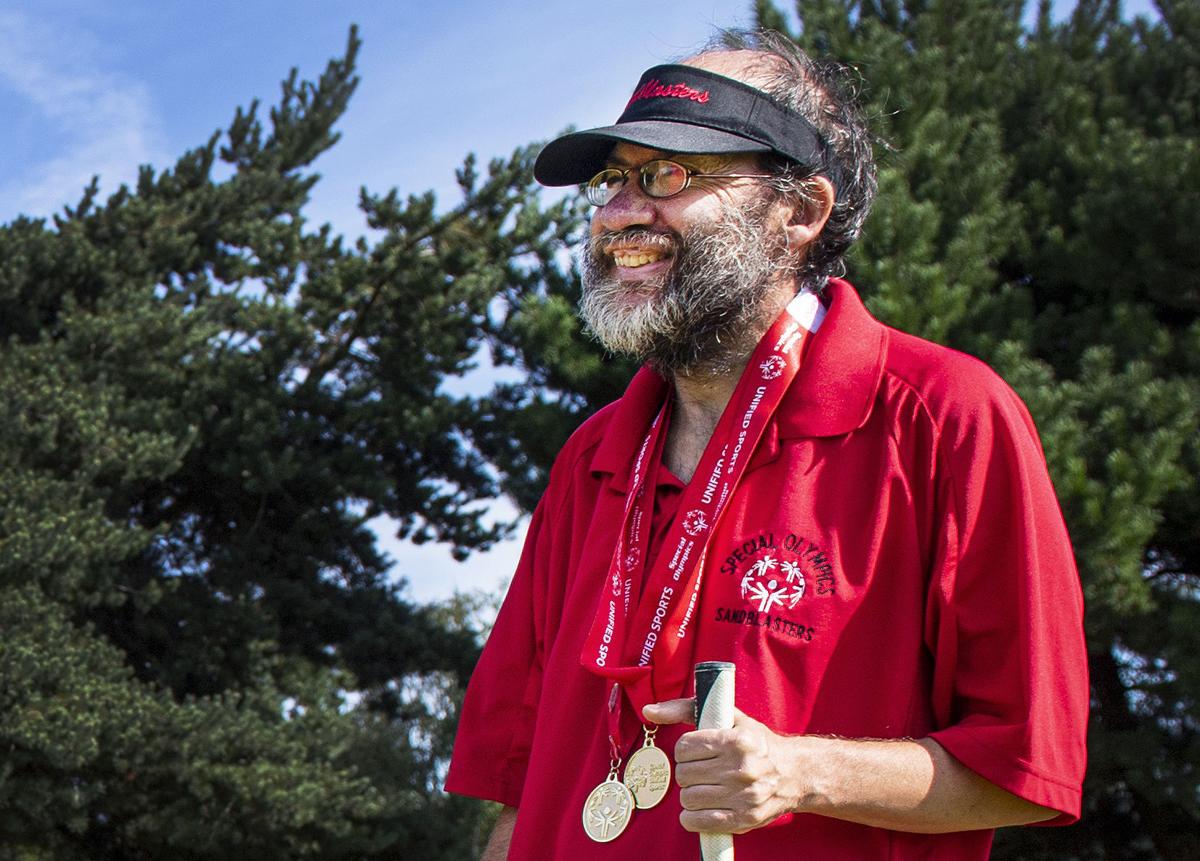 I only knew Ronnie Vegele briefly, but I'll never forget him. Our community lost one of its brightest souls when he died earlier this month of heart failure. He was only 51.
Ronnie and his golf partner, Malcomb Worrell, roomed with my son and me during the Special Olympics State tournament in Everett two summers ago. He and Malcomb won the State title. Ronnie was pleased, of course, but his demeanor wouldn't have been any different had he and Malcomb clubbed every shot into the sand or water: He still would have smiled.
That smile. It was always on his face. It was the kind of radiant, genuine look that made you laugh and grin and brought joy to your heart, too.
The world often mistreats and neglects people like Ronnie Vegele. He was developmentally disabled. He never had a job except for a boyhood paper route. He was poor. But for decades he was a fixture at Kelso football games, a dedicated volunteer who helped set up the field and press box, distribute programs and turn on the lights, among a myriad of other tasks.
Ronnie also cherished his connection to Special Olympics, playing a variety of sports from the time he was 14 until 2007, when he had surgery to remove one of his lungs. But he remained involved as a multi-sport assistant coach, fundraising volunteer and booster, and he continued to compete in golf and bowling. He was a member of the local Special Olympics Athlete Input Council, which serves as an athlete advocacy group.
About 20 members of his Special Olympics family gathered through Zoom Friday night to share stories, cry and laugh a little, listen to his favorite songs and tease about his avid dedication to the San Francisco 49ers.
"He was the most positive person. If we had to have a poster child for Special Olympics, that person would have to be Ronnie," said Becky Bernhardt, coordinator for Longview-Kelso Special Olympics. "If he lost he would say he'd do better next year. "
He was always uplifting and was a model for what a Special Olympics athlete should be, Bernhardt said.
Ronnie never met a stranger, and he had a patience and kindness that instantly connected him with other athletes and their parents, she and others said.
"Every parent loved him. Every athlete loved him. I do not know anyone who did not love Ronnie," Bernhardt said.
Country music star Cort Carpenter, who like Ronnie attended Kelso High School, sent a recorded message for the Special Olympics gathering.
"He was a true friend and always willing to lend a hand," said Carpenter, calling Ronnie a dedicated fan of Kelso High School football and a longstanding family friend. When Carpenter was a Hilander he was also the team's quarterback.
"It will take a while to get past the (grief)," Carpenter said. "I will remember the good times and all that Ronnie brought to our community. What a good man he was."
In honor of Ronnie, whose favorite sport was football, Carpenter will perform "Friday Night Lights" on Facebook live at 5 p.m. Tuesday night.
Carpenter urged Special Olympians to dedicate their next season to Ronnie (Most Special Olympic sports have been cancelled during the pandemic, but there is hope for a summer softball season.)
Special Olympian Pat Holt said Ronnie "always had a smile on his face and was a warm and giving person."
"He was kind, considerate, humble and a hard worker. I couldn't ask for a better assistant coach," said Special Olympics football coach Sheri Loveland.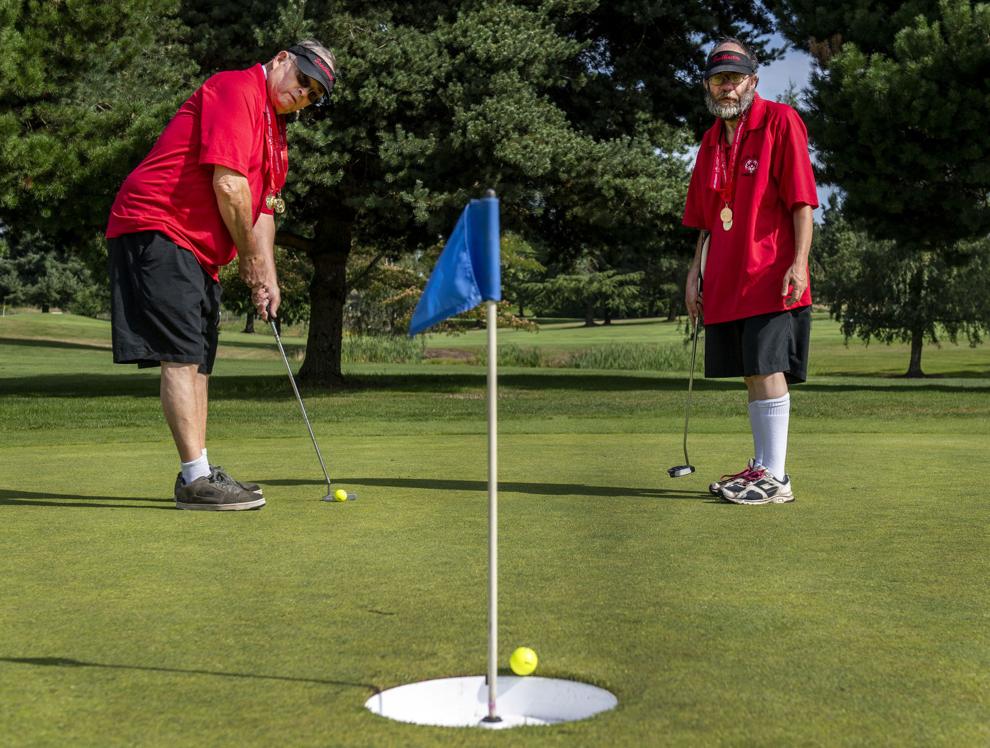 Ronnie and Worrell, his golf partner, played as a "unified" team. Ronnie was the special Olympian and Worrell was his sponsor. They played as a unit, trading off on each stroke for nine holes. Vegele teed off on the odd holes; Worrell took the even ones.
While not related, Worrell and Vegele had an easy camaraderie, often talking over each other and referencing past events with little more than a couple words during an interview with TDN after winning the 2019 State championship.
They met when Worrell was working as the Kelso High School stadium maintenance assistant and Vegele was a student.
Vegele started attending every football game and would help Worrell get the stadium ready by opening up the press box and locker rooms. A big sports fan, Vegele would wear a headset to listen to local football games, and he knew all the players' statistics.
"He never had five bucks to get into the game, so I'd say, 'Let him in. He's my helper,' " Worrell said for that 2019 interview.
Friday, Worrell remembered him as a "dependable and good friend. … Everybody knew Ronnie. If you stopped 100 people walking out of Safeway, 50 or 60 would know him."
He remembered that Ronnie one time managed to get photographed in the middle of a pack of Seahawks cheerleaders.
Ronnie had a talent for remembering statistics and keeping tabs on the games, and he always kept their golfing scorecard, Worrell said.
But Ronnie's most important attribute was more essential. Despite his poverty, despite his poor health, despite his disability, he had a cheerful heart. He didn't act as if the world owed him anything. He made all around him happier.
Like Gunga Din, he was better man than most of us.
Editor's Note: A GoFundMe account has been set up at Fibre Federal Credit Union to help Ronnie Vegele's family cover his funeral costs.
Andre Stepankowsky is the former city editor of The Daily News and is a Special Olympics coach.