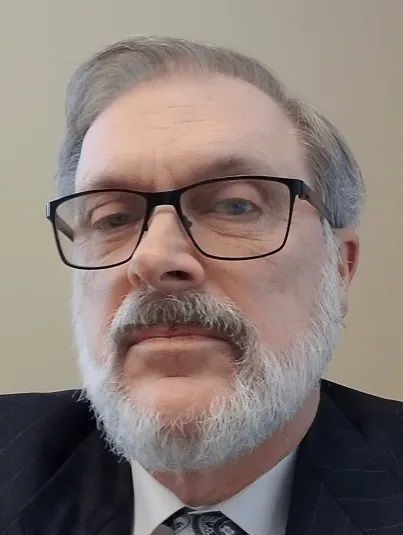 Editor's note: Today's guest editorial comes from Longview attorney, and former Daily News editor and reporter, David Rorden. Editorial content from other publications and authors is provided to give readers a sampling of regional and national opinion and does not necessarily reflect positions endorsed by the Editorial Board of The Daily News.
Will democracy survive Zoom?
I'd like to think that, based on my experience as a delegate from the 19th District to the first-ever "virtual convention" held by Washington State's Democratic Party, I can offer up a qualified "yes."
But, as we've learned in other spheres of our lives, there is cost to social distancing.
On Saturday, I joined more than 1,300 other delegates and party functionaries in an exercise in what I will call "Politics for the Pandemic" – a state convention conducted entirely online, with a virtual podium accessible via Zoom and YouTube. Delegates voted using Google Forms.
From where I was sitting – in my living room easy chair, a large mug of coffee beside me and a snoring Pekingese at my feet — the event went off with near flawless technical execution. State chairwoman Tina Podlodowski moved efficiently through the agenda. Most of the six hours and 20 minutes were devoted to debate about nine proposed amendments to the party platform. There was a parade of recorded video messages from several statewide and Congressional Democratic officeholders.
We were not very far into the virtual event when it started to dawn on me that "Politics for the Pandemic" differed significantly from the in-person, three-dimensional variety. It is the same difference you see in Jimmy Fallon's at-home Tonight Show monologues, in "together-at-home" concerts by artists like Sheryl Crow, John Legend and Lyle Lovett. They're all a little bit flat. There is no feedback loop; no audience reaction. No one gets charged up. And politics, especially at the convention level, is part performance art.
Gov. Jay Inslee delivered a taped message from what looked like his back deck, vowing, "We're going to kick Donald Trump out of the White House."
And later, "We're not only going to remove Donald Trump but all of his lackeys as well." They were good lines – "red meat for the base," as the punditocracy would say. But they were applause lines with no audible applause. The convention was conducted as a "webinar," a one-way broadcast, instead of an interactive "Zoom room," because of the sheer number of participants – more than 1,300 credentialed delegates were virtually seated.
It was the first debate over proposed amendments to the platform that got me thinking about the limitations of a "virtual convention."
The platform section under discussion was Criminal Justice, an amendment that called for legislation requiring that "all complaints of police use of excessive force to be investigated by a team outside of the jurisdiction of the incident. This could be either a separate prosecutor designated by the State Attorney General or some other entity."
The earnest young man who argued for the majority position – in opposition to the proposed amendment – didn't question the basic concept of police accountability. But, he argued, the wording didn't specify the "outside jurisdiction" that would handle the case. In his home county, he said, when the police have a problem, they're investigated by the Republican sheriff, "and then vice versa" – a sort of reciprocating loop of non-accountability.
Arguing for the amendment was Chris Porter, who represents the 43rd District – South Seattle, Burien and Vashon Island – on the party's central committee.
"Yesterday was 'Loving Day,' " he said, referring to the anniversary of the Supreme Court's decision in Loving vs. Virginia, the 1967 case that struck down state laws against interracial marriage. "And it was very odd to be standing in Judkins Park, marching against police brutality, racial inequality and disparity on the day on which, with my husband, we would be celebrating the day for the landmark which it is, and that law, which still remains intact."
"It is imperative," he continued, "that these complaints with these officers be moved out of their jurisdictions and either over to the state's attorney's office, or that the state's attorney create a special prosecutor's office to handle these."
County prosecutors say there are a "number of reasons they are troubled doing this, and they cite various reasons. But to me, the cornerstone reason ... is pointing out that they have trouble putting forth charges against the very officers they are wholly relying on in the collection of evidence, being witnesses in their cases, and providing them documents that help build their cases. That incongruity, that conflict of interest, would never be on the side of the aggrieved person, as we have seen play out time and time again across our country."
Porter added: "We have an obligation to include this plank if we are serious about fundamental and significant and real reform that begins to chip away at a system of prescribed and programmatic racial inequity, racism and murder."
I've been in enough churches to know an altar call when I hear one.
In a packed convention center, the assembled delegates would likely have risen as one, showering Porter with applause. But we weren't in a packed convention center, or on the floor of the Tacoma Dome. We were 1,300 strong scattered across the state in our cyber-silos, connected by Internet cable and wifi and cellphone towers.
Porter's argument carried the day. The amendment passed, 1,137 to 149. The "minority report" became a 96% majority vote.
But a little something was lost. Not just a common sense of purpose, but a "revival tent" atmosphere that would have sent us out determined to change the world.
Donald Trump seems to understand, perhaps more than anyone, that the "feedback loop" from an assembled audience is critical to his political success. That's why he's going back to in-person rallies well before his own CDC guidelines would permit them. That's why he yanked the Republican National Convention out of Charlotte, which wouldn't guarantee he could hold a full-on, in-person convention with no social distancing limitations, and no masks required. That's why he moved it to Jacksonville, Florida, where more compliant officials will toss public health considerations to the wind and allow him to have his "big room." He will be charged up; the audience in the room will be charged up; the television audience will sense it.
I am proud that my party is the one showing restraint at this moment. It has chosen not to subject convention participants, the news media and the public to exposure to an invisible virus that has taken the lives of nearly 120,000 Americans, overtopped our health care delivery system in many areas and wreaked havoc on the economy in a fashion not seen since the Great Depression.
But politics isn't just about platform vote and facts and rhetoric and argument. It is also about personal connections and a sense of community – and a little bit of the revival tent. Any political pro will tell you that, especially in a close election, the relative enthusiasm of each party's voters is a crucial metric in predicting the outcome.
Useful as Zoom is for allowing a form of face-to-fact contact in these strange times, I will be glad when the app can be retired as the means by which we congregate in large groups in our never-ending quest to form a more perfect union.
Democracy will survive Zoom. But it may be a while before it can truly thrive.
Catch the latest in Opinion
Get opinion pieces, letters and editorials sent directly to your inbox weekly!