The time for government to force businesses to make health decisions for their employees should be over.
Businesses are reopening. Fans got to cheer for the Trail Blazers in the playoffs. The Indy 500 sold out to 135,000 people. The Centers for Disease Control and Prevention director Rochelle Walensky said, "If you are vaccinated, you're protected, and you can enjoy your Memorial Day." And we listened: Tens of millions of people traveled last weekend.
The class of 2021 is mostly able to enjoy in-person graduation ceremonies, with the promise of classes and sports going back to more normal schedules in the fall.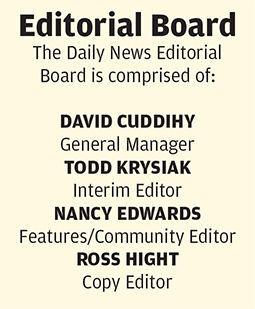 The vaccines had unpleasant short-term effects for many, but it's clear they do an outstanding job preventing COVID-19. This is shaping up as the outcome we all hoped for, in which deaths continue to fall even as masks come off and normal life resumes. But to continue on our way out of this nightmare, we need to clean up some lingering restrictions that are increasingly out of place.
Gov. Jay Inslee has used the Washington Department of Labor and Industries as his billy club. When Cowlitz County residents decided eating out was a risk they were willing to take, it was Labor and Industries that levied enormous, still-pending fines on Stuffy's II and Creekside Cafe for serving them.
People did not go to these restaurants because only an expertly made stack of pancakes could satisfy their hunger, or because it was the only way to see their family and friends. They went because they didn't agree with Inslee's high-handed lockdown, and because their favorite restaurants couldn't have survived a longer closure. It was an attempt to save local businesses as well as an act of political protest.
The state government has access to a wide array of law-enforcement agencies, as well as the National Guard. Inslee didn't dispatch any of the heavily armed and trained men he could have sent to break up these defiant gatherings. Instead, L&I slapped the restaurants with exorbitant fines. Stuffy's still is appealing nearly $1 million in penalties.
Striking back at political demonstrations by bankrupting small businesses that served the protesters food is not the American way. And L&I continues to obstruct the path out of this crisis. While the CDC guidelines essentially put us on the honor system, the state's new rules take the opposite approach. Employers may not allow employees to work mask-free until verifying they've been vaccinated.
Just as Inslee used fines on restaurants to enforce his will, he's now forcing business owners to fight a battle that's not theirs to fight. If we run a nail salon, and we think that "papers, please" is a terrible idea, we can put up a sign that simply asks our customers to mask up if unvaccinated. Some local businesses now have signs saying exactly that.
But we can't extend that policy to our own workers — we have to ask them about their personal medical decisions. Either we use our authority as their boss to say, "papers, please," or we use our authority as their boss to keep their masks on.
If we're going to be asked to show our vaccination cards, then it's official figures who need to do the asking — law enforcement, doctors, security guards. Instead, Inslee uses the billy club of L&I. He puts the burden on the businesses.
Washington state law gives our governor some of the strongest, most concentrated emergency powers in America.
And to what end? In terms of any health benefit, these rules already were outdated at the moment of creation. The official suggestion of marking employee badges with vaccination status is silly and unnecessary. We can patronize your business unmasked, and you can patronize ours — but on the job, we each have to prove to our boss we've had our shots. Why? A virus doesn't care who is and isn't on the clock. It's completely divorced from any medical benefit.
The federal government has made a show of announcing it has not kept a vaccination database. So what health purpose could possibly be served by making the local sandwich shop or car mechanic keep one? Well, L&I also has decided it can look at a business's vaccination records. Perhaps accessing this information is the real goal here. It's easy to see this being used as a weapon to get compliance in the future, just as it was used against Stuffy's.
Here are some steps that could benefit us far more than these tone-deaf workplace regulations:
If private business owners wish to require masks for all on their own property, they have every right to do that. But government offices need to follow government standards. It's past time for libraries, city halls, courts and most other official facilities to replace their "mask required" signs with "mask or vaccination required." If city or county workers aren't going to obey the new CDC guidelines on their own, our local elected leaders need to order it done.
The punitive fines on local restaurants that stayed open should be reduced. If the state wants its orders obeyed more fully, it has better tools to enforce them. Bankrupting neighborhood businesses was never an appropriate way to handle those who flaunted Inslee's orders. It was just an easy way — a weapon close at hand.
The emergency now declared in Washington and Oregon needs to end. At times it did good work and saved lives, but it's long outlived its usefulness. No emergency is being countered by human resources departments making copies of our vaccination cards and sending them to L&I. If the state truly needs that information, then let the state pass a law to get it.