We want to wish a hearty and heartfelt congratulations to our area's high school classes of 2021. Our annual graduation special section honoring this year's senior classes can be found inside today's paper.
This year's seniors are graduating after unprecedented disruption in their school careers since their junior year caused by the COVID-19 virus. They've had to try to learn from home, using technology that is a poor substitute for the face-to-face contact, support and supervision of teachers and peers.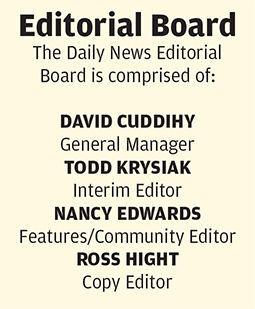 The virus' ominous presence canceled proms, dances, school plays, club and intramural sports and so many other aspects of high school life. Students have coped with loneliness, economic uncertainty and, when they did return to class, fear of COVID-19 and empty gyms and auditoriums.
It was an unprecedented year of educational and adolescent havoc. You can say the class already has been through the school of hard knocks.
The class of 2021 was not alone in facing hardship, of course. Almost every American generation has faced some crisis, and on this Memorial Day weekend, graduates and all of us should remember that. Preceding graduates feared conscription to fight great or unpopular wars. They struggled with economic, social and racial upheaval. Immigrant children continue facing the strangeness of the language and culture and the prejudices of their new nation.
However, never before in America has the entire fabric of school and social life been torn up as it has during the pandemic. As this year's graduates lament their losses, though, they should also take lessons and inspiration from the ordeal, as their great-grandparents did from theirs.
The World War II generation, which journalist Tom Brokaw labeled "the greatest," grew out of the Great Depression and the aftershocks of the Spanish flu and Great Depression. Members of that generation learned frugality, integrity, the value of hard work, and a sense of collective responsibility. That last virtue is especially valuable in this "me first" age, and we hope the pandemic has taught the class of 2021 that America succeeds when we all move together.
No doubt, members of this year's graduating class have much catch-up learning ahead of them. Learning, though, must be a lifelong process. And as difficult as learning from home may have been, it's likely the model that many graduates will use as they develop and change careers during their lifetimes. Necessity is not always palatable, but sometimes it is the best teacher and shaper of character.
So remember these parting words to the approximately 1,300 area graduates: Remember the work and sacrifices of those who got you here. Move forward with confidence, knowing you had the gumption and courage to stick it out. And, finally, use the experience to better the world.