Washington state law gives our governor some of the strongest, most concentrated emergency powers in America.
It's easy to see why. The Legislature isn't always in session, and its work is slow-moving when it is. In the event of a sudden disaster or terror attack, we would need immediate action.
Action that must wait on state lawmakers to satisfy their complex prerogatives is anything but immediate. Statehouses can't act like 911 dispatchers.
Washington state also makes the legislative branch equal in power to the executive branch. Just as it's easy to see why governors need emergency powers, this pandemic has made it easy to see why those emergency powers need to be checked and balanced.
Under current law, Gov. Jay Inslee has sole, perpetual authority to determine whether an emergency exists in Washington, how long it will last, and what action must be taken to meet it. This must stop.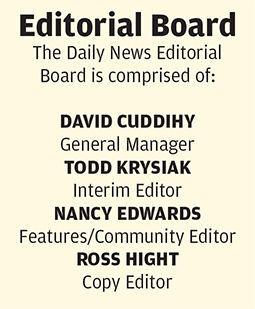 Expansive emergency powers have a clear place. If the Northwest suffers a tsunami or dirty bomb tomorrow, we're going to need our governor to order an immediate response.
But Washington has been in a state of emergency for more than 400 days. Inslee has wielded his power at times carelessly and disrespectfully, even referring to complaints as "carping from the cheap seats." He's correct: Cowlitz County can't afford a seat at the table where he holds his closed-door meetings. But our elected representatives should be seated there.
To the south, Oregon Gov. Kate Brown hasn't been blameless, either. Oregon county health departments and elected school boards probably once were under the impression they had something to say about when schools open and close.
They must have been surprised when Brown decided she alone could make that decision for the entire state at once.
More recently, Brown identified 15 counties — including Columbia — as "extreme risk" and ordered many more restrictions on indoor activities in those counties. Meanwhile, she raised the limit for outdoor dining in those counties from 50 to 100.
Oregon also is loosening its statewide mask rules to align with new, more permissive federal guidelines.
So even though Rainier and Clatskanie officially are considered "extreme risk," the lockdown is getting worse and better at the same time. And with the weather we've had, are we so sure outdoor activities are the innocent ones right now? The messaging has become incoherent. Are these really the urgent decisions that lawmakers couldn't be trusted with?
Inslee's initial, strong actions last year did important work. People were complacent. They didn't want to accept their lives would need to change to fight the pandemic.
Those first lockdowns were based on limited knowledge, but they shook people up, and that was valuable. But like Brown, Inslee's decisions now badly need a second look, a fresh dose of logic.
Over the past year, our news staff has sometimes rushed to detail new rules handed out in a Friday press conference, only to learn things have changed based on a Saturday press conference. Allowing governors to dismiss any law may be needed in short-term worst-case scenarios. But we've allowed it to continue far too long, and it's become tinged with chaos.
Currently, local vaccine supply is exceeding demand. The Centers for Disease Control and Prevention is decreasing mask requirements and other rules for people who are vaccinated. Our local schools are bringing back many more students for four- or five-day weeks. This is not the panic-filled situation of early 2020.
Inslee's decision to banish Cowlitz and other counties back to Phase 2 is a decision he shouldn't be able to make alone. Our individual rights do have limits, but those limits should not be for one man to decide into perpetuity.
The courts have made some small inroads. Inslee's decision to place special restrictions on church services was mean-spirited and repugnant to the First Amendment. A Ninth Circuit decision forced him to bring those regulations more in line with those for secular activities.
But the courts alone won't put our state governments back in balance for us. The Ninth Circuit is itself famously erratic, and there's no getting around the fact many of our governors' current powers are granted by law.
State legislatures are making an effort to do their part. Increasingly, lawmakers are introducing a number of bills that would give them a voice in COVID-19 response.
There are many approaches on display: limiting the definition of emergencies, making orders temporary unless extended by the statehouse, or requiring direct approval by legislative leaders.
Rep. Jim Walsh introduced a bill that would limit emergency proclamations to 14 days unless approved by lawmakers. It also would have forced Inslee to use the least restrictive means available. Sen. Jeff Wilson has also been active in urging the Legislature to hold Inslee accountable. His signature was on a letter sent by Senate Republicans to Inslee just a few days ago, insisting that lawmakers need a path out of Inslee's "cheap seats."
We're disturbed at the partisan calculus preventing solutions in the Northwest. Primarily, it's GOP minorities proposing the bills, and it's Democratic majorities protecting Democratic governors by killing the bills with procedure.
This is disappointing and wrong. In the long run, both parties want us to be governed by laws, not men.
COVID-19 is an apolitical killer, and many demanded partisan values take a backseat to health measures. We all want students in class, fans in sports stadiums, travel reopened and businesses filled to capacity.