Thumbs up: Educators adapt
A vigorous shout-out to Cindy Sholtys-Cromwell, who last week was honored as one of three digital school principals of the year by the National Association of Secondary Schools.
Sholtys-Cromwell, who leads Kelso Virtual Academy, and two other honorees went "above and beyond in their work using technology to support teaching and learning, bolster student achievement and enhance their own leadership," the association announced.
In a year the pandemic made challenging, Sholtys-Cromwell and the other winners "successfully supported their students and staff members through innovative solutions, and their schools greatly benefited from their leadership, which is needed now more than ever," according to the association.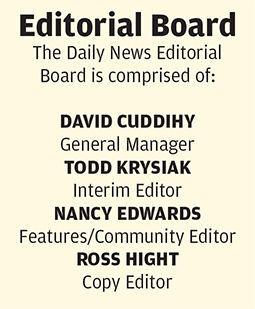 Sholtys-Cromwell took the helm of the Academy last year. She focused on expanding to accommodate kindergarten through 12th-grade students. She trained teachers to take on new, remote roles. She tried to make sure all students had Chromebooks and internet access.
Under her leadership, student enrollment jumped from 29 to 1,000, and it remains at 450 even after the return to in-person classes in other schools.
The Academy's success mirrors a general uptick in the online schooling we've documented across local school districts.
Remote learning was haphazard to non-existent in the early days of the pandemic, as teachers, students and parents struggled to adjust to new ways of teaching, lesson planning and time management.
Recent experience tells us the system improved. Teachers got more involved. Technology worked. Students were more engaged.
No doubt they still fell behind, but the gradual improvement in online learning shows that adversity can be overcome when educators like Sholtys-Cromwell have passion and dedication for their work.
Thumbs down: Slow Go 4th permit
We're pleased city of Longview officials late last week finally agreed they would approve permits Monday to hold the annual Go 4th Festival at Lake Sacajawea, but it took far too long to reach this point. The city conditioned its approval on the state reopening as planned on June 30.
City officials could have made such a decision a month ago, when Gov. Jay Inslee said he would lift COVID-19 restrictions at the end of June. Waiting until Monday was a needless delay that makes planning difficult for the volunteer Go 4th committee and could jeopardize public participation as some families already firmed up their summer vacation and travel plans.
Go 4th is the city's signature festival. No one does Independence Day like Longview. The festival is a sacred celebration of American liberty. We need it, psychologically, after a year of cancellations, lockdowns and state- and self-imposed isolation. The psychic blow to the community of prohibiting the festival a second year in a row would have been be hard to take.
Vaccines have made it possible to restore a semblance of normality. Vaccination rates in Cowlitz County are slower than in other counties, but the numbers are improving steadily. About half our eligible population has now begun or completed the immunization process. Importantly, infections were down 32% in the past 14 days, according to the Washington Department of Health.
We hope the city's tardiness leaves the Go 4th committee with enough time to do the bang-up job it always does.
Thumbs up: Vaccination efforts
There would be no Go 4th Festival this year without the success of COVID-19 vaccines. Social distancing measures could have worked to contain the virus, as they have in other nations, had they been observed or mandated with consistency and widespread dedication. Alas, science has had to save us from ourselves.
Development and rollout of the vaccine has been an undeniable success.
Hundreds of millions of Americans are fully or partially vaccinated. About 52% of the U.S. population has received at least one dose of a COVID vaccine and 42% is fully vaccinated, the Centers for Disease Control reported last week.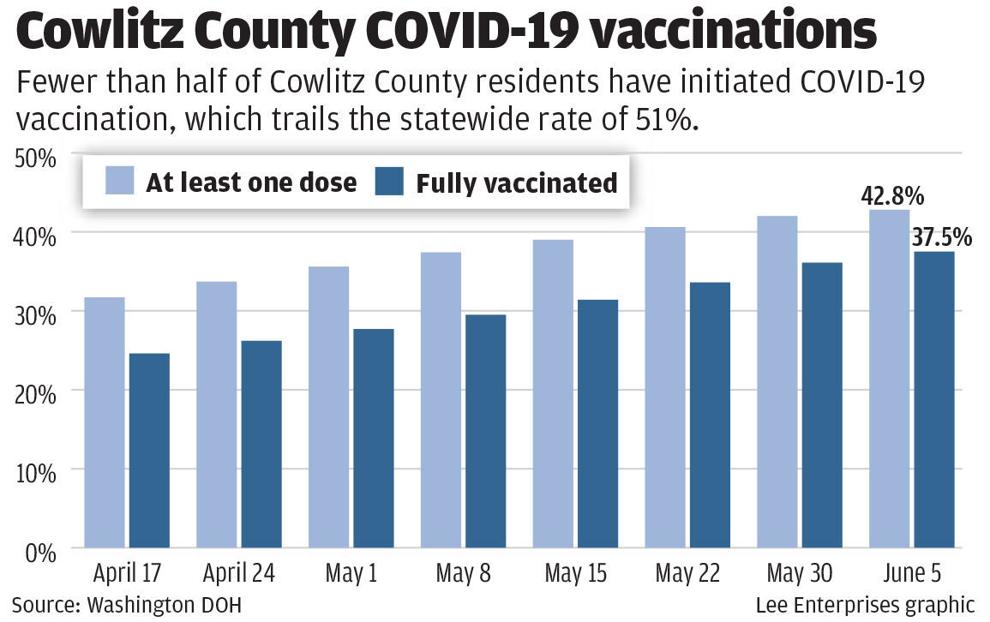 About 4.4 million Washingtonians have been vaccinated — about 58% of the eligible population — and about half are fully vaccinated.
The seven-day average of daily U.S. infections is now fewer than 15,000, a number not seen since the early days of the pandemic, according to Johns Hopkins University.
Given the rollout's success — and lottery drawings and other incentives to encourage people to get the shots — it's hard to understand why vaccine hesitancy persists, jeopardizing President Biden's goal of having 70% of Americans fully vaccinated by July 4.
The chances of getting COVID are far greater than getting sick from the vaccine, especially with the more easily transmissible delta variant making the rounds.
Thumbs down: COVID-19 restrictions
Oregon has not allowed Columbia County to reopen more liberally and has kept it mired in a "high risk" classification. It's one of 11 Oregon counties in that group, which limits attendance at bars, restaurants and churches to 25%.
On the surface, the ranking appears justified. Columbia County's COVID infection and test positivity rates are higher than the state wants, and looks especially unfavorable compared with those of neighboring counties. In addition, vaccination rates are lagging, with 41% of eligible people having at least one shot, well short of the state average of 54%.
But the county has not reported a COVID-19 death in a month. Infections have been declining since early April and by Thursday daily infections had dropped to a seven-day running average of five — down from 12 in early April. Just a few cases can skew the numbers in a small county. Rating the county "high risk" seems like a warped conclusion.