Cowlitz County had a rental market problem even before the pandemic struck. COVID-19 made it worse, and it's going to take some patience, housing expansion and legislation to fix.
Fix it we must, because ultimately this is a human dignity problem.
Both tenants and landlords have reason to complain about the current state of affairs, which is largely driven by an acute shortage of rentals.
As Marissa Heffernan's Page A1 story today reports, Cowlitz County's apartment vacancy rate this spring was only 0.5%, according to the spring 2021 apartment market report from the Washington Center for Real Estate Research. That's just a fraction of the 7% to 8% considered healthy for the economy, according to the state Department of Commerce.
The shortage gives a lot of power to landlords to drive up rents. And it hamstrings tenants when they encounter maintenance and health and safety problems. There is simply no easy way to move out if landlords don't act, and renters fear eviction if they complain.
Although state law gives tenants rights to make sure rentals are kept up, they usually must go to court to enforce them. Many renters, especially those living in substandard, low-income housing, cannot afford lawyers. There should be an easy way, for example, to make sure wastewater from a sink and bathtub is not simply draining under a house, a problem documented by Heffernan's story.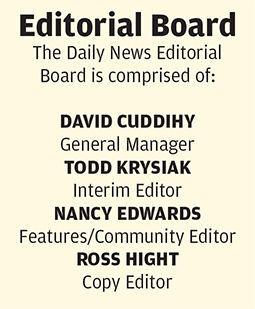 Landlords, on the other hand, face a gauntlet of their own when they seek to evict deadbeat renters. They must, for example, get a court to order the tenant out by issuing a notice of unlawful detainer. This process is meant to give tenants due process of law — a constitutional right.
Landlords have rights, too, such as the right to earn money from a tenant and for the tenant to take reasonable care of the premises. We all know of trashy tenants who are as quick to complain as they are to cause damage.
In addition, many landlords have been carrying the costs of their properties during the COVID-related moratorium on evictions. The moratorium, which Gov. Jay Inslee imposed at the onset of the pandemic, ends June 30. An estimated 211,000 Washington households were behind on rent as of late March, according to the U.S. Census Bureau's Household Pulse Survey.
How fast should these households be forced to pay up? Do they have recourse? How do landlords react short of seeking mass eviction orders, a move that would clog the courts?
The Legislature took at stab at addressing these and other landlord-tenant issues by passing two bills last session.
HJB 1236 requires landlords to provide a legitimate business reason before evicting a tenant. Currently, state law allows landlords to evict month-to-month renters for no cause with only 20 days' notice.
SB 5160 would give renters the right to a lawyer at public expense if they cannot afford one. Washington is the first state to provide lawyers for low-income tenants facing eviction. Its two-year cost is estimated at $22.2 million. In addition, landlords must offer tenants a "reasonable" payment plan for rent that was unpaid between March 20, 2020, and this June 30. Mandatory back payments cannot exceed the regular monthly rent by more than 33%.
SB 5160 also will require landlords to participate in both an informal and formal mediation process — called an Eviction Resolution Program — before filing an eviction notice in court. It also prohibits landlords from sharing information about tenants with other landlords.
We think it unfair to prohibit landlords from sharing information about tenants. That is an abridgement of speech and inhibits them from making good business decisions. However, overall the bills are a good attempt to head off a crisis. They will help level the playing field for renters without unduly burdening landlords.
Some housing advocates wanted lawmakers to go further and cancel pandemic-related back payments for rent and mortgages, saying many poor people cannot afford them. Some relief may come from the $454 million the state will get from federal stimulus passed by Congress in March. But it may take months for those funds to arrive, and even that amount is small compared with the amount of back rent alone, which some estimates put at $1.2 billion.
Legislation aside, increasing our housing stock has got to be a priority for the long-term health of our community. The mountainous nature of the county hems us in some, so easing some zoning restrictions to allow for denser housing is necessary. Some cities, including Longview, already have started to do that.
But like we said at the beginning: Improving our rental housing market is going to take a lot of time.