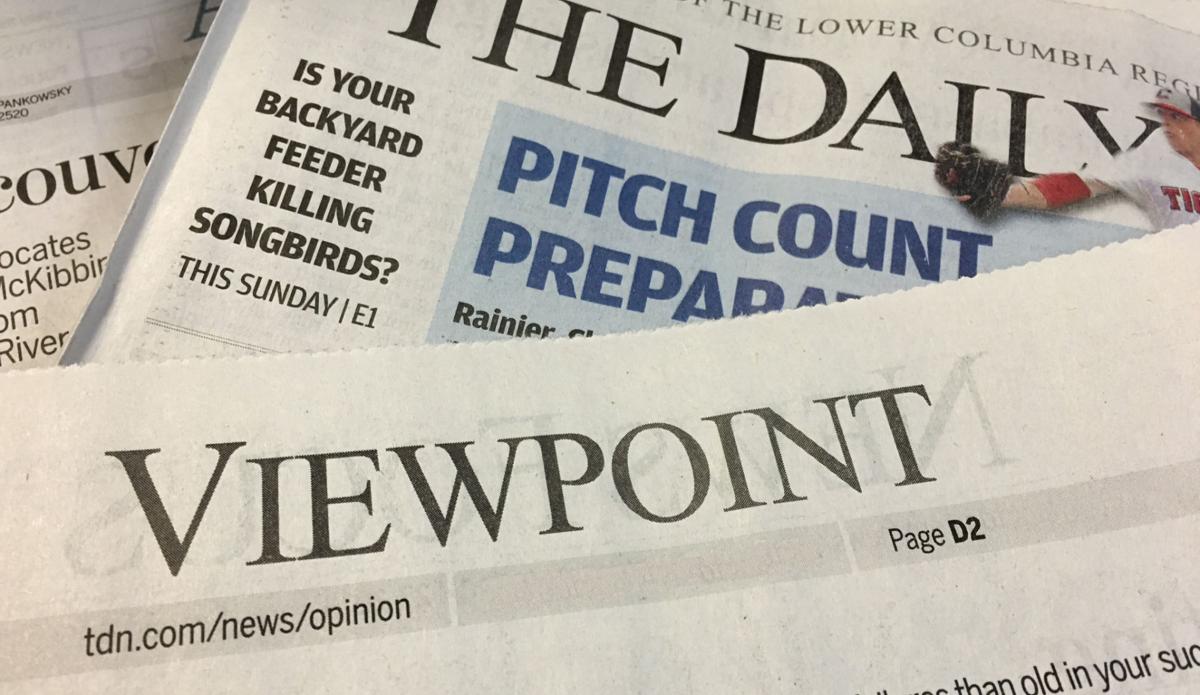 Editor's note: Today's editorials originally appeared in The Columbian and The Seattle Times. Editorial content from other publications is provided to give readers a sampling of regional and national opinion and does not necessarily reflect positions endorsed by the Editorial Board of The Daily News.
A dam of silence has been breached at the state Capitol in Olympia. With a wave of voices rising to speak up and speak out against sexual harassment, an important move toward civility and social justice is cresting that will benefit those who work in state government and, indeed, citizens throughout the state.
Several stories in recent weeks have illustrated a culture of offensive behavior and egregious cover-ups at high levels of state government. Among those is a revelation that former state Rep. Jim Jacks, a Democrat from Vancouver, resigned in the middle of the 2011 legislative session not solely because he was battling alcoholism — as he had claimed — but also because he had been accused of sexual harassment. Last week, House Majority Leader Pat Sullivan, D-Covington, revealed that Jacks' actions at the time were "serious enough to warrant his resignation."
This is not meant as an attempt to bury Jacks by dredging up the past. Instead, it is to place Washington's statehouse firmly in the midst of important national discussions regarding sexual harassment and, in some cases, sexual assault by people in positions of power. It also is to highlight the lengths to which cover-ups routinely protect offenders at the expense of victims, creating a situation in which a dam of silence is accepted and normalized.
Buoyed in part by allegations about movie mogul Harvey Weinstein and a culture of abuse and secrecy in Hollywood, the issue of harassment has garnered much attention in recent weeks. More than 75 people have accused Weinstein of harassment or sexual assault, and dozens of others have come forward to lob complaints about other high-profile Hollywood personalities. This follows accusations and revelations of financial settlements that ultimately led to the ousters of Roger Ailes and Bill O'Reilly at Fox News.
The entire issue has provided, in short, a bit of national cleansing, with victims becoming emboldened to speak out and offenders seeing their protective dams beginning to crumble.
On Monday, more than 170 women — including lobbyists and lawmakers — signed a letter calling for a culture change regarding sexual harassment at the Capitol. "At some point in our lives, every one of us has experienced, witnessed, and counseled others through unwanted advances or a range of dehumanizing behavior," the letter reads, in part.
The key word there is "dehumanizing." In cultures such as those found in a state capitol or Hollywood or a TV network, there is an inherent power structure that invites abuse and emboldens abusers. And for those who would dismiss the claims of victims as little more than thin-skinned grumbling, we ask a question: How would you feel if your wife, your daughter, your mother were treated in such a fashion? How would you feel if somebody in a position of power groped them or — as former state Rep. Brendan Williams is accused of doing — shoved his tongue down their throat?
Olympia is not the national hub of sexual misconduct, but it is a good place to begin cleaning up offensive behavior. Making lewd suggestions is not merely "locker-room talk"; groping a colleague is not acceptable in any situation. The Legislature must move decisively to provide training for lawmakers and staff members, to ensure that complaints can be filed easily and will be taken seriously, and to guard against secretive settlements that protect abusers.
The tide, we hope, is turning in how the nation addresses sexual harassment.
Moderates will set the agenda
Democratic leaders have been promising their constituents big things if they win back control of the Washington state Senate. Now, it appears they've done just that, with Democrat Manka Dhingra leading Republican Jinyoung Lee Englund in early returns from Tuesday's special election in the 45th Legislative District.
Here's a reality check: If Democrats win full control of the Legislature, it won't give Democratic Gov. Jay Inslee a green light to enact every progressive tax he's had his eye on these past few years. Nor will it cause the state to go to hell in a socialist, tax-happy handbasket, as Republicans have alleged in ads throughout the campaign season.
Democrats who control the state House didn't have the votes this year to enact a tax on carbon emissions, despite Inslee's continued push for it. That hasn't changed overnight. And the capital gains tax House Democrats proposed earlier this year still doesn't have enough votes to clear the state Senate, even if Dhingra's lead holds and Democrats take over. Too many moderate Democrats in Olympia already say they won't vote for it.
This reality will impede Inslee's hopes of enacting either of those taxes. He has suggested them as a way to reduce the statewide property-tax increase lawmakers enacted this year to help fix the way the state pays for schools.
But Democrats will be reluctant to undo that tax deal in a short, 60-day session leading up to a pivotal 2018 election. They will be more focused on getting their work done quickly so they can start campaigning for November, in hopes of expanding their fragile majority.
That will hold true even if the state Supreme Court rules the Legislature has fallen short of meeting its obligations in the McCleary school-funding case. Democratic lawmakers should look to add money for special education and pass a capital budget to help pay for school construction, but they'll likely wait until 2019 to make more drastic changes.
The new policies Democrats pass in 2018 will probably need to be easier lifts that play to their base and look good on campaign mailers. Things like protecting insurance coverage for birth control and passing a state Voting Rights Act. Probably not on the agenda? Banning assault weapons.
So relax, Republicans — the sky won't fall now that Democrats appear to have regained full control in Olympia. And Democrats, you might want to tamp down your expectations for next year's legislative session.