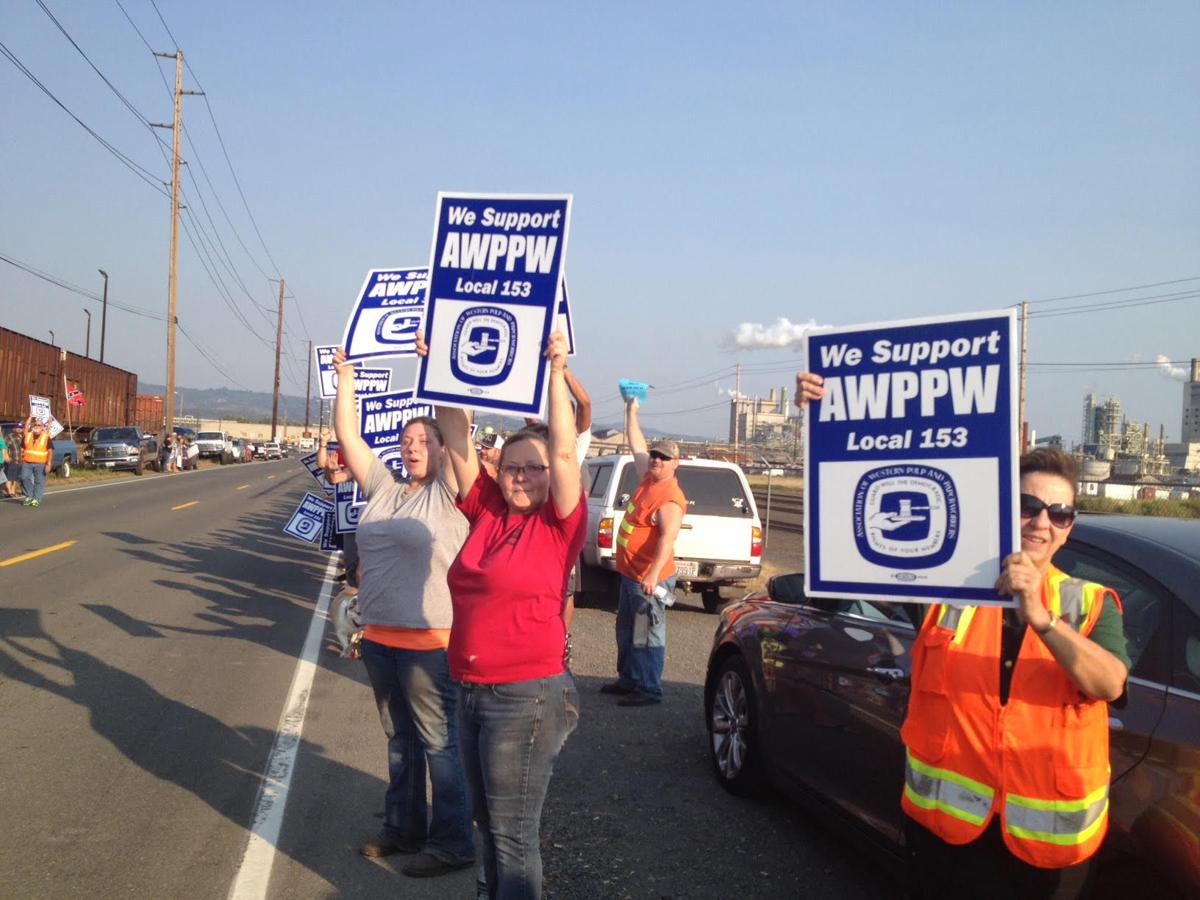 Pulp union leaders say they have formally challenged KapStone's recent decision to unilaterally implement its latest contract offer.
Greg Pallesen, vice president of Association of Western Pulp and Paper Workers, said the union filed new unfair labor practices charges with the National Labor Relations Board Friday. One of the charges challenges KapStone's declaration of an impasse, which paved the way for the company to put its latest contract offer into force.
KapStone Paper and Packaging Corp. announced last week that it had reached an impasse with the union after more than 15 months of negotiations, federal mediation, threats of a strike and the union members' rejection of three contract offers.
KapStone officials declined to comment Friday.
Once the union's complaints are processed next week, the board will likely launch a formal investigation into whether a lawful impasse was actually reached. It likely will be months before NLRB holds a hearing on the complaint.
In the meantime, the union could walk out, in what it says would be a unfair labor practice strike, not an economic strike. The difference could determine whether KapStone could hire permanent replacement workers. The NLRB may end up deciding that matter, too.
While the impasse has created an unusual labor situation in Cowlitz County, they are not uncommon nationally, said Ronald Hooks, Regional Director of the NLRB's Seattle office.
"I wouldn't call it special. It happens in any major industry where the parties are at loggerheads on whatever issues — whether it's healthcare and benefits, wages. A breakdown can occur in any industry," Hooks said.
One of the biggest sticking points for the union is retaining their existing Kaiser Permanente health care plan. KapStone says the cost of maintaining the plan would subject it to a 40 percent "Cadillac tax" under Obamacare that would amount to over $2.7 million within the first two and half years. The high deductible plan it has put into effect will drive up workers' costs for coverage, though KapStone will help pay deductibles.
Maxford Nelsen, labor policy analyst with conservative-leaning Freedom Foundation in Olympia, said the Cadillac Tax elevates the significance of the situation.
"We've only seen a few other major private sector employers and unions have to deal with this particular issue, but you're going to see more and more of this over the years," Nelsen said.
"So I can see the union wanting to take this strong position as an example, but also for themselves and future bargaining," he added.
Brandy Green, a box plant worker at KapStone, said the high-deductible plan isn't affordable for families.
"Even for a single people, even with the raise, it doesn't cover (my health care expenses) at all," Green said at Thursday's union rally attended by 150 AWPPW members and supporters outside the KapStone plant.
Standing by Green was her mother Victoria Witt, who works at Weyerhaeuser Co. Witt noted that Longview Weyerhaeuser employees went through a similar experience last year, when the company replaced Kaiser Permanente with a high-deductible health care plan.
"I have the insurance they're offering at KapStone … it's a fortune," she said.
Green also took issue with how the contract KapStone imposed limits new box plant employees' ability to transfer into the paper mill.
"No one likes to have our options taken away from us," she explained.
A crane operator who has worked at the KapStone mill for almost 30 years said he was disappointed with the contract implementation.
"I don't want to go on strike, but if they force us to, we'll do it," he added.
KapStone employees were joined by about 50 members of the International Longshore and Warehouse Union and representatives from other local unions, too.
"If the community can turn out in droves over whether we'll have one high school or two," said Shawn Nyman, president Cowlitz-Wahkiakum Central Labor Council, "I would hope they would do what it takes to support or help affect a positive outcome on behalf of 800 families who only want a major employer in this area to settle a fair contract."
Contact Daily News reporter Marissa Luck at 360-577-2539 or mluck@tdn.com.