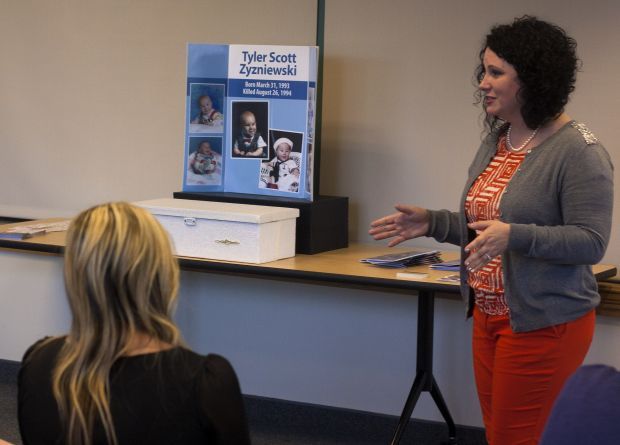 Rena Sherrill and her infant son Tyler used to go on a "date" each month — sometimes a picnic, sometimes a shopping trip. 
But those outings ended when a drunken driver smashed head-on into their car 20 years ago on a rural road near Myrtle Creek, Ore., killing Tyler. Now, mom and son still go on their "dates" but they're in sterile classrooms and church community centers, where Sherrill shares his story with those convicted of drunken driving.
"That's my Tyler time," Sherrill, a Castle Rock resident, said last week. The presentations help fill the void left by his death. "(It's) the best date I've ever been on."
Sherrill, 41, has given "DUI impact panel" presentations in Lakewood and Chehalis for about 13 years. Last month, she created her own nonprofit organization to give presentations to convicted drunken drivers court-ordered to hear stories from victims of the crime. Her nonprofit, From the Heart VIP, is not an official 501(c)(3) but is certified with the Washington Traffic Safety Commission and holds state and federal licenses. It charges participants $40.
Even if only a few participants never drink and drive again, Sherrill says, the presentations are worth her effort.
"There's a passion in me to help people make positive life choices," Sherrill said, adding that "simple responsibility" can prevent accidents like the one that killed Tyler.
About one in three crash deaths involve drivers impaired by alcohol, according to the Centers For Disease Control and Prevention.
Sherrill and her husband left their home on a hot, humid August evening in 1994 to drive the back roads while 16-month-old Tyler fell asleep. The couple didn't have air conditioning and often used such drives to escape the heat while Tyler dozed.
"We just never dreamed he'd never wake up again," said Sherrill, 21 years old at the time. When Tyler began to fuss, she removed him frvom his car seat and held him herself. Moments later, another car struck them head-on at 95 mph.
"In the blink of an eye, my son was gone, literally ripped out of my life in a very unexpected and violent way," Sherrill said. "It changes who you are to lose somebody you love more than life itself. Sometimes it's a struggle to figure out who you are now, what the new normal is. I really had to take the time to figure out who I was in my life and who I wanted to be."
Sherrill and Tyler's father divorced as the two struggled to deal with the pain and guilt of their loss. Sherrill remembers contemplating suicide, feeling she deserved no more children, forgiveness or even happiness. The grief could have "easily consumed" her, she said.
Time hasn't healed her wounds, she said, but sharing Tyler's story provided her with a way to cope.
"That's rewarding to me, that his death wasn't in vain and something good can come from something bad," Sherrill said.
Sherrill's presentations last about two hours and include testimony from her and other people affected by drinking and driving. She hosts adult panels on the second Tuesday of each month and teen panels on the second Thursday in a community center that used to house a church, 300 N Fourth Street in Kelso.
Sherrill and audience members usually weep during the presentations, which she punctuates with the unveiling of an infant-sized coffin.
With adults, Sherrill simply shares the story of Tyler's death and its impact on her life. She makes a point to include the decision to remove Tyler from his seat, an admission of her own mistakes, and hopes it makes the story more relatable.
"Now let's learn from that mistake and move forward," Sherrill said. "That's what I hope to leave (audiences) with."
With teenagers, Sherrill often adds video clips and goggles that simulate the loss of coordination drunks feel.
Sherrill plans to use revenue from the panels to help people who, like herself, have lost loved ones in traumatic events. She said the money may pay for events such as fun excursions for kids grieving after the death of a family member.
Sherrill remarried and now has two children, 19 and 17. She says the accident that took Tyler left her with a strong awareness that other people's poor decisions could someday affect their lives, and she feels compelled to help people make good choices.
"That weighs heavy on me," Sherrill said.
Those interested in attending one of Sherrill's presentations can contact her at 560-1244.
Longview resident Ken McFarland has been named director of operations at Steviva and Bon Foods of Portland.
His background includes three years as operations director at Cascade Grain Products based in Clatskanie; and 11 years in plant and project engineering and management roles at Archer Daniels Midland Company, in Peoria, Ill. He also is co-owner and president of Ye Ol' Grog Distillery (YOGD), a craft distillery based in St. Helens, Ore.
McFarland has a bachelor of science degree in chemical and petroleum refining engineering from the Colorado School of Mines, based in Golden, Colo.
Justin Pittman covers Longview and Kelso school districts, Lower Columbia College and Columbia County (Oregon) for The Daily News. Reach him at 360-577-2523 or jpittman@tdn.com