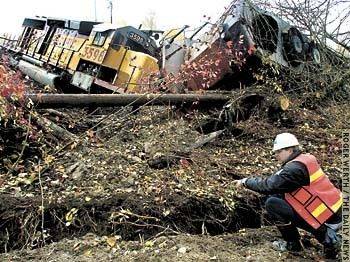 In 1994, shortly after her husband died in a head-on train collision south of Kelso, Teena Poler wrote a letter to federal rail officials. She pleaded with them to adopt safety measures that, many say, could have saved her husband's life.
The letter, which read with all the pluck of a widow whose grief had mixed with anger, said "these types of tragedies are still occurring. It is such a senseless waste of life. Someone must step forward and say, 'No More!' "
"I am aware of the pressure you must be under from victims' families to demand the railroads fully implement the use of certain safety devices," Poler continued, "but we are desperate!"
For a decade, Poler, who founded The Mark A. Poler Foundation for Improved Rail Safety Conditions in her late husband's name, has lobbied rail companies to prevent accidents like the one that killed her husband.
Her campaign has centered largely on technology called Positive Train Control Separation, or PTCS, which uses satellites to track the movements of freight and passenger trains. If the trains get too close to each other, a computer system engages the locomotives' brakes, preventing a collision.
Poler said last week that, after her husband's death, rail company officials said they would start using PTCS systems.
But this month, when two freight trains slammed into each other south of Kelso — in nearly the same spot where Mark Poler died on Nov. 11, 1993 — Teena Poler said it was obvious that railroad companies have ignored her efforts.
In ten years, the railroads still have not installed PTCS. And, although it is still too early to say what caused the Nov. 15 wreck, a Union Pacific official said that the technology might have prevented it.
Critics say this month's crash, coupled with the one in 1993, highlight a general lack of safety on the main line that runs through Cowlitz County. Rail safety advocates are once again calling for the technology in the wake of this month's train wreck.
The National Transportation Safety Board, which investigates train accidents, continues to pressure the railroad industry to adopt a satellite-driven system that will help avoid collisions.
The agency has identified the tracks that run through Southwest Washington as a prime candidate for a satellite safety system, and the two significant train wrecks south of Kelso have not gone unnoticed in Washington, D.C.
"We saw the same thing everyone else did — having a collision at the same spot we had one ten years ago. It certainly is an issue," said NTSB spokesman Ted Lopatkiewicz.
Every day, 50 to 60 trains, many carrying tankers full of hazardous materials, share the rails with Amtrak passenger trains. Collisions between freight trains are bad enough, officials said. A freight train hitting a passenger train would be a nightmare, NTSB officials say.
"We are looking at this area with a critical eye," said Mark Ricci, the director of legislative affairs for the Brotherhood of Locomotive Engineers in Washington State. He said the union doesn't think the stretch through Cowlitz County constitutes "a safe work environment."
This month's wreck occurred in nearly the same spot as the fatal crash 10 years ago, and rescue workers set up a command post not far from a memorial to the 1993 victims.
While the 1993 crash was a head-on collision, the one on Nov. 15 occurred when a Union Pacific train sideswiped a Burlington Northern & Santa Fe train as it changed tracks, derailing locomotives and casting rail cars into the woods.
Last week, the NTSB said that the Federal Railroad Administration is not moving fast enough to make PTCS a reality across the nation — a recommendation that could cost the industry $1 billion.
In a statement issued after the Nov. 15 Kelso wreck, the NTSB said it was concerned about "the slow pace at which implementation of these systems is progressing."
The statement echoed a similar congressional report that was issued earlier this year. It said: "The current pace of development … of collision avoidance technologies is inadequate. No plan for industry-wide integration has been developed."
The NTSB added PTCS to a list of its "most wanted" safety improvements in 1990. After the 1993 crash near Kelso, it said that the system could have prevented the fatal wreck.
"We'd like to see (PTCS) in place today across the nation," said Robert Chipkevich, who oversees the NTSB's Office of Railroad, Pipeline and Hazardous Materials Investigations.
If more money had been put into developing the technology, it would likely be in use today, he said.
Railroads have not implemented PTCS "because they didn't want to spend the money," said Frank Wilner, a spokesman for the United Transportation Union, who has also served as an assistant vice president for policy at the Association of American Railroads and with the U.S. Surface Transportation Board.
The industry has channeled $200 million into PTCS research, said Tom White, a spokesman for the Association of American Railroads, but rail companies want to make sure that PTCS systems are glitch-free before they build them across the nation.
"There has been no reluctance on the part of the railroads to investigate the technology and invest in research," White said. "We are doing it."
Burlington Northern declined to comment for this story.
"A lot of people make the assumption that this is an off-the-shelf technology. It isn't," said White. "Up until now, nothing has been found that passes all of the tests."
White said that the industry is currently conducting multiple tests on lines in Illinois.
"The NTSB is very good at spending other people's money," White said of the pressure from the agency. "They don't have to live with the results."
Despite claims that the technology is unreliable, the industry is testing PTCS on 611 miles of track in Alaska and is installing it on New Jersey Transit commuter lines and on Amtrak lines throughout the Northeast.
Asked about the fact that Alaska is implementing a satellite safety system on all of its lines, White said, "They have one test on a small stretch of track. You don't know that it works everywhere. The Alaska thing has only been under way for a short period of time."
John Bromley, a spokesman for Union Pacific, said that satellite signals are not accurate enough to determine the exact location of trains. Bromley said it is difficult to tell which train is on what track because parallel tracks are very close together and trains are only inches apart as they pass each other.
The installation of transponders on the tracks, in addition to satellite signals, may help solve the problem, he said.
In addition, the rail industry said companies must ensure that all of their systems are compatible among all train companies, which use each others' tracks.
Union officials and safety advocates aren't buying that the technology isn't ready.
"I spent most of my career with the Association of American Railroads," said Wilner, the United Transportation Union spokesman. "I know from my experience that the railroads haven't implemented it because of the cost. If new technology saves them money, they're anxious to implement it today. … If it doesn't cause a bottom-line savings, they say the technology doesn't work."
The Federal Railroad Administration said it will issue a ruling next year that will provide standards for safety and compatibility for PTCS systems. NTSB officials are calling the anticipated ruling "an important step forward."
The NTSB and FRA also plan to host a symposium next year with rail officials in an effort to iron out the problems with Positive Train Control Separation.
Authorities have acknowledged that the estimated $1 billion price tag is a lot for railroads to swallow.
In a 1995 speech to the Association of American Railroads, James E. Hall, who chaired the NTSB at the time, said "the NTSB understands the reluctance of the railroad industry to invest the money required to implement PTCS control systems on all mainline tracks nationwide. This is a large investment to make purely in the name of safety, when all business must be concerned with the bottom line."
Because of the high costs, officials are considering ways that the technology can save railroads money. For example, PTCS might allow more trains to run closer together, which means companies could move more freight, the Federal Railroad Administration said.
"What we have realized through our additional work is that part of the justification for going forward (with PTCS) … is that the railroads can expect some efficiency gains," said Warren Flatau, an FRA spokesman.
Last week, as she rifled through a stack of documents and letters, stained yellow with age and spilled coffee, Poler, who lives in Gresham, Ore., shook her head and marveled at the fact that PTCS is still not being used throughout the country.
"I haven't been able to get anywhere in 10 years," she said. "I don't know what this takes, I really don't."
Poler said the train wrecks keep coming, and she doesn't know what to tell the victims' families anymore.
"How do you console somebody when you don't know how to console yourself?" she asked.
Railroaders are afraid to speak up on safety issues, she said, fearing retaliation from their employers.
A trainman's wife wrote to Poler saying, "Like you, I am a wife of an engineer on the Burlington Northern railroad. A day does not go by that I don't worry whether he is going to come home or not."