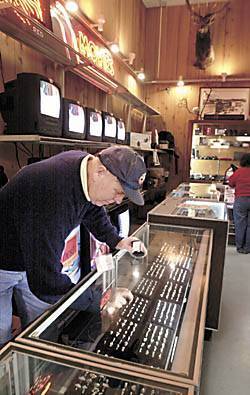 Portland resident Shirley Bishop, a stylishly clad sales representative, came to Longview to do some of her Christmas shopping at local pawn shops, motivated by visions of good deals dancing in her head.
The mother of four boys said she can't "afford to buy new," so she looked for cheap prices on the guitars, cymbals and snowboards on her holiday list. Bishop is employed, but said the sluggish economy has her bargain buying.
Price-conscious people like Bishop are joining traditional pawn shop customers and people who have lost their jobs to expand the market for pawnbrokers this holiday season, say area pawn shop owners.
"We do a great business when (the economy) is good — a lot better business when it is bad," said Dwight Irby, owner of Pets, Pawns & Imports on Commerce Avenue. He says his sales and loans are up 20 percent this year.
Longview Pawnbroker owner Bob Brooks said his sales are lagging behind last year, but he's making more loans, which are backed by hocked merchandise.
"People are pawning everything — from a Harley Davidson to pocket knives," said Brooks. Some people are shopping, but others are just short on cash to pay bills or buy gifts, he said.
"We are definitely in a recession," Brooks said. "I can't remember it being this bad in the 1980s."
Pawnbroker loans average $70 and $100, although they can be as small as $20 or as high as several thousand dollars depending on the value of the collateral, according to the National Pawnbrokers Association. Loans are for 90 days, but they can be extended. Interest and fees are regulated by the state and depend on the size and length of the loan. For example, a customer would pay an interest charge of $3.50 for a $99 loan. Customers must also pay a set-up fee.
Irby and Brooks said they want people to get their items back, and most do. National statistics report that about 85 percent of hocked items end up back with the owners.
"People feel bad that they have to use the pawn shop, and we help them through these rough times," Irby said.
Both Irby and Brooks say that while many of their loans are made to lower income people, their realm of customers includes all social levels.
"People you would never expect … who live in big homes," are coming in, Brooks said.
Irby said he knows some of his customers make more than $100,000 per year but spend more than they make. And once their credit is wrecked, people come to pawnbrokers to tide them over, he said.
Some folks comb pawnshops for stuff they can't find elsewhere.
One Longview woman, who declined to give her name lest she reveal where she bought the gift, eyed diamond rings for a Christmas gift at Longview Pawnbrokers last Wednesday. She said she shops at pawnbrokers because she finds unique things such as stuffed bobcats and more traditional items such as bicycles.
Irby and Brooks say jewelry sells well — gold chains, bracelets, gems and diamonds.
"There is no such thing as a used diamond — they are all a billion years old," Irby said.
Shopper Robert Evans looks for the "diamond-in-the-rough type stuff." The government inspector from Arlington, Texas, was working at Trojan Nuclear Plant this week and stopped at local pawnbrokers. He mostly shops for tools. Then he dickers for a lower price.
If he doesn't get the price he wants, he doesn't buy.
Keeping prices competitive is necessary, Brooks said. "Wal-Mart gets some good deals. I use that (prices) to gauge (my prices.)" Same goes for tools, which he compares to Home Depot.
The seedy pawn shop stereotype is in the past, owners say. Their stores are clean and well lit and new inventory joins the used items. Sales clerks dress neatly and are helpful, Irby said.
His big concern is the "myth" that pawnbrokers are outlets for stolen goods. The industry is heavily regulated and pawnbrokers take identification on items and must report anything suspicious, he said.
For Bishop, the sales rep from Portland, pawn shops are ideal for buying high-ticket items for young adults. Instead of spending big bucks on a drum set for her teenager, she nabbed one at discount prices at a pawn shop. That way, if the teen gets bored and stuffs the item in the closet, she said she isn't out hundreds of dollars.