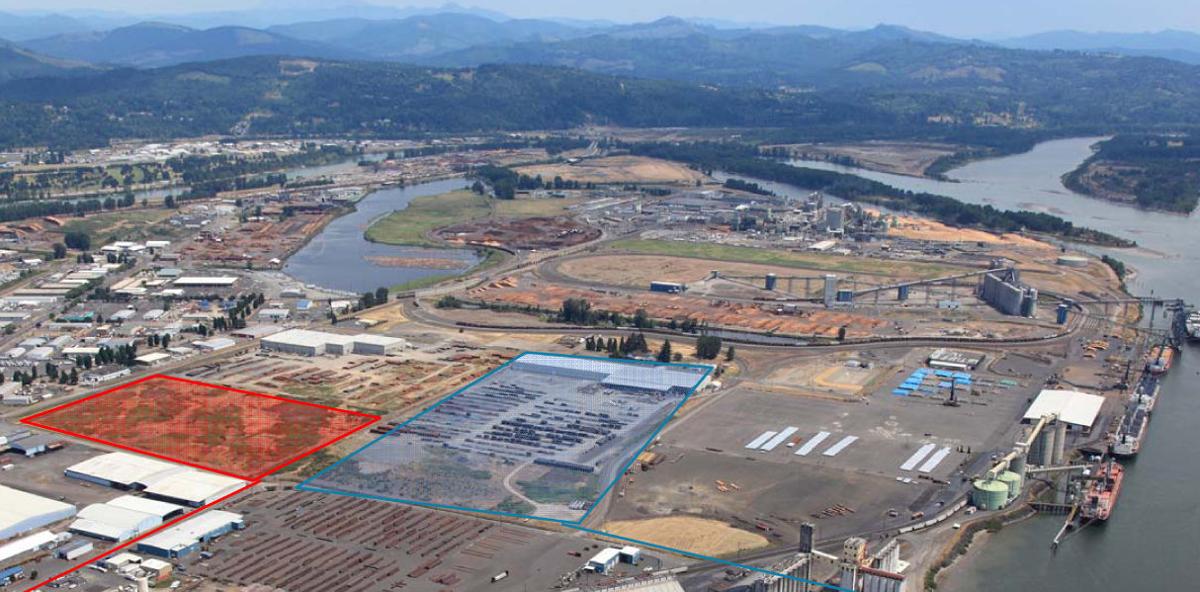 Port of Longview commissioners Tuesday morning cut off talks with the proponent of a $1.25 billion oil refinery and a propane terminal, in effect killing the project.
The 3-0 vote followed a determination that Texas-based Waterside Energy failed to prove it had financial backing for the project, according to the port.
"This decision is not about fossil fuels. It's about the proponent not living up to his requirements and fulfilling his obligations," Commissioner Doug Averett said.
The decision led to a pointed response from Lou Soumas, CEO of Waterside.
"I'm sure there's those in the room who are happy. When you're still looking for jobs in the community, I hope you're still happy," Soumas told the commissioners.
Waterside had proposed two projects: An $800 million oil refinery, called Riverside Refining, that would process 15,000 barrels of vegetable seed oil and 30,000 barrels of crude oil daily. Waterside also proposed a $450 million liquid propane terminal to handle 75,000 barrels per day of butane and propane.
Waterside said its two projects would create 700 construction jobs and 180 permanent direct jobs and generate up to $24 million in revenue for the port annually. The port's annual budget this year is about $37 million (combining capital and operating costs).
The facilities would not have been built on port property, but Waterside would have had to cross port land with a pipeline and use a port-based dock to load ships.
On Jan. 12, Waterside Energy signed an agreement with the port pledging to prove it had the financial backing for the propane terminal by Feb. 11.
Waterside verbally provided the financial information to port staff in a phone conversation on either Feb. 12 or earlier, but the two sides don't agree on the date. In any case, the port didn't receive a written "letter of interest" from a key investor until Feb. 17, though it was dated Feb. 9, according to documents the port provided.
In an interview, Soumas said the investors, a large international group, wanted to remain anonymous until negotiations advanced further. It took about a week for port and company attorneys to discuss the topic, which is why the letter wasn't emailed until Feb. 17, he said.
"The investors are sensitive. ... We have environmental groups that will malign this project, and they don't want to be drug into this battle until the port" signed a binding agreement with Waterside, Soumas said Tuesday.
Soumas questioned whether the commissioners' action violates a provision in the Jan. 12 document to bargain in good faith for 75 days.
Interim Port CEO Norm Krehbiel said in a phone interview that even though the 75-day period isn't complete, Waterside failed to bargain in good faith when it missed the 30-day deadline for financial documentation.
He acknowledged that Soumas had verbally told him the names of the investors, but he (Krehbiel) never told the commissioners. Regardless, he said, the port lost interest because Waterside never proved it had financial backing, that the backers were reputable and experienced and that any foreign investment complied with federal law.
"We spent months going over dockage and wharfage (fees). ... But we left left out a key element. ... Where's the money? When we did set a time limit, it wasn't met," Bob Bagaason, commission president, said during Tuesday's commission meeting.
"The promise of jobs is not going to supersede our proper financial due diligence," added Commissioner Jeff Wilson.
Waterside is the second high-profile energy project the port commissioners have rejected in less than a year, following their unanimous vote against the Haven Energy propane export proposal last spring.
Soumas told the commissioners he suspects they reached a decision behind closed doors and lamented the breakdown in talks that have lasted for more than a year.
"We're continuing on with our project somewhere in the Northwest. We'd love to continue with the port if it decides to get back in business," he said.
Several of Waterside's opponents voiced their support for commissioners' decision at Tuesday's meeting. The packed commission meeting room broke into applause after the commission vote.
"We cannot afford to gamble the safety of our citizens an the cleanliness of our river on Waterside. ... The port's mission statement says, 'for the benefit of our community.' There's not enough benefit to outweigh the downsides of Waterside's project," said Bob Griffith of Longview.
"It's over for the oil industry as we've known it over the last 100 years," said Les Anderson, vice president of Landowners and Citizens for a Safe Community."Remember we didn't move out of the caves as cavemen just because we ran out of rocks. We moved out because someone had a better idea."
Commissioners maintained, though, that they aren't opposed to fossil fuels and will evaluate all projects on their own merits.
"We are very much open for business. We very much care about the economy and jobs," Wilson said. "We will consider any and all projects."