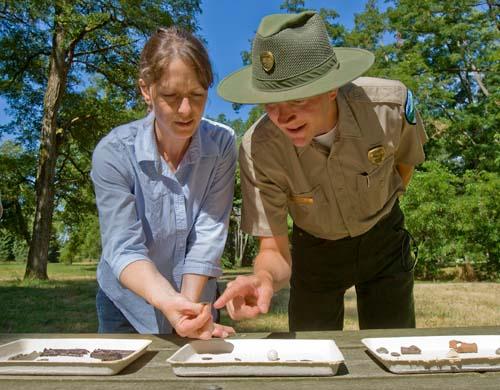 NEWBERG, Ore. — Archaelogists digging at Champoeg State Heritage Area have turned up artifacts to reveal the history of Oregon's first homesteaders. Among treasures discovered this summer: tobacco pipes, a piece of a child's writing slate, the flintlock mechanism from a 19th century rifle and a piece of fine leaded crystal glassware.
An Oregon State University team has been digging at the site where fur trappers established the first locally organized government in the Oregon Territory in 1843. The team is learning how the homesteaders, many of them French Canadian, English and American fur trappers, built their homes, raised livestock and lived their day-to-day lives.
"We really didn't have any idea what a French Canadian household or an American household looked like at this time," said Mollie Manion, an OSU graduate student writing her doctoral dissertation on the excavation.
The discoveries of window glass, decorative printed ceramics, crystal glassware and imported wine in bottles suggest a surprising degree of refinement. Manion says they found no wild game remains, and bones in the fire ash from one house suggest the family dined exclusively on domestic livestock.
A flood in 1861 destroyed buildings in Champoeg along the Willamette River near present-day Newberg, and the town of about 200 never recovered.
The first scientific excavations began in the 1970s but turned up little evidence. New excavations began in 2002 after park rangers discovered signs of an unknown homestead on the edge of the town. Weeks of searching uncovered a layer of bricks about three feet beneath the surface and ultimately unearthed a complete brick hearth.
"That got us really excited," says David Brauner, an OSU professor of anthropology and leader of the excavations.
The site is the only domestic dwelling uncovered from this period in Oregon. Researchers believe Robert Newell, an ex-trapper and one of Champoeg's most important citizens, occupied the home when he arrived in 1843 to homestead.
Since 2003, Bauner's team has uncovered artifacts suggesting the homesite was first occupied around 1830, about 10 years before Newell's arrival.
The Oregon Parks Department paid for excavations in 2002 and 2003, and provided $51,000 for this summer's dig, which will run through July.
In the meantime, OSU students sifted through soil and used shovels and trowels to scrape away thin layers of earth.
The work is grueling, but "really, phenomenally fun," said Nicholas Campbell, an OSU student who stood waist-deep in a steep-walled pit. "We get so excited when we find the littlest thing. It's very gratifying. At the end of the day, you feel like you've really accomplished something."