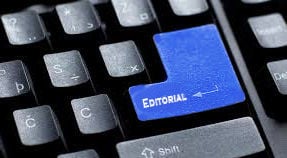 Each week we take notice of the noteworthy, poke the pompous and have some fun. Enjoy!
2020 GradsThis has been a tough year for high school seniors. After years of diligence and hard work, they were looking forward to that final recognition of their accomplishments – the graduation ceremony. Then COVID-19 came along and turned everyone's world upside down. Parents and schools have gone to great lengths to ensure grads have some event to celebrate their achievements. This year we've seen drive-thru pick-up of caps and gowns, socially-distanced celebrations, car cruises and, of course, teleconferenced ceremonies. To all the 2020 graduates, congratulations! We wish you the best of luck. As you head out into the "grown up" world, we leave you with these words from noted journalist Tom Brokaw: "You are educated. Your certification is in your degree. You may think of it as the ticket to the good life. Let me ask you to think of an alternative. Think of it as your ticket to change the world."
Right to assembleFrom protests railing against stay-home orders to demonstrations decrying the death of George Floyd, citizens have certainly been exercising their right to assemble recently. That right was of such importance to the Founding Fathers that they wrote it into the First Amendment: "Congress shall make no law … abridging the freedom of speech, or of the press; or the right of the people peaceably to assemble, and to petition the government for a redress of grievances." We commend anyone who feels passionately enough about an issue to exercise that right, and for that we give you a thumbs up.
Now for the thumbs down. Unfortunately, and all too often it seems, the sincere intent of protestors is quickly hijacked and overshadowed by malicious individuals or groups intent on looting, rioting and wreaking fear and havoc through violence. At no point, and under no circumstance, is it acceptable to break storefront windows, set fire to police stations, destroy private property or attack and assault another person. This behavior is criminal and we hope law enforcement and prosecutors work diligently to ensure those responsible are held accountable.
Eyman in hot water, againDuring a recent interview with a Seattle-area TV news reporter, GOP frontrunner for governor — and serial initiative filer — Tim Eyman compared Gov. Jay Inslee's stay home order to a Minneapolis police officer 's accused of murdering George Floyd .
In the interview, and again in a later Facebook video, Eyman said, "I can't help but look at that same situation and not visualizing Jay Inslee with his knee on the back of the necks of 7 million people in the state of Washington." Eyman then added, "Actually, I take that back, only the people that Jay Inslee says are not essential does he have the knee on the back of the necks of those people. He's saying that private businesses, small businesses: 'All of you, I'm going to put my knee on the back of your neck and I'm going to hold you down.' "
Eyman certainly is within his rights to express frustration and disagreement with Inslee's handling of the pandemic. And he does make some fair points about the seemingly disjointed and inconsistent orders affecting businesses, churches, schools and individuals. But to compare Inslee's efforts to safeguard the public to the alleged murder of a man at the hands of law enforcement is reprehensible. Eyman forgets that Inslee's orders helped prevent deaths by limiting the spread of a virus. Yes, we're facing an historic economic and social crisis. But we will recover. Lost jobs and material things can be recovered in time. A lost life cannot. How much worse would it have been had the virus been allowed to spread unchecked?
Eyman's statements demean the heartache of Floyd's family and friends. It also devalues the genuine outrage and frustration at ongoing systemic racism.
In his follow up video, Eyman said his fellow Republicans too often rush to apologize. He added that not only will he not apologize, he stands by what he said. At this point, an apology may not be enough.