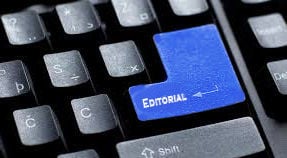 Online commenting changes: Earlier this month, we made a significant change to our commenting system on the TDN website. In the past, online readers could comment on stories using a screen name instead of their real name. Screen names are made up names, which in effect, protected their identity. In other words, commenting on TDN's website was done anonymously.
In January we changed the commenting system, requiring readers to use their real first and last names when commenting on stories. What this means is that comments are no longer anonymous; each commenter's real first and last name are displayed with their story comment.
The change was made in an effort to bring more civility and better discussions on the important issues affecting the area. Many folks don't participate in story commenting because they don't want to be shouted down, and we don't blame them. This new system will hopefully make commenting possible for anyone who chooses to participate.
Many of you have called or emailed TDN complaining that no one told you the commenting system was changing. This belief is incorrect. We published a column in December to let everyone know of the coming change, then added an explanation to the commenting module on every story published.
We're sorry that you may have missed the notifications; our intention was to make sure everyone knew the changes were taking place. Indeed when the initial news column published, many readers called and messaged TDN letting us know how much they appreciated the change.
Methanol risk low: The headline of Thursday's paper read, "Expert: Methanol spill risks low." Michael Kavanaugh, a chemical and environmental engineer, said in a presentation at the Cowlitz County Event Center that even a large methanol spill would cause very minor environmental damage.
TDN has been a strong supporter of the Northwest Innovation Works methanol project from the start and continues to believe it's a project that needs to be permitted.
Governor Inslee, former Governor Locke and numerous others support this project as well. We hope you take time to read TDN's coverage, get informed and support growing the local economy.
What happened to the steelhead? In Thursday's paper, we learned that the Washington Department of Fish and Wildlife (WDFW) confirmed that about 70 percent of the steelhead and cutthroat trout from the Cowlitz Trout Hatchery in Lewis County vanished.
That means, the adult runs of steelhead will be significantly reduced in 2018-2019 and cutthroat trout runs possibly this summer. WDFW say the loss is estimated at 514,000 smolts or young fish.
Apparently, Fish and Wildlife discovered the problem last June but didn't notify the public until a press release of a fact sheet was released Jan. 9. WDFW claims a variety of reasons for the loss; bird predation, according to officials, is the main cause along with inaccurate counters.
We are absolutely appalled at the lack of accountability in notifying the public. Fish and Wildlife is a governmental agency, funded with taxpayer dollars. Why does the WDFW think its OK to hide their mistakes?
And better yet, seven months after finding out about the loss of smolts, the WDFW still has no idea what happened. How can this be?
It's this type of irresponsible, poor government work that makes people angry, frustrated and leaves them feeling the government does not have citizens' best interest at heart. When corporations make huge mistakes such as this, people get fired from their jobs and fines are often paid. In some cases, people even go to jail.
Do you think anyone from WDFW will even be disciplined?
Caleb Swanigan: A sophomore basketball player for the Purdue Boilermakers, Caleb Swanigan leads the nation in rebounds per game and double-doubles for the 2016-17 season. That alone is an amazing feat.
The Boilermakers are third in the Big Ten, behind Maryland and Wisconsin and have been racking up some good wins this season; including an 11-point win over Wisconsin. So we know this young man plays with some great competition and being first in the nation in points and rebounds is a monumental feat.
But that's not all that's amazing about Caleb. Caleb is one of six children who were raised by their mother, while his father battled a crack-cocaine addiction. Caleb's father died when he was 16, and his mother had a hard time finding a stable life for her kids. Caleb went between homes and homeless shelters, in Indiana and Utah.