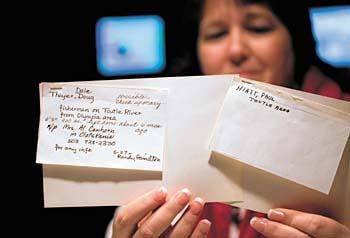 The names Paul Hiatt and Doug Thayer are etched on plaques at Hoffstadt Bluffs and Johnston Ridge honoring the 57 victims of the May 18, 1980, Mount St. Helens eruption.
But these men might not have even been at the volcano that day.
Hiatt and Thayer are the mystery men of St. Helens, their origins obscured more thickly than a sky darkened by volcanic ash.
"I don't recall anything about them," said Ben Bena, a retired Cowlitz County sheriff's deputy who coordinated the Department of Emergency Management during the eruption.
"Those two guys in particular, I really question whether they even existed, especially with nobody ever inquiring again," said Mike Nichols, who as a sheriff's deputy led numerous search expeditions into the blast zone. "They could be phantoms."
So who were they, and how did their names get on the list?
In the first 48 hours after the blast, Red Cross volunteers fielded more than 3,400 calls. Many callers provided names of possible victims just in case their loved ones had been at Mount St. Helens.
"Anybody on vacation or even in the Northwest was reported as a victim of the volcano just because they didn't answer their phone," Nichols said.
"When they got a report of a missing person they made cards of whatever information was given to them," said Lori Hendrickson of the DEM, who still has the original cards. "Nothing says how they got that information, whether it was phoned in or what."
Thayer's name made the list because a "Mrs. Al Canharn of Clatskanie" thought that Thayer might have been fishing on the Toutle River, Hendrickson said. The card also indicates that Thayer left his home in the Olympia area about six months earlier.
Whoever added Hiatt to the list of missing people did not provide his age, hometown or anything else, Hendrickson said.
"I haven't got a thing on him except his name and 'Toutle area.' That's it," she said.
Nichols said such vague information wasn't sufficient to mount a search party for either man.
"We didn't know where to look," he said.
Nichols, the county coroner, finds it significant that Hiatt and Thayer are the only two volcano victims for whom presumptive death certificates have not been issued.
"What that means to me, as the coroner, is that nobody ever asked for one," he said. "Somebody has to want one, to close the estate or whatever. Most families, regardless if there's money involved, want proof. They want to say, 'There's my cousin Joe, he died at Mount St. Helens but they never found his body.' Nobody asked in those cases. You wonder if they even existed."
Thayer's city of residence is unclear. Hendrickson said the original card reads "Olympia area," but when the list was updated in April 1983, the city was changed to Kelso. She said there's nothing in the file box that explains the reason for the change.
According to the card, Thayer was 6-foot-3 and 260 pounds.
There's a smidgeon more information on Thayer on the "I Dream of Genealogy" Web site, which lists all St. Helens victims and is cross-referenced with the Social Security Death Index.
It gives his full name as Dale Douglas Thayer, born May 12, 1944, in Iron Mountain, Mich. His Social Security number was issued in Michigan in 1960-61, when he would have been 16 or 17.
So Thayer existed, although his connection with St. Helens is tenuous.
Hiatt, on the other hand, is the invisible man.
"I Dream of Genealogy" lists Hiatt's name only. Ditto with Valerie Williams' Mount St. Helens Web site, which includes a list of eruption victims incorporating biographical details provided by family members and friends.
In an e-mail to The Daily News, Williams said no one has contacted her regarding Thayer and Hiatt except this newspaper.
So why do their names remain on the list?
"We had to have a reason to remove names," Bena said. "We just couldn't take them off. The press would say, 'You can't take them off, you're not justified.' So we decided it was easier to let the old list sit there."
Many of the original callers failed to update police if the missing person turned up safe and sound, Bena said. He said law enforcement worked diligently to track everyone down. Many "missing" people turned up alive and well and had been nowhere near the peak, he said.
The list of possible victims numbered more than 100 at its peak, was down to 72 by three weeks after the eruption and had been whittled to 62 by October 1980, five months later.
The list of 57 volcano victims has remained static since April 1, 1983, when the names of Jim and Cathleen Ford were removed. Authorities were able to verify that the "Fords" were actually victims Merlin "Jim" and Kathleen Pluard of Toledo, who drove a Ford.
Around that same time, authorities came close to removing Hiatt after tracking down a Seattle man with that name who had been to St. Helens a few weeks before the eruption. But authorities were never able to verify he was the same Hiatt because they couldn't find anyone who had reported him missing.
The official death toll stands at 36, with 21 people missing and presumed to have died in the blast — including Hiatt and Thayer, the mystery men of the mountain.
Be the first to know
Get local news delivered to your inbox!