The family of Cowlitz 2 fire Battalion Chief Mike Zainfeld will be able to collect insurance benefits from his death, in part due to a new state law that affirms PTSD as an occupational disease for first responders.
Money Zainfeld paid into a retirement fund, and Labor & Industries benefits will be disbursed to his family, Cowlitz 2 financial analyst Brandi Ballinger said Thursday. Those benefits, if taken as monthly installments instead of lump sums, would equal about 90 percent of Zainfeld's wages for life or until and if his widow, Kelly Zainfeld, remarries.
She will receive medical insurance for life, and their two children will be insured until they turn 26 or are no longer dependents. They will all also be entitled to four years of paid college.
Prior to 2018, confirming PTSD-related suicides as 'line-of-duty' deaths was arduous and time-consuming for fire agencies and families, Cowlitz 2 Chief Dave LaFave said.
But in February that year, the Legislature passed a bill recognizing post-traumatic stress disorder as an occupational disease for firefighters, medics and law enforcement officers. The law now extends insurance coverage for stress-caused mental disorders and disabilities to those first responders. State law previously prohibited those claims if they were based on mental conditions or disabilities caused by stress.
Because of the law change, Ballinger said, Zainfeld's family will receive the insurance, healthcare and educational benefits.
Zainfeld earlier this year filed a claim with Labor and Industries for his diagnosis of post-traumatic stress. That claim was approved prior to his death, LaFave said, and his death was ruled as being "in the line of duty" by the time his memorial service took place in Longview on Tuesday.
"It's my understanding that Mike's situation was the first approval that occurred through that process without, I guess, going through a long-term approval process," LaFave said.
LaFave said there are still challenges ahead for first responders struggling with mental illness or seeking help.
"I just did not see this happening to us," LaFave said of Zainfeld's struggles and death. "And now I know we're as vulnerable as anybody else is. And we have to be doing our best to make sure this doesn't happen to anybody again. This career should not ruin people."
Zainfeld took time off earlier this year to work on getting healthy, using his own earned leave time and some donated by fellow firefighters.
LaFave said he doesn't want his crews to have to reach that point. He said the agency is working on ways to offer employees more support.
And he said the culture of handling mental health is changing.
You have free articles remaining.
"It's, 'What can I do to keep you healthy?' Not, 'What can I do to get you back to healthy?' "
Simply finding a healthcare provider that could help Zainfeld was one of the biggest challenges, LaFave said. It took trips to Portland and Olympia to find someone who could diagnose him, LaFave said.
Another challenge: Employment law restricts supervisors like LaFave from asking employees about parts of their private lives unless the employees bring them up first.
And LaFave said he suspects published rates of mental health disorders and illness may be skewed by under-reporting.
"I think it's a bigger issue than we've ever known. When I started, it was 'Suck it up. Suck it up. Suck it up.' And if you didn't, usually around five years, a person made a decision: 'I'm either going to continue doing this, or I'm getting the hell out of it.' "
LaFave is an old-school firefighter, he said, reflecting on the days when a peer or supervisor would likely tell someone struggling that they weren't cut out for the job. His own instincts may have been to tell that person to tighten their bootstraps and get on with the job.
"Thank God we don't have that view any more," LaFave said. "That's not right. That's not a healthy approach to how we do our business. We want people to be compassionate, and to care, and to have empathy."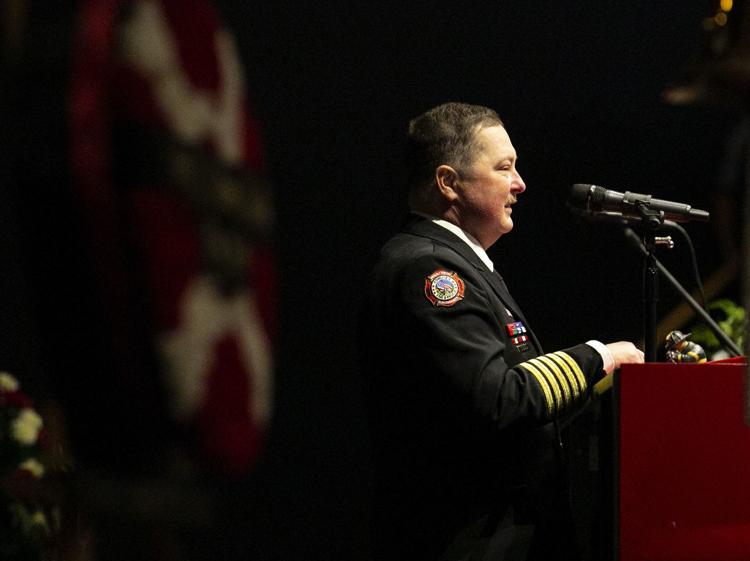 Firefighters respond to violent high-speed crashes and disturbing medical emergencies, LaFave said, and it's not fair to ask his crews to be sensitive and compassionate on calls but stoic and dispassionate back at the fire station.
"Mike was a sensitive soul. Mike had a sensitive heart. ... A friend of mine used a phrase one time about somebody else, that their heart was too sensitive for this world. I thought about that when this happened. I reflected back on that statement, because maybe that's true. Mike was carrying the freight of a lot of things that he'd seen and done. ... Those people that Mike had relationships with, and even if he didn't, if something was happening to them, Mike was sharing in that. Because his nature was to care."
LaFave said he hopes the effort and energy put in to honor Zainfeld at his memorial isn't lost.
"We have a mission," LaFave said. "I have a responsibility in my role to do everything that I can do to prevent this from happening again. That is as important as building new fire stations, or bringing new apparatus on board. Without our people healthy, there's nobody to staff those fire stations, nobody to run those rigs."