Wyoming Gov. Matt Mead visited Longview on Tuesday to support the proposed Millennium Bulk Terminals coal export dock, which would ship Wyoming and Montana coal to Asia.
While the proposal qualifies as controversial in Washington, Mead sees it as a boost for commerce in his state and any West Coast state where a terminal could be built and operated.
"The value we see in having coal exported to great trading partners like Taiwan, Japan and South Korea, the increase in commerce we view as not only good for Wyoming but is hopefully good for Washington and our trading partners as well," Mead said.
Mead spent about two hours with Millennium officials touring the 416-acre site and boarding a Chinese bulk carrier docked there to unload alumina ore.
"Wyoming has had elected officials from this part of the country come to the Powder River Basin to see the coal mines there, so I wanted to come and see this for myself," Mead said.
About 50 anti-coal protesters wearing red shirts and waving "No Coal" signs lined the road across Industrial Way from the Millennium entrance. They were partially offset by a smaller number of demonstrators supporting the project.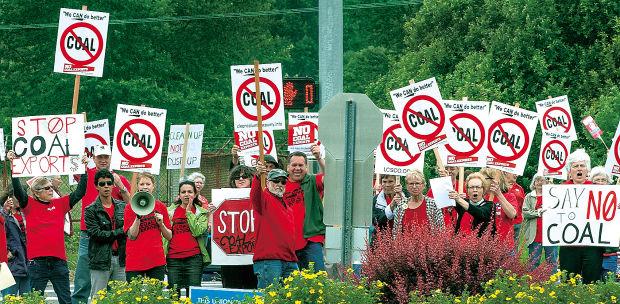 "Washington citizens are saying 'no' to dirty coal export. Gov. Mead's pro-coal tour is an attempt to bully us into accepting his dirty coal trains that will clog our intersections and harm our health," Diane Dick, vice president of Cowlitz County's Landowners and Citizens for a Safe Community, wrote in a statement released later Tuesday afternoon. "No amount of lobbying can change our minds."
The proposal has raised a myriad of environmental issues, including worries about how much the project will contribute to global climate change through the burning of more coal. Mead made no major announcements about the project and was notably low-key. He's said in the past, however, that he's unconvinced by scientists who contend that climate change is man-made and noted Tuesday that Powder River Coal is cleaner burning than other coals.
He paid no attention to protestors despite their attempts to attract his attention with bullhorns.
He also took time out to confer with 19th and 20th District legislators in a private meetings later in the day.
Millennium officials say its $643 million dock at the former Reynolds Metals Co. site west of Longview would employ 135 workers and ship 44 million tons of coal annually when built to full capacity.
Mead's visit was the second to Cowlitz County by a coal state governor on behalf of the export terminal. In 2011, Montana Gov. Brian Schweitzer paid the county a visit. Their unabashed support of the project contrasts with the more skeptical attitude of Washington Gov. Jay Inslee.
Inslee spokesman David Postman said the governor wasn't even aware of Mead's visit until he got a press release last week.
"The governor has said this should be studied very closely, and that is happening. The governor has reserved comment until the process is worked through," Postman said.
Despite such official caution, the Washington Department of Ecology announced in February that it will require a sweeping environmental study of the Millennium project. The "programmatic" study will include the effects of train traffic from inland mines and greenhouse gas emissions from coal-burning power plants in Asia. The decision was a victory for opponents of the terminal, and there is no timeline for completing the study.
Mead said he's concerned that the environmental review process — as governed by the National Environmental Policy Act — has been toughed up for the coal industry.
"We are all about following the NEPA process as it's been used in the past, but when you take a particular commodity and say it's going to be treated differently — I think that's subject to manipulation that could hurt the various states in terms of competition," he said.
State Sen. John Braun, R-Centralia, who was among those who met with the Republican governor, shared the same concern.
"He had a balanced approach that said he understands the concerns as we move through process, but let's let the process work. And that's been my position," Braun said. "We have very strong environmental rules in the State of Washington. If the project can meet the state requirements and the NEPA requirements, then this is a great opportunity for this kind of development."
Like Mead, Braun said it's important to stick with one set of rules for permitting projects rather than changing those rules in mid-stream.
"If we do it on this project, what's to prevent it from happening on other projects? That's a dangerous road to travel on."
State Rep. Dean Takko, D-Longview, said concerns about the amount of time it's taking to review projects cross political lines.
"I think a lot of us shared the frustration (Gov. Mead) was showing over how long it takes to get an answer. Whether this is yes or no, let's quit dragging it out," Takko said. "Just give us a darn answer so we can move forward."
Takko said he isn't looking at the proposed Millennium project as being either good or bad, but as a matter of whether or not a legal product on private property meets state and federal regulations.
"We have the strongest environmental rules. Let's not be afraid to let the process work. I just don't want projects stonewalled," Takko added.