A Longview company is contributing to the increase of people working from home today compared to before the pandemic.
Since its opening in August 2022, Hive powered by BroadPath has created over 140 new jobs in Cowlitz County by training people to sell and enroll people in Medicare insurance. The training is done in downtown Longview, and trainees can work from home or in the downtown call center.
"For me, it was something new and fresh, something I hadn't done before," said Lisa Weed-Stoddard, who worked as an in-home care assistant before deciding to forge a career in the insurance industry.
Reports show remote work continued to grow even after COVID shutdowns allowed people to return to the office. U.S. Census data says the number of people working from home from 2019 to 2021 tripled from 5.7%, or roughly 9 million people, to 17.9%, or 27.6 million people.
For a decade, the Tucson-based BroadPath reports it has used the accessibility of remote work to appeal to a larger group of potential employees.
For Longview Hive employee Dustin Stelly, the company provided an opportunity to work fulltime after struggling to find a job to accommodate his disability.
"This is a fulltime job that also allows me to have every mechanism and process that I have for pain management and disability management," said Stelly.
The flexibility of Hive's model allows the company to hire in a wide 45-mile radius, so commuters across Southwest Washington can join. Historically, people in Cowlitz County have traveled an average of about 26 minutes to work, according to the U.S. Census from 2017 to 2021.
"There's such a broad spectrum of industries and models that are so important to the economic health of the area and this is one of them," said Lindsey Cope, vice president of the Cowlitz Economic Development Council.
Hive continues to hire for new training classes at their Longview location.
The company prepares employees to take live calls with customers of Medicare, a federal health insurance for people 65 or older and some younger people with disabilities. Trainees get licensed, then learn the insurance product and handle details of taking live calls before working with a Fortune 10 healthcare company.
"The goal of Hive is that we pay for your licensing. We bring you in, we train you for your licensing, we pay for it, you get licensed, now you go into product training for six weeks. So we train you on the material that you'll need to take your phone calls once you hit production," said Nicole Ravine, site manager for BroadPath's first Hive location in Tucson. "The Hive is your training wheels...to get you to our client, where those training wheels are taken off, and now you're with this big company. We are just the vessel to get them where they want to go."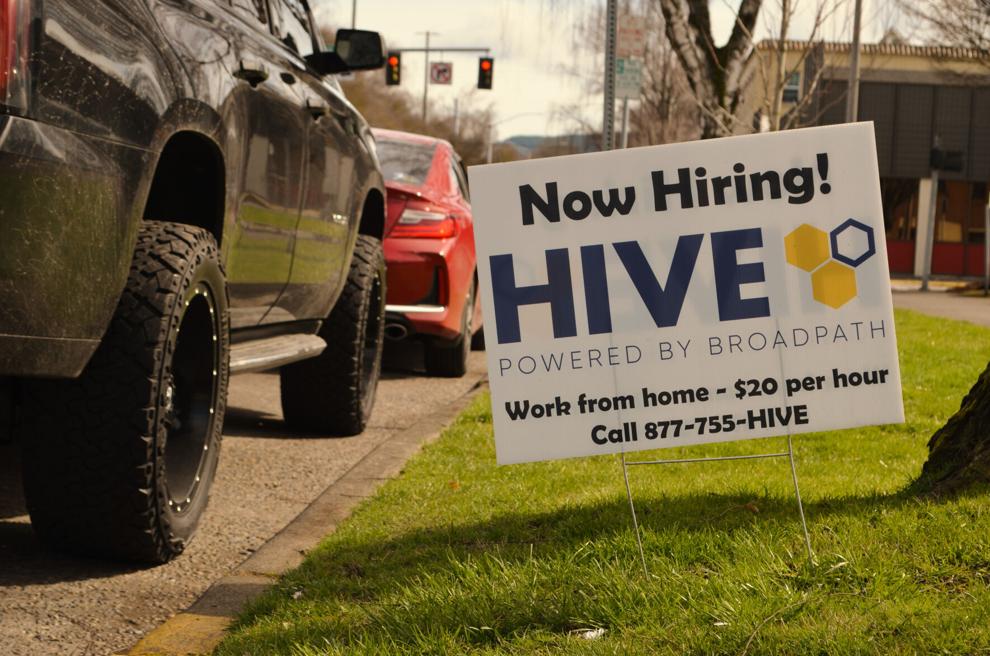 Hive culture
The fierce independence and busy collaboration in a bee hive is seen in the company's culture. As the group works together, the hive grows larger and stronger, with each individual contributing to the group's well-being.
"One of the biggest quotes is to change and better other people's lives, and that's what being in the healthcare industry is about. Not ignoring those who need you and putting yourself on the backburner while taking care of others, and just support community," said Jordyn Berry-Wilds, another Hive employee. "For me, that's why I really wanted to be in this job, because just seeing how much they're all here for us. It goes back to that whole 'I feel like I'm part of a family.'"
This sense of family is extended both to the customers that they're calling, but also the Hive community itself. Hive hosts parties and themed lunches, which draws remote workers back to the office on occasion.
"It kind of makes you want to, like tear up a little bit," said Berry-Wilds. "Yeah, this whole opportunity is such a big thing."